BCC – A Safe Place to be an Out, Proud, Gay, Jewish Geek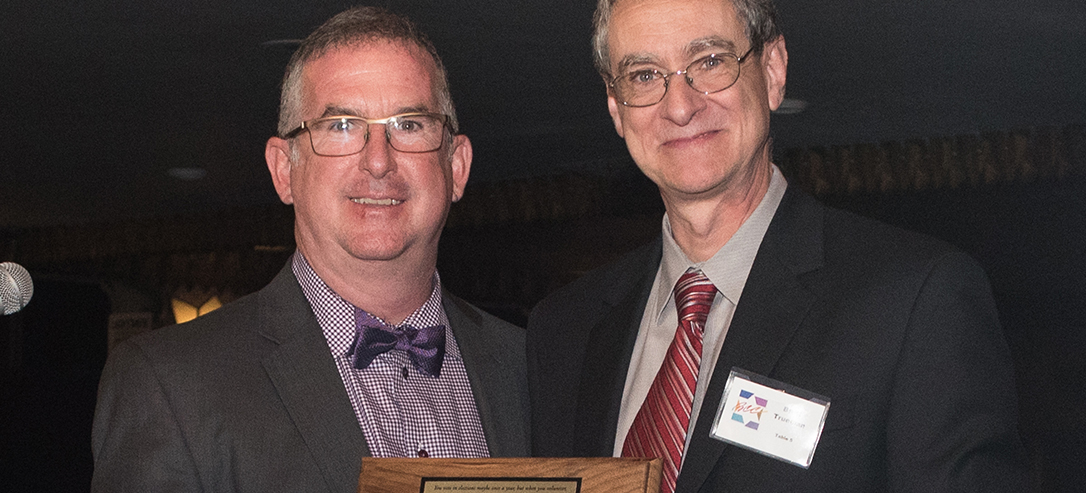 When I was asked to accept this acknowledgement of my volunteer efforts, I actually tried to decline. I'm a behind-the-scenes guy and I generally shun the spotlight. I don't usually think of my volunteer efforts as all that special or unique, especially when I see so many others working just as hard. But then I thought… a big part of why I volunteer is about helping others in my communities, and this event IS helping BCC, so how can I say no?
So, I was asked why I volunteer. My first reaction was "because giving back to my community is the right thing to do." Simple. But as I thought about it, I realized just how much volunteering has helped me deal with life.
I'm probably not alone in this room, having grown up feeling like I didn't quite fit in. I knew I was somehow different and different meant not quite good enough.
I didn't have a lot of friends. I was socially awkward. I was pretty much a geek… well, some things never change. School wasn't a safe place, neither was Hebrew School. I was bullied, picked on and beaten up.
As I looked for a safe place to be, I started hanging out with the adults (including teachers) and I started being helpful as a way of earning my place. In junior high I started really volunteering. Being a library aide led to being in the AV Club. I'd gotten into photography at summer camp (and had my first crush on the photography counselor), so I took photos for the yearbook and student newspaper. That all led to working at my high school's student radio station as a DJ, a news reporter and an engineer. When my junior and senior high schools started a "legacy committee", basically a school beautification program, I got involved in that too. What I found through all this was a group of people with similar interests I could hang with. I still didn't feel safe enough to really be me, but it was a start.
When I got to college I immediately joined both the student radio and TV stations and started "helping out" at the University's TV production studio. I ended up running both the TV Station and the production studio. Again I found a group of like-minded geeks I could safely hang with.
Though I still kept a big part of me tucked away, for fear they wouldn't accept me if they knew. But it was progress.
When I moved to LA and went to my first Gay Pride parade, I was surprised to see a gay synagogue. It never occurred to me such a thing existed. Every year I walked past the BCC booth at the festival and picked up whatever literature they had. But I was too scared to go to services. It wasn't a "gay" issue. It was a "Jewish" one. Yes I had a bar mitzvah but my family was not observant at all. We were two day a year Jews. I didn't think I had enough Jewish knowledge to be accepted by the temple. I also knew I couldn't afford dues.
After a couple years of stalking BCC, I finally decided to go to High Holiday Services. I really did want to reconnect to my Jewishness. I wasn't looking for a volunteer opportunity. To be honest, all I wanted was a nice Jewish boyfriend. That was almost 30 years ago and I'm still looking for a nice Jewish boyfriend. Or at least a nice boyfriend! Or even just a boyfriend. 🙂
After years of being in the background of BCC, when Brett asked me to get involved and co-chair the Men's Havurah, I didn't hesitate. At least not for very long. That led to co-chairing the Membership Committee, which led to being on the Board and then to becoming Secretary. I'm afraid of what receiving the "Presidents Award" really means for my near future. 🙂
Being an AV geek most of my life, I couldn't stand our old sound system. The feedback, the mics cutting out, the issues with our new Livestream system, it all drove me crazy. So I complained about it. And then I did something about it. It makes me so happy to know that my work on BCC's Livestream system has helped people, some from as far away as Argentina, enjoy our services. It's amazing that people find us, and we're often their only Jewish community, even if it's a virtual one. It's a special mitzvah we all should be proud of!
What I found at BCC was finally a safe place to be who I am — an out, proud, gay, Jewish geek! A few years ago, I decided to get my tuchus off the couch and onto a bike seat. Not only did I learn that I actually could ride a bike 545 miles from San Francisco to Los Angeles, and that I could also raise a whole bunch of money for a wheely great cause, I also found another incredible community. The AIDS/LifeCycle Love Bubble is truly that. A place where everyone is not just accepted but openly welcomed for every variation of who they are. We support and encourage each other. We laugh and cry together. And we help ensure that there are safe places people can go for quality HIV/AIDS care and prevention.
If you're in a giving mood, here's a link to my LifeCycle donation page .
So what have I learned from all this volunteering? I've learned that there's a place and a community for each of us. But those places and those communities don't find us. We have to find them. And the communities don't exist on their own. It takes a lot of work, a lot of
time, a lot of committed people and yes, a lot of money, to allow these organizations and communities to thrive.
Yes, I've spent untold hours volunteering and I've gotten more out of all of these volunteer efforts than I can describe. I've been rewarded for hard work. I've found friends. I've found acceptance. I've found purpose. I've found safe places to be. There are endless organizations that need countless volunteers. So whether it's at BCC or elsewhere, I strongly encourage all of you to find a volunteer opportunity that is meaningful to you. The world needs you, now more than ever, and you'll find great places to be.
I'd like to thank my mom and my sister for flying out from Philly to be with me today! I'm glad you get to see one of the communities that you hear me talk about so much. Your love, acceptance and support, through good times and bad, mean more to me than I'm able to express. I'd also like to thank my friends, Barry and Craig. You guys are part of my family and I'm really happy you're here.