BCC's new home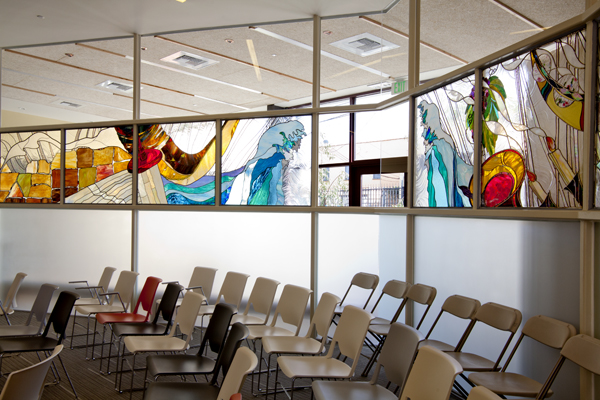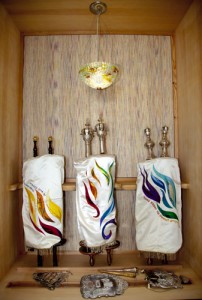 In 2005, BCC's membership growth and program participation accelerated our need for more space; our 3,400 square foot facility was increasingly unable to meet the physical demands placed upon it. To ensure that we provide for the spiritual, educational, and social needs of our communal family, as well as the workspace needs of staff, both present and future, we determined that the time had come to seek a larger, more accommodating facility that would better serve the needs of our members.
BCC members came together in a series of discussion groups to share their needs and vision for BCC's future. From this series of in-depth, facilitated discussions a program plan and set of priorities for a future space was created. Among the desired features that a new facility would give us would be classrooms for both adults and children, offices for clergy and administrative staff, a separate social hall, a library/conference room, room for child care, and a fully functioning kitchen.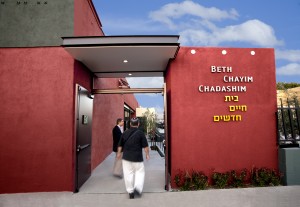 Working with The Mark Randall Company BCC launched first a feasibility study and then a capital campaign to raise the money to fund our dream to move to a Home for Our Future. We did not set a dollar goal for our capital campaign. The more money we could raise, the more real estate options and design features we felt would be available to us. The only goal we had was to make sure that our Capital Campaign Committee reached the entire membership by the end of the campaign, so that everyone was given the opportunity to contribute to our shared vision for the future. By the end of the campaign more than 60% of our congregants participated in the campaign and was able to raise 3.7 million dollars, more than we had ever dreamed possible.
That same year BCC entered into an agreement with a commercial real estate broker, to help us in our search for a new home. BCC members comprising our Real Estate Committee met with the agent at the end of May 2007 to lay out BCC's search criteria (most importantly, our approximate budget and our initial search area). Glenn Melnick, our real estate agent, was asked to begin his search within a few miles radius surrounding our current location. Our Real Estate Committee also considered looking at potentially suitable property outside of our desired area.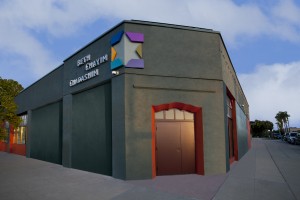 Miraculously, a property opened up just two blocks West of the home we occupied for 30 years. Our Real Estate Committee worked hard to secure a loan, the proper permits, and to eventually close escrow on 6090 W Pico Blvd. The goal of securing a property achieved, the committee then morphed in to the Building Committee and launched a search for an architect firm to turn our vision into reality. The highly talented lewis / schoeplein architects (LSA) were ultimately selected to be the designing architects for BCC's new building. Construction firm HowardCDM became our General Contractor.
LSA reviewed the program and vision of the members and used that input to form the basis of their design of our new building. Toni Lewis and Marc Schoeplein, Principals, worked closely with the Building Committee to create a plan for the space that would be flexible, comprehensive, intimate, airy, beautiful, and allow each space to be used for multiple purposes. Their design approach was community oriented with an emphasis on inclusion in both the process and the final product. Their design principles include connecting interior and exterior spaces, drawing inspiration from nature, and bringing natural light to interior spaces.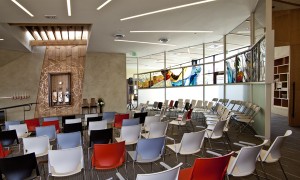 Based on the values and vision that emerged from the congregation, the Building Committee decided to pursue an ecological building process and achieve LEED certification with our new building.Some of the elements of our green building include: re-using and responsibily disposing of materials from the original building, reducing water and energy usage wherever possible, using recycled materials in many ways from insulation to carpeting, installing solar panels (including for our Nir Tamid), and planting low-water use landscaping. BCC is the only LEED Certified Reform synagogue in Los Angeles and one of only a handful in the country.
Watch the premiere performance of "House of New Life," a song written and performed by Cantor Juval Porat to commemorate the occasion during BCC's new building dedication on April 10 2011. On April 10, 2011 BCC members joined Rabbi Edwards and Cantor Porat to dance and sing our Torahs to their new home. Nearly 300 people, including many supporters and dignitaries, celebrated the opening of our new facility.
Today our facility is a beautiful home for our congregation. Many enjoy the deep satisfaction of having been an integral part of bringing this dream to reality through their hard work and countless volunteer hours. The Story Lines bimah wall surrounding the Ark which holds our sacred Torahs is woven with copper strips on which members wrote their meaningful moments at BCC. The Story Lines wall serve as a powerful reminder that each of our strands together build a powerful web of caring community and sacred life.
After a six year journey, BCC is now proudly in our new facility, and the next phase of our 40 plus year history has just begun.