BCC's #RainbowMenorah Action Party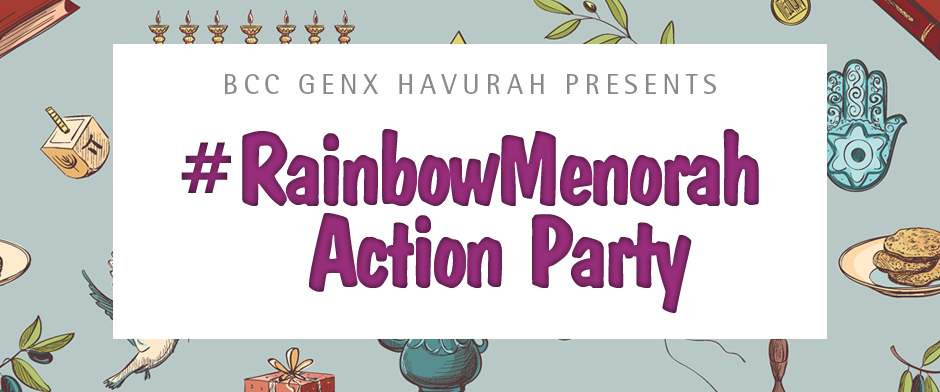 Hanukkah = Pride + Freedom! Maccabees stood strong in their Jewish identity, and we stand proud as free LGBTQ Jews. Join us for a night of #RainbowMenorah activism + holiday joy! Free latkes, chocolate gelt, live music, menorah lighting + social media action together.
December 14th, 7pm
LGBTQ synagogue Beth Chayim Chadashim invites queer youth to shine their #RainbowMenorah via social media from a Hanukkah party where we #resist conformity together! College students and friends from all over the Los Angeles area are invited to a pay-what-you-can party at BCC synagogue.
We'll dance, eat latkes and chocolate gelt, light menorahs, spin dreidels, and post #RainbowMenorah messages on Instagram, Facebook, Twitter, and other social media.
Revelers will design rainbow-colored menorahs on paper and other media. Photographers/Videographers will record party-goers' photos and videos on social media, with the hashtag #RainbowMenorah.
Guests will be encouraged to reach out to their home synagogue youth groups via social media to invite them to post #RainbowMenorah messages in support of their own LGBTQ members and friends.
Featuring musical performance by LA band WASI
To register please fill out the registration form here.
#RainbowMenorah Action Party is a part of Infinite Light 2017 is a city-wide celebration of miracles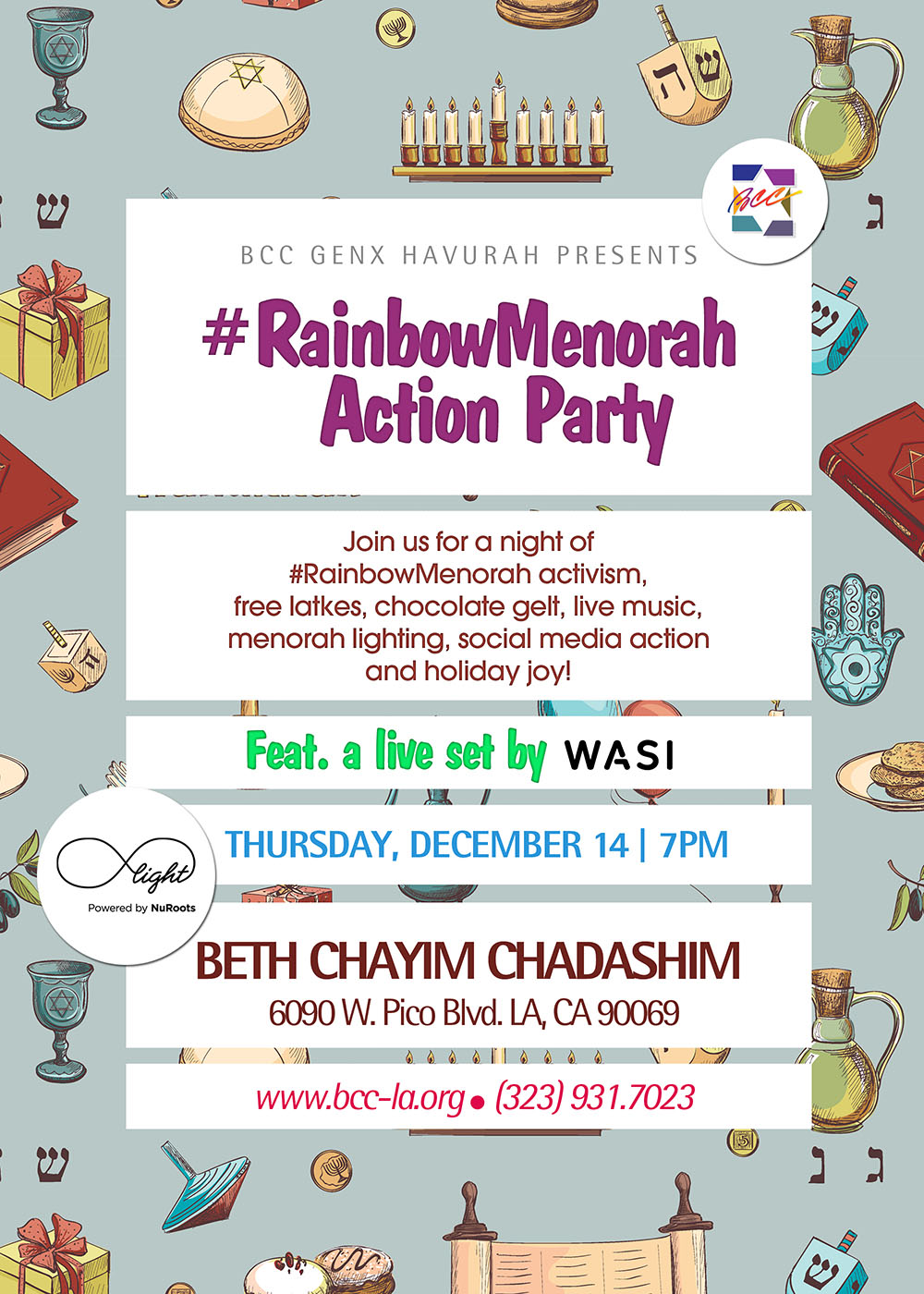 Infinite Light 2017 is NuRoots' third annual city-wide celebration of miracles. Infinite Light is a curated, 8-day festival of experiences that highlights the creative energy of Hanukkah generated by the diversity of the Los Angeles Jewish community. It's a chance to unite, engage and inspire thousands of young adults in their 20s and 30s with new ways to experience an ancient tradition.
Infinite Light 2017 is a city-wide celebration of miracles, taking place Tuesday, December 12th – Wednesday, December 20th.
Infinite Light 2017 is powered by NuRoots, with generous support from The Jewish Federation of Los Angeles