11/20: Transgender Day of Remembrance
November 20 at 6:30pm:Join us as we observe Transgender Day of Remembrance, honoring the memory of those whose lives were lost in acts of anti-transgender violence.
We will start with an early Shabbat Service led by Rabbi Heather Miller and BCC members in honor of this sacred day, followed by dessert reception. And then, at 8pm, join us for another one of our signature After Shul Special programs, a Trans 101 session led by Marsha Botzer, transgender activist and founder of the Ingersoll Gender Center. These events are co-sponsored by JQ International, and all are welcome!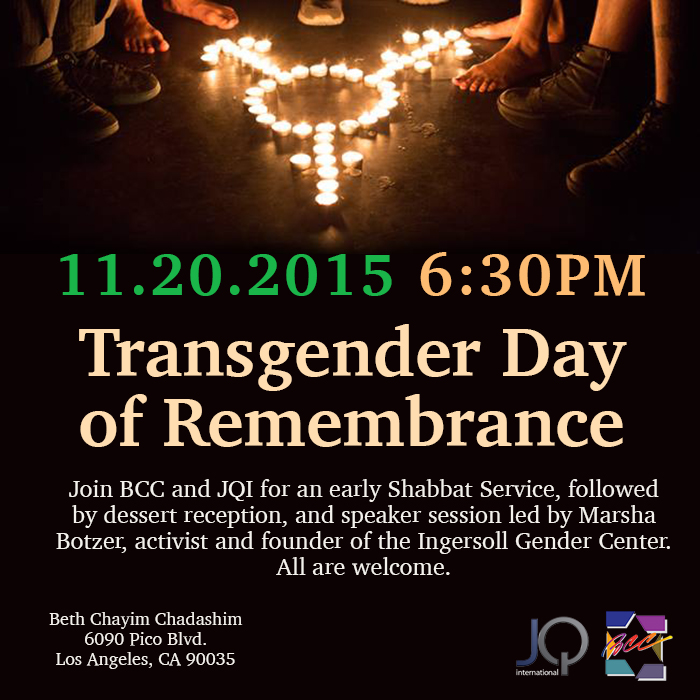 How bad is the epidemic of violence against transgender women? It's hard to know.
At least 21 transgender women, most of them women of color, have been reportedly killed in the US this year. That number — 21 — may represent a bigger problem than you think: Since trans women of color make up a fraction of the population, LGBTQ and Black Lives Matter advocates are calling the deaths an "epidemic" of violence. Read more
The story of May Peleg, a prominent Jerusalem transgender activist who took her own life this week: "These lines are written in a feminine pronoun, but they are aiming for all genders: When you read these lines, it is after I've gone peacefully into oblivion. I went to sleep and wasn't suffering, I went to sleep and stopped the pain and suffering that endured for the overwhelming majority of my life " Read her story. Friends and attorneys of May are fighting in court to get May's last wish for her (Read the story)