A Drash for Torah Portion Behar — May 15th, 2015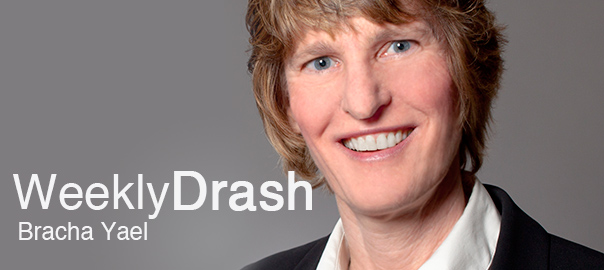 By Bracha Yael
Ah, the good ole days. It was 1980 and I had just graduated from Cal with a history degree. Mile long gas lines, 20% interest rates, a Second Cold War and Reaganomics. Fun times. But, despite it all I snagged a job in business banking. Yep. I went to work in drag every day: dark blue suit, nylons and matching colored pumps. While you try to get that image out of your head, I'll continue.
My education allowed me—along with most college grads—to survive the recession and greed of the 1980s. But, the lesser educated due to poverty, prejudice or other social obstacles fared badly.
Hard to believe, but it's true, the 1980s are now the good ole days. The divide in economic security is even worse between the High School and College educated. 22% of those with only a high school diploma are living in poverty, compared to only 7% in 1980 among ages 25 to 32. Also, they make forty percent less with double the unemployment rate than college graduates.
Last week, Elissa Barrett spoke about how the uprisings in Baltimore, Ferguson and other places were small quakes of a much deeper fault in racial oppression. There's also seismic activity over the crumbling condition of affordable higher education and its dire consequences on many Americans, especially the most vulnerable.
A college degree has never been more needed; and unfortunately, never more expensive. Funding for community colleges—previously an affordable path to pursuing a trade or four year degree—has shrunk. Public universities also have not been able to keep up with the need. Into this vacuum have stepped Corinthian College—one of the largest for profit colleges before it filed bankruptcy this month—and others of its ilk. These schools prey on the dreams of mostly lower-income people, minorities, veterans and other vulnerable groups with dubious promises and predatory loans.
Behar, the first Torah portion of this week's double portion, attacks such exploitive practices. It says, "Do not take from him biting-interest or profit, but hold your God in awe, so that your brother may live beside you! Your silver you are not to give at interest, for profit you are not to give another your food!" (Ex. 25:36-37)
In the spirit of these verses, California's Attorney General Kamala Harris and other government officials, along with progressives, union activists and Corinthian student representatives are fighting back and demanding a chair at the table, most particularly on the issue of onerous student loans.
President Obama and Massachusetts Senator Elizabeth Warren have put a national spotlight on the overall student loan crisis. Seventy percent of 2014 college graduates had student loan debt and the total amount of student loans just passed credit card debt. Obama endorses Warren's bill that could potentially save students thousands of dollars by giving them a chance to exchange their high-rate existing loans for lower-rate loans.
How effective can a good, affordable education be in lifting up people? Here's my family's story. My father and his father and his father and probably his father lived below the poverty line. He bought himself necessities and the occasional soda pop by picking up golf balls at the driving range. He graduated from High School, an accomplishment not shared by many of his family or neighbors. Job prospects were slim and he jokes all his friends ended up either in prison or the military. He served three years in the Marine Corp, and in the early 1960s with the help of the GI bill (which was more generous back then), attended a local community college and learned to be a land surveyor which earned him a well-paying working class job.
My mother's family was slightly better off; and, my grandmother's garden kept them stocked with vegetables. My mother and most of her siblings graduated from High School. Given how my Aunt Betty crushed me in Scrabble, I'd say it was a good education. By the late sixties, my father made enough money for my mother to attend Cal State San Bernardino where she became the first college grad on either side of our family. And, they inspired me to earn a master's degree.
Through education and hard work, my father and mother moved themselves up the economic ladder until they became owners of a $20 million construction company.
My parents paid forward their educational success. My father taught a surveying class at San Bernardino Community College where he had received his AA. My mother tutored college minorities in remedial English. Years later, to honor her memory, my father and I founded the JoAnn Vance Memorial Scholarship for EOP students—a program designed to help the low-income and disadvantaged. The scholarship helps first generation college grads to pursue post graduate degrees. Ironically, or maybe not, many choose to pursue a career in education.
In Behar, it tells us four times that if someone "sinks down" into poverty that you are not to abuse or ignore them; but instead, help and redeem them. As we've seen from my parent's example, one of the best ways to do so is to help yourself and others receive a good, affordable education. There's lots of ways and many of you already do. Many BCC members are/have been educators inspiring hundreds of children and adults. Cherished BCC member Harriet Perl of blessed memory comes to mind. At nearby Hamilton High, she started numerous teenagers down a successful path including several BCC'ers. BTW. Earlier this month was Teacher's Appreciation Week.
Others of you volunteer in grade school classrooms or tutor adult reading at public libraries, or teach parolees life skills. Others have taken a personal interest in shepherding two Latina sisters through private schools and onto universities.
A little spark can go a long way. A small scholarship helped me buy books for my freshman year. A couple small scholarships helped my beloved Davi Cheng through community college and then Cal. Maybe consider setting up a small scholarship—a few hundred dollars—at an inner city High School to help a promising youth buy some college books. Or, take a personal interest in a teenage foster child. Or, become an activist for a forceful renewed commitment towards public education. Just sharing stories on how public schools have made a difference in your life or others is a valuable step in the right direction. Let's work together so that once again everyone has the opportunity to lift themselves up through education and hard work.