A Tribute to Harriet Perl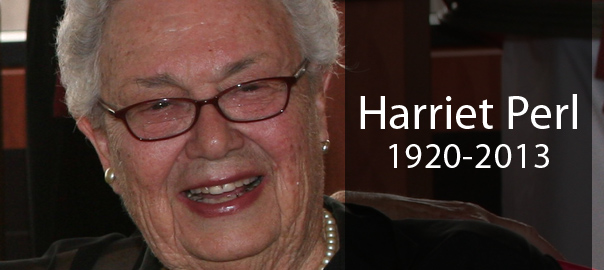 On Friday, March 1 morning, our dear friend and BCC member, Harriet Perl, was laid to rest. (May her memory be a blessing.) In the evening, after Shabbat services, there was an oneg in celebration of Harriet's life, sponsored by BCC members, Davi Cheng and Bracha Yael.  Prior to reciting Kaddish, Bracha Yael read an excerpt of Harriet's drash, given on the occasion of Harriet's 80th birthday. Services are live-streamed.
To watch Shabbat Services live, click on archive.bcc-la.org/worship/bcc-live .  Or, visit our UStream channel, http://www.ustream.tv/channel/bcc-live, where archived BCC recordings can also be found.
On Wednesday, February 27, celebrity host, Ellen DeGeneres, paid a tribute to Harriet on her show. Click here to watch it.
On Tuesday, February 26, an informal gathering of friends and members took place at BCC to share remembrances and stories of Harriet. Watch it below:
9 Comments on "A Tribute to Harriet Perl"