Adult B'nei Mitzvah Class of 2014: F. Denis Hiebsch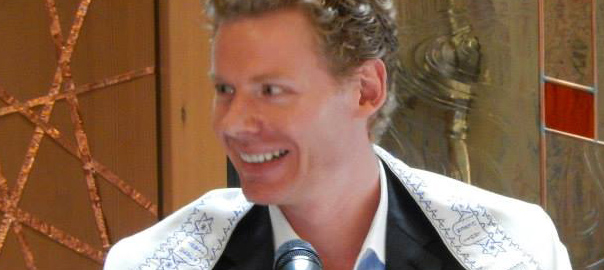 Three weeks ago I was sitting on the terrace of the King David Hotel in Jerusalem. In front of me I see in not so far distance the treasured symbols of our history, some 2,000 years old: the temple mount, mosques, churches, the Tower of David near the Jaffa Gate entrance to the Old City.
It is sunset on a warm and busy day in Jerusalem. People are rushing through the streets and alleys, some wearing black hats, some headscarves, some are in uniform holding guns, and some are in shorts and flip flops. They all coexist together, going about their business.
Watching them, I begin to ponder how I got here. It all starts with the person sitting next me, my partner Aaron, who is watching from Paris now. I met Aaron some 13 years prior in Berlin after I had determined it was my mission to show him my native country. We ended up bonding deeply and learning in detail about each other's heritage. I grew up in East Germany, and he was the first Jew I had ever met. With him I attended the first service of any religion. In fact, that service took place at this congregation, and happened after his mother Lilli had unexpectedly passed away. Interacting with this community, its rabbi, and my partner made it a natural decision to have a bris, conversion, and now finally a bar mitzvah.
II
Numbers chapter 35, verse 5 teaches us about the size of cities, measured in cubits which are about the length of the lower part of one's arm: from the elbow to the finger. It says a city should extend 1,000 cubits out beyond its walls, so that the border is 2,000 cubits on the east side, 2,000 on the south, 2,000 on the west, and 2,000 on the north. That's space for pasture around the dwellings to make the city a habitable space.
III
I grew up in a divided country, with a wall separating us from the rest of Germany; rest of Europe; and from members of our own family. Today, living in Los Angeles, I put a lot of energy into cultivating the space outside the walls of my home. We have a garden and beyond that there is a canyon – steep hillsides where, over the past 4 years, I have planted more than 25 trees. The hard work is a form of meditation for me, you might even say, a form of prayer. It's my appreciation for the good life I have, for freedom given to me, and for the sense of belonging that I have found here, especially through my wonderful neighbors and colleagues, also this community of BCC. These are connections I cherish.
It is an uplifting experience to cultivate the space beyond your walls.
Saturday, July 26, 2014