After Shul Special: Rabbi Arthur Waskow and Rabbi Phyllis O. Berman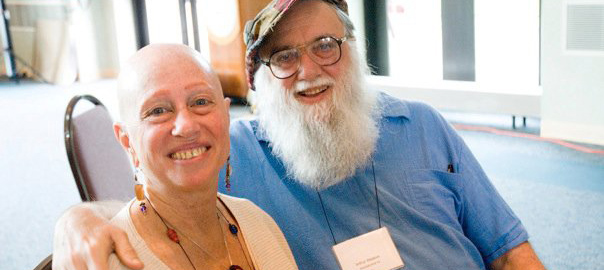 Join us on Friday, February 19, after Shabbat Services to welcome esteemed teachers, writers and activists Rabbis Arthur Waskow and Phyllis O. Berman.
Rabbi Arthur Waskow, Ph.D., founded and is director of The Shalom Center and is the author or editor of about twenty books on US public policy and on religious thought and practice. He has also taken a vigorous part in public advocacy and nonviolent protest on behalf of peace, civil rights, full equality for women and gay people, freedom for Soviet Jewry, and healing for the wounded earth.
In 1980 Rabbi Phyllis O. Berman founded and serves as the Director of the Riverside Language Program — a unique and renowned intensive school in New York City for teaching English language and American culture to newly arrived immigrants and refugees. Berman has been a leading Jewish-renewal liturgist, author, and story-teller. Her articles on new ceremonies for women and new midrash have appeared in numerous magazines.
Rabbi Lisa writes calls Rabbis Arthur Waskow and Phyllis Berman 'Shapers of Liberal Judaism'*
Hope is not lost today… it is found. – Princess Leia, "Star Wars: The Force Awakens"
It's hard to say who's most excited about the new "Star Wars" movie, the millennials and youngsters taking it in for the first time, or those of us who saw the very first "Star Wars" in 1977. I've not yet seen the new one, but I've read there is something for everyone, including roles for the original Han Solo (Harrison Ford) and Princess Leia (Carrie Fisher).
I confess that while I liked "Star Wars" a lot in 1977, I've not watched it again and again, nor have I seen any of its sequels. But I do hold a place in my heart for Han and Leia, great characters then and, apparently, still today. And I especially appreciate that whole new generations will get a glimpse of them, and perhaps also become fans.
At BCC on Friday night, February 19 we'll have a chance to re-engage with two people who might affectionately be called the Han Solo and Princess Leia of Judaism. Husband and wife Rabbis Arthur Waskow and Phyllis Berman, among the esteemed teachers who helped shape contemporary liberal Judaism, will be our special guests, thanks to an invitation from BCC member Rabbi Jonathan Klein and the generosity of The Rev. John C. Forney and the Agenda For a Prophetic Faith Chair, Progressive Christians Uniting – an organization bringing Rabbi Waskow to the area to teach that weekend.
In the mid 1980s, just a few years after "Star Wars" came out, and a few years before I went to rabbinical school (or was even thinking about it), someone gave me a copy of a book entitled Seasons of Our Joy: A Handbook of Jewish Festivals by Arthur Waskow. That book changed my Jewish life. Its explanations of the Jewish holy days and festivals helped me understand where they came from, what they mean, and how to celebrate them now. I read it in both ways that Waskow suggested: "as a kind of biography of the Jewish year," as well as, just before each holiday, the chapter that helped me get ready for it.
At the time I was living in Iowa City, Iowa and my observance of Jewish holidays might be called Judaism Lite. Though I was drawn to much in Judaism, I didn't really know why. Along with a small group of friends, I studied Waskow's teachings, and worlds began to open up to me.
That was 30 or so years ago. Of course a lot of other things transpired that led me down a path to becoming a rabbinical student, and eventually to becoming Rabbi of BCC. But if I were to hold up a few books (alongside the Torah) that led me here, Seasons of Our Joy would be on my very short list. Some of you have studied that book with me over the years, and I think you too have found it powerful and informative.
Waskow changed lives with Seasons of Our Joy (including his own), but that was far from his only contribution to the Judaism we know at BCC. A long time political activist and leader in the movement for Jewish renewal, Waskow is now in his 80s and his bio reads as though he were more than one person and has lived more than one lifetime. 
Among the books Waskow and Berman wrote together is one on the Jewish life-spiral as a spiritual journey – A Time for Every Purpose Under Heaven. The book was the first to integrate the newer ceremonies created during the last half-century (brit for baby girls, weaning, bat mitzvah, menarche and menopause, egalitarian and gay weddings, midlife transformation and retirement) into the whole life-path of Jewish ceremony, expanding on and renewing the classic and ancient ceremonies.
Arthur Waskow and Phyllis Berman may take a small part in our early experimental service on Friday, February 19 at 6:30 pm, led by Rabbi Heather and Cantor Juval. But our real time with them will be after services for the teaching and storytelling they will bring our way as an "after shul special" at 8:00 pm. So please join us that evening at BCC because, believe me, the Force will be with us.
*Original article was published in G'vanim, Jan-Feb 2016