Agnes Herman Says "Thank You" to Her Special Congregation BCC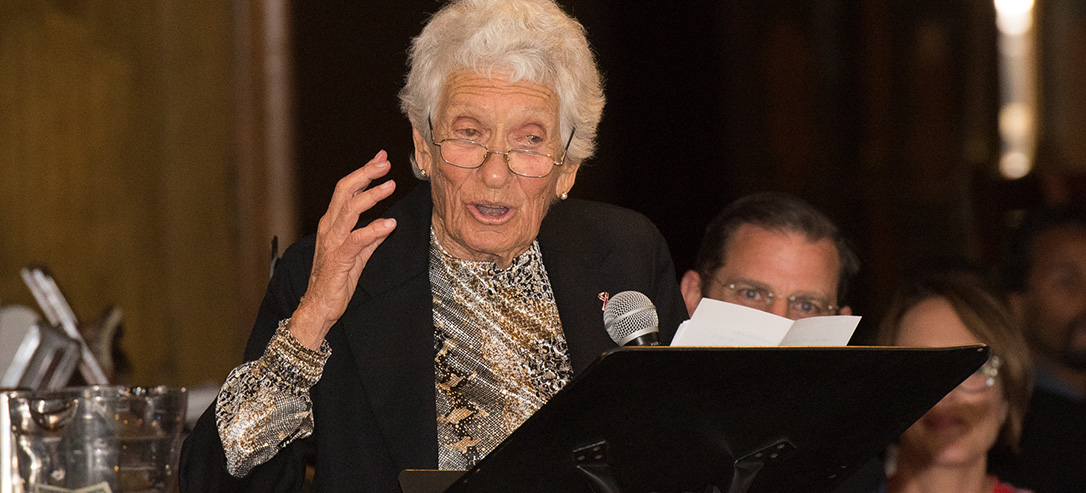 First, Happy Birthday, Rabbi Lisa!
I am excited, thrilled and honored to receive this Humanitarian Award. BCC has always held a special place in my heart because each and every one of you special. How do I know that? You see, I raised a gay child, like you he was unusual, as an infant he grabbed my heart and never let go; like you he returned my love, like you he understood the meaning of rejection and like you he did not engage in it. I could speak to you at length about Jeff and his beautiful sister Judi, but instead I wish to explain why else BCC is so important to me, as it was to Rabbi Erv Herman, my beloved …
New congregations was one of Erv's responsibilities at the Union of American Hebrew Congregations; he gloried in your growth and thriving. He watched as you fulfilled Rev Troy Perry's admonition when this Temple was founded, he offered you free space and cautioned: "No Matter what you do, make sure you make it really Jewish!"
And so the die was cast … this congregation had a responsibility to its beginnings and it continues to this day to meet that responsibility. For starters, it was the first Jewish congregation in the world to reach out to the gay community. The first to even acknowledge that gay Jews existed! Reason enough to be special, to fulfill its responsibility!
In 1972, 45 years ago, Erv was in the hospital hosting a kidney stone that refused to move! Rabbi Arnie Kaiman, Erv's associate at the UAHC, was the rabbi who attended the birth of this very special congregation! My husband had directed from his bed: "help them as much as possible!" I was the gopher between Erv and Rabbi Kaiman, because Erv was not allowed visitors.
I believe that we took you to our hearts immediately for many reasons. The reason that stands out for me is, as I said earlier, that you understand thoroughly the meaning of rejection; because you have experienced it you avoid engaging in that anti-social behavior. I believe that is a key to your specialness – your arms are always wide open! You are the friendliest group of people I know! And I will prove it! The first time that Erv was scheduled to climb your pulpit to conduct a Shabbat service, you came down the steps of the Metropolitan Community Church to greet us in the street, en masse! No congregation had ever done such a thing before. No one has done it since. How could we not take you into our hearts? You got there first with your love!
Once Jerry Small asked me about our dedication to BCC, why Erv and I held BCC so close. He asked me directly if we had a gay child. Our son was not ready to emerge, to confront who he was; when he finally allowed us to speak of his orientation, BCC and Jerry Small were among the first to know our secret. You never faulted Erv and me for denying our son's homosexuality in those early days when he himself was adjusting to the word "gay." Jeff Herman was a handsome, attractive man and many of our friends had daughters they thought he should date. I explained that would not happen. When we finally told our friends, they answered with a flip of the wrist that declared "Oh we knew that." It was confusing, then why did they think he should date their daughters?
Homosexuality's closet door is not as open as we wish it to be even though our gathering today speaks to the contrary. Yes, BCC has special meaning to the Herman family because both of us were raised to believe in equality, in an open door; we learned early on, that stigmatizing people is wrong; that open arms is the proper way to greet everyone. Acceptance is the key to understanding and acknowledging who we are. I
can almost see my mother shrug her shoulders and say, "So, what else is new?"
There is another reason why our hearts and minds are open, Rabbi Erv Herman had a real fight on his hands when the question of BCC's admission to the UAHC, excuse me, URJ, hit the floor of the Union. Only when he began to gather support from individual Board members did he win the fight. That is a story many of you know. He believed that winning this congregation's right to exist as an equal member of the Union family was the highlight of his very successful career!
I am excited and awed at what you have accomplished in less than 45 years! You are an exciting, relevant congregation, standing tall amongst the most prestigious synagogues in the country. I am proud to call you my congregation. You make me proud that I was around at your birthing. You have made BCC strong. I am proud to call you family!
Thank you for honoring me, I will always treasure this moment and wish only that Erv was here to share it with me! You and I know that he belongs here.