Remembering Alex Wexler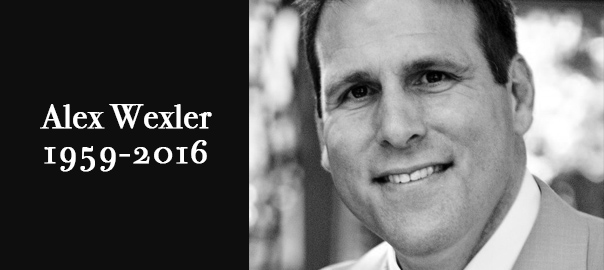 Alex Bruce Wexler of Long Beach, California was born August 26, 1959 and passed away on Saturday, May 21, 2016, after a long struggle with cancer. He was predeceased by his parents, Thelma Miner and Bernard Lewis Wexler, and is survived by his husband, Gregg Milano, their sons Jacob Milano-Wexler and Michael Crane, and his brother Mark Wexler. He began his career in acting and producing on the stage and on screen before turning his attention to writing and business. He enjoyed a successful career in real estate development, and authored many projects including the musical "Lost in Hollywoodland," which saw a wellreceived theatrical run in New York City and Los Angeles in 2007.
Along with his husband Gregg, Alex was devoted to helping at-risk foster youth and was active in many charitable organizations, notably Kidsave Los Angeles. At the time of his death, he was finishing memoirs of his family's life with their adopted children. They will be published posthumously. A memorial service celebrating Alex's life was held on Tuesday, May 31 at Hollywood Forever Cemetery. The family requests that donations be made to Kidsave.org in memory of Alex Wexler.
Adapted from obituary published in the Los Angeles Times from May 27 to May 29, 2016.
From BCC Senior Rabbi Lisa Edwards:
In March 5 of this year, on a Friday evening around midnight, Alex sent me an update. Optimistic and very Alex:
My dear Rabbi Lisa,

I hope this email finds you and Tracy doing well. I just wanted to touch base this late Shabbat to let you know I am doing very well myself.

I have finished my second round of Chemo and it is working. I am getting stronger on a daily basis. My life is expanding, my business growing, my relationship with Greggy so improved and satisfying, especially now that Jacob has gone to college. We have fallen back in love….[and I'm so proud of Jacob]
Life is so rich for me, as I reinvent myself, how I live, operate and perceive. It is difficult, but incredible.
How can Cancer be incredible? It is a Gift! I am so deeply aware of the shower of blessings bestowed on me, I can't thank G-d enough. The opportunity to bloom again, to appreciate, to have faith, hope.

My heart and brain swell [as] with the spirit of Rosh Hashanah. I talk to G-d, turn towards myself to get closer to Him and give joyously, remembering my Mom and Dad, and getting pleasure to be able to HELP where I can. To matter. Yet it doesn't seem enough. I want to thank G-d but more than with platitudes. I want to Give back, but not just slip him a fifty on His birthday. I want to embrace Him, to hold Him, to let Him know how deeply He is appreciated by me. But I can't stretch my arms wide enough to wrap around Him.

It's strange too, how my life is filled with Frummies. You would think SOMETHING would rub off, but I still forgot to light the candles. I'll do it now when I finish writing to you, my Loving friend the Rabbi.

So these are my spiritual problems these days. Spring is nearly here and I am so filled with contentment I can pop.

I know He knows, but is it enough? Maybe I can write Him a letter… address it to the North Pole… I don't know. But I wanted you to know. I feel so much better. I cry from happiness daily. What a way to live. L'Chaim.

I love you.
Alex

PS I'm lighting the candles now, then going to sleep. I couldn't sleep after Chemo… now I can. Nestle with my Creator.
Alex, though you are not with us in the way we would have chosen, bless you that you wrote, that you spoke, that you cried easily and without shame, that you could spin a story like no one else, that you laughed in an unforgettable way, that your smile lit up rooms and hearts wherever you went, that you were appointed by God to be the world's best giver of hugs. I can picture you now, Alex, nestling with your Creator, sharing your many creations.
Rest in peace, Alex Bruce Wexler, rest in peace knowing you will never be forgotten, knowing each of us who knew you is a better person because of you, and that this world — God's world that you loved so much — is a better place because, at least for a little while, you worked your magic here. Zikhrono livracha, you are a blessing to us all.