An Episode of 'Transparent' – Every Friday after Shabbat Services!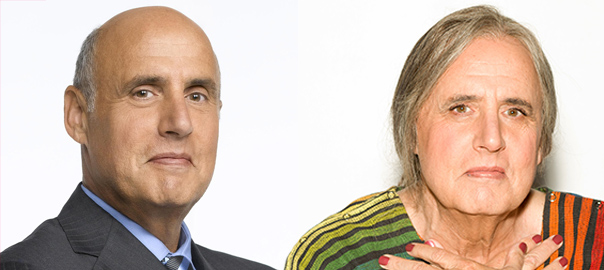 Just added! Counting down to the BCC Awards Brunch with one episode of Transparent every week. Between May 22 to June 26 we will screen 30 minute episode of the hit TV sow Transparent after shabbat services, as a preparation for honoring the series' star Jeffrey Tambor at our event.
Recently, Tambor confessed that he was sick to his stomach when it came time for his transgender character, Maura, to initially reveal her transgender identity to the Pfefferman children.
Keeping up with Tambor: The Latest Stories on our Brunch honoree
June 25, 2015: 'Transparent' Is Renewed For Season 3 (Bustle) — The deal stipulates that Soloway, in addition to continuing in her role as showrunner through Season 3, will develop new television projects exclusively for Amazon. read more
June 25, 2015: The world has changed': Jeffrey Tambor, 'Transparent' cast on transgender views (Today) — When Jeffrey Tambor plays Maura Pfefferman — a transgender adult who comes out to her children late in life — on the Amazon Studios series "Transparent," authenticity matters more to him than reviews. watch
June 19, 2015: Jack Black and Jeffrey Tambor Awkwardly Massaged Shirtless Fathers on Kimmel (Next Impulse Sports) — Watch the segment from Jimmy Kimmel show click here / watch more
June 13, 2015: Jeffrey Tambor On Trans Awareness And Amazon's Bold 'Go, Go, Go' Attitude (Deadline) — "There's a wonderful adage in acting that you're stuck with the character but the character is also stuck with you. Obviously, in casting me, Jill saw something in me that I can bring to Maura" Read the story
Jeffery Tambor on Transgender Awareness: "Any Light Will Do" (Elle) — The Transparent actor talks Caitlyn Jenner, the power of makeup, and what it was like to try on a woman's bathing suit for the first time read the story

June 1, 2015: Jeffrey Tambor Wins at Critics' Choice TV Awards (Lohud) — Cross River's Jeffrey Tambor won for Best Actor in a Comedy Series. Longtime Palisades resident Bill Murray won for Best Supporting Actor in a Movie or Limited Series. And many more trophies were handed out at the fifth annual Critics' Choice TV Awards. Read the story
May 29, 2015: Bruce Jenner Watched Transparent Before Sex Change (The New Zealand Herald) — The hit Amazon show – which starred Jeffrey Tambor as a transgender parent – had a very strong effect on the 65-year-old former Olympian, according to the show's creator Jill Soloway. read the story
MAY 27, 2015: TV Academy Honors Rewards Programs Shaking the Status Quo (Variety) — To that end, the eighth annual Television Academy Honors, held May 27 at the Montage Hotel in Beverly Hills, has chosen to celebrate six programs that best exemplify the facility of the smallscreen to inspire, educate and raise awareness of social injustices. Read the story