Bake your own Challah (in time for Shabbat) with Ginger Jacobs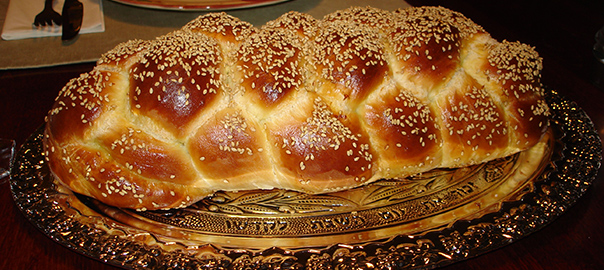 Shabbat's Challah baking has spiritual component, as it often said that in the making of the challah we're partnering with God. On Thursday, March 31, 6:45 – 9:00 pm at BCC, Ginger Jacobs will teach you how it's done.
In this well-received class, Ginger brings one dough to show how to do the pounding and the braiding. While this is cooking, participants will make their own dough to bring home and cook there. A charge of $5 is requested to cover the cost of ingredients. Please RSVP to education@bcc-laorg, so Ginger knows how much of the ingredients to bring.
Ingredients:
1 package yeast
1/4 cup warm water
1 – 2 teaspoon honey
5 cups sifted flour
4 egg whites (or 2 whole eggs)
1 cup warm water
1 teaspoon salt
The Midrash (Bamidbar Rabbah 15) tells us that challah is one of the three things for which God created the world. The Torah refers to challah as reishit — "the first," related to the first word of Genesis, B'reishit — "in the beginning." Challah is called "the first" because it is so primary to the world's purpose.
The moment of separating challah is an especially propitious moment for praying for family and loved ones. Stories abound of those that have been blessed with a child after a group has undertaken hafrashat challah – separating challah, for their sake ~ in their z'chut. This is only part of what makes the baking of the Challah so sacred.