BCC at 45 Honors Generous "Menschen," Introduces "Musical Culture Awards"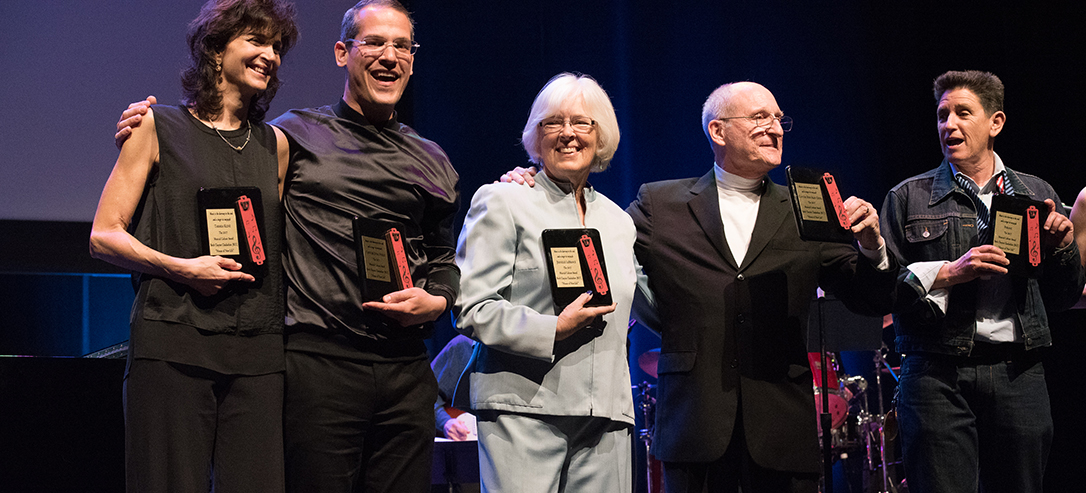 by Larry Nathenson
This article was first published in G'vanim, May-June 2017 issue.
Over 200 BCC members and friends gathered on Sunday, March 26, 2017 at the historic Saban Theatre in Beverly Hills for our annual awards brunch and a celebration of our 45 years as a congregation serving the Los Angeles LGBTQ Jewish community and its allies. In addition to our usual Herman Humanitarian Award and Presidents Award, given to Agnes Herman and Richard Lesse, this year we introduced Musical Culture Awards to honor those who have enriched our community with music. The six honorees – BCC Cantor Juval Porat, former BCC Cantor Don Alan Croll, BCC Cantorial Emerita Fran Chalin, BCC members Tamara Kline and Jeanelle LaMance, and Jewish lesbian folksinger Phranc – joined in bringing us an amazing concert to celebrate the spirit, soul, and culture that their musical talents have brought to BCC over the last 30 years.
We were especially pleased to bestow the Rabbi Erwin and Agnes Herman Humanitarian Award on one of its namesakes, Agnes G. Herman. BCC's first annual award, dating to 1985, honors the Hermans for their singular efforts to support BCC in its earliest days as the world's first Jewish congregation with outreach to the LGBT community and for their steadfast support ever since.
Agnes's many other accomplishments include helping to found the first PFLAG groups for clergy, 48 years of activism through speaking and writing on LGBTQ inclusion and AIDS education, sponsoring the first online resource center on LGBTQ issues and Judaism, and much more.
Agnes was introduced by her long-time dear friend Joel Kushner, an amazing activist in his own right, who serves as Director of the Kalsman Institute on Judaism and Health, the Institute for Judaism and Sexual Orientation, and the Jeff Herman Virtual Resource Center for Sexual Orientation Issues in the Jewish Community, all at Hebrew Union College in Los Angeles.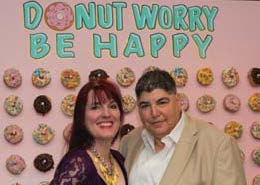 The 2017 Presidents Award went to BCC member Richard Lesse, for his extraordinarily generous volunteer service to BCC over many years. Richard has served as the Secretary of BCC's Board of Directors since 2011, and is a one-person Technology Committee, continually advancing BCC's in-house and live-stream tech and our audio and sound systems. He previously chaired the Membership Committee and the Men's Havurah. This
June "no rest Richard" will be pedaling as co-captain of the Wheely Nice Guys team on his fourth 545-mile 7-day AIDS/LifeCycle bike ride from San Francisco to Los Angeles.
Richard was introduced by BCC past president and treasurer Brett Trueman, one of BCC's most stalwart supporters and volunteers who spearheaded and oversaw the lengthy process of the capital campaign, real estate search, architectural design, and construction that resulted in the dedication of our new synagogue home at 6090 W. Pico Blvd. six years ago Following a brief intermission, Senior Rabbi Lisa Edwards introduced the concert portion of our program with a brief history of our venue, the Saban Theatre. Opened in 1930 as the Fox Wilshire, this elaborate Spanish art deco theatre hosted the premieres of such classics as the Marx Brothers' "Animal Crackers," Marilyn Monroe's "How to Marry a Millionaire," and Julie Andrews' "The Sound of Music." We thank Rabbi Edwards for originating the idea of including a concert in this year's awards ceremony, and we join her in celebrating her 65th birthday on March 25.
The first performer was Cantor Juval Porat, who has served as BCC's cantor since 2009. Classically trained in Germany and Israel, Juval was the first cantor ordained in Germany since World War II. From sacred song to pop culture, as prayer leader, choir director, songwriter and CD soloist, Juval delights and inspires as a spiritual and musical guide along our life journeys.
Accompanied by Cantors Tifani Coyot and Lizzie Weiss, Juval performed "House of New Life," which he co-wrote with Tamara Kline for the dedication of our new building in 2011. On the screen behind him were many moving scenes from that dedication. He also performed his new composition, "Theology," which will be included on his third CD to be released soon, as well as his own musical interpretation of "Yih'yu L'ratzon" from the liturgy, and the song "Praying for Time" by George Michael, who passed away last year.
Next up was Cantorial Emerita Fran Chalin, who served as BCC's cantorial soloist from 1993 to 2008. Today Fran provides spiritual counseling and hospice care in the Jewish community and makes beautiful music with Singing for Peace Yiddish Chorus and the Klezmer Band Gay Gezunt. Fran performed "Shnireleh Pereleh," a classic Yiddish song about the arrival of the Messiah, with photos in the background from the 2005 reunion of Czech Holocaust survivor Torah scrolls organized by BCC.
She also sang "Shopping for Love," a medley of three Yiddish love songs, and Ray Scantlin's "Who Have You Loved Today?" from the musical "Joseph McCarthy is Alive and Living in Dade County," a 1977 response to Anita Bryant's anti-gay campaign in Florida.
BCC's first ordained cantor, Don Alan Croll, served our community from 1986 to 1992. Previously a singer, dancer, and Broadway actor, Don has served as a cantor in Dallas since 1996 and has now come out of retirement to serve our sibling LGBT congregation there, Beth El Binah. Don performed "How Can I Sing?" an adaptation of a Hebrew poem with lyrics by Malcolm Stern and music by Michael Isaacson, and Meyer Machtenberg's musical adaption of the "Shehecheyanu" blessing. He closed with David Kleiner's English translation of the Ladino song "Raba HaMehikoh," the chorus of which opens with the line "Don't fall in love with a Mexican rabbi"!
Known as the "All American Jewish lesbian folksinger," Phranc has been performing original music since the 1970s. She has influenced electropunk, new wave and other genres over the course of her career. Now predominantly an artist whose paper and cardboard constructions engagingly reflect butch culture, Phranc's work has been shown across the U.S. She sang the traditional Yiddish song "Tzena Tzena" and her original songs "Lifelover" and "Take Off Your Swastika," written in 1981 as a response to the popularity of Nazi symbols in punk culture of the time.
BCC member Jeanelle LaMance is a retired teacher who has spent much of her life making music in schools, churches and synagogues. For 18 years she has beautifully accompanied BCC's cantors, choir, and visiting performers on piano during High Holiday services and other events and also plays with Zingen far Sholem Yiddish Chorus and Gay Gezunt, a Klezmer band started at BCC 20 years ago (with Fran Chalin). Jeanelle played the now classic song "Lechi Lach," first performed at BCC some 30 years ago and written by Debbie Friedman and Savina Teubal, and Debbie Friedman's adaptation of the "Tefillat Haderech" (traveler's prayer).
This amazing concert closed with Tamara Kline, who enjoyed a 20-year career as a music composer and producer that included commercials for Barbie and Pepsi, music for Oprah Winfrey and the Disney Channel, and the theme for the CBS Winter Olympics. Now also a marriage and family therapist in Beverly Hills, Tamara writes and plays soulful music for BCC. Together with longtime BCC friend Gwen Stewart of "Rent" fame, Tamara performed the song "What If," which she co-wrote with Devra Fishman. She also performed "Let Music Bring Us Together," which she cowrote with Fran Chalin, inspired by the Pete Seeger line "if you sing a song of another culture, it's harder to kill them."
Our master of ceremonies for both parts of the program was BCC member Adam Kulbersh, a successful character actor in television and film, and now expanding the use of his talents to include writing as well. He is also the proud new father of his infant son Jack, who made a
brief appearance in his father's arms. Adam regaled us with his usual humor as he introduced all the award presenters and concert performers and kept us right on schedule. He also conducted our live auction and opportunity drawing with raffle prizes. Congratulations to all the winners!
Many thanks to all the others who worked so hard on this brunch and concert, including event co-chairs Tracy Moore and Marc Breindel and committee members Sofia Ames, Robin Berkovitz, Gordon Blitz, Davi Cheng, Jeff Cohen, Ray Eelsing, Mark Farber, Aviyah Farkas, William Garbutt, Ruth Geffner, Ginger Jacobs, Mike King, Bruce Maxwell, Laurie Newman, Cecilia Quigley Groman, Lauren Schlau, Hannah Theile, Ronnie Wexler, Bracha Yael, and special thanks to Danny Fisk. Thanks also to Pam Postrel for her videos and to the concert band: Ricky Katz on electric/acoustic guitar, T.J. Troy on drums and percussion, Mike Meehan on piano, and David Tranchina on bass. And a big thank you to Amy Haberland Photography for generously donating their time and for taking gorgeous photos of this event.