BCC Bimah Wall Story Lines Writing Workshop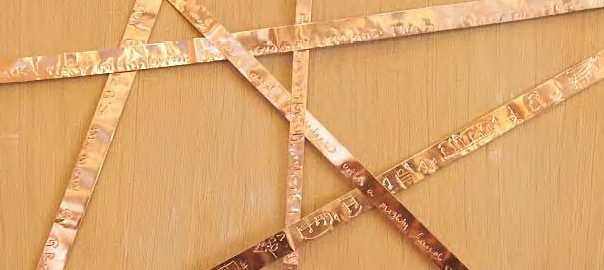 Didn't have a chance to write your story-line for the BCC Bimah wall before construction? Couldn't picture what it was? Joined BCC since 2010? Please join resident BCC writing teachers Bonnie Kaplan and Sylvia Sukop to write your BCC story line and transfer it to copper. The strips will be installed another day. This workshop is only for those who are BCC members and did not participate the first time.
Sunday, January 26, 2014, 3-5pm BCC
Questions and RSVP to Felicia: templedirector@bcc-la.org
The Story Lines bimah wall surrounding the Ark which holds our sacred Torahs is woven with copper strips on which members wrote their meaningful moments at BCC. The Story Lines wall serve as a powerful reminder that each of our strands together build a powerful web of caring community and sacred life.
Read more about our building here