BCC Film Club: Deserts Hearts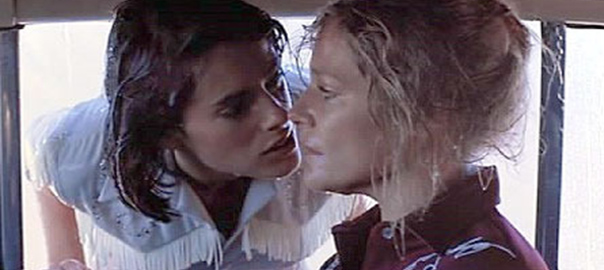 BCC Film Club explores historic queer cinema: On Saturday, April 18, we'll screen the movie Deserts Hearts in honor of its 30th anniversary.
The Advocate ranks it in its top 10 LGBT films of all time because it's "the first 'real' lesbian film (an out lesbian, nobody dies, two women have sex)." Loosely based on the Jane Rule novel Desert of the Heart, it is directed by Donna Deitch and stars Helen Shaver, Patricia Charbonneau, and Audra Lindley.
It is 1950s Nevada, and Professor Vivian Bell (Helen Shaver) arrives to get a divorce. She's unsatisfied with her marriage, and feels out of place at the ranch she stays on, she finds herself increasingly drawn to Cay Rivers(Patricia Charbonneau), an open and self-assured lesbian, and the ranchowner's daughter. The emotions released by their developing intimacy, and Vivian's insecurities about her feelings towards Cay, are played out against a backdrop of rocky landscapes and country and western songs.
All BCC film events are free and open to the public. Bring your favorite snacks to share! Havdalah and schmooze at 7:00 pm; movie screens at 7:30 pm.
Official Facebook page of Desert Hearts
TRIVIA: Did You Know?
*Patricia Charbonneau filmed the entire movie while pregnant.
*The $350,000 budget for the film was raised independently with limited partnerships.
*Patricia Charbonneau was married at the time of filming and Helen Shaver would meet her future husband, a key grip on the film, while making it.
*When producers of The L Word began production of that television show, they required the actors to view Desert Hearts to show them a well-made lesbian love scene?
*Co-star Helen Shaver said that iconic bisexual actress Greta Garbo asked to meet her but due to Garbo's poor health they instead spoke over the phone?
*Co-star Patricia Charbonneau found out that she was pregnant right before shooting started?
*Director Donna Deitch also directed the Oprah Winfrey produced Emmy nominated mini-series The Women of Brewster Place?