BCC Film Club Presents "Cupcakes"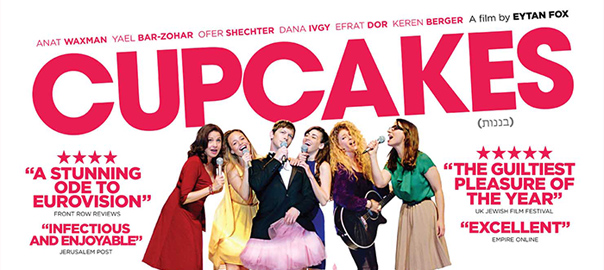 On Saturday evening, May 7, the BCC Film Club will present "Cupcakes," a musical comedy directed by Israeli director Eytan Fox ("Yossi and Jagger," "Yossi" and "The Bubble").
After the screening, there will be a lively discussion about the film. All BCC film events are free and open to the public. Bring your favorite snacks to share! Havdalah and schmooze start at 7:00 pm, and the movie screens at 7:30 pm.
"Cupcakes" is a nostalgic throwback to the bygone days of neighborliness and kitsch TV, as six fellow tenants gather together to watch "Unisong," a "Eurovision" type international singing contest.
Unimpressed by the generic Israeli entry but still in musical mode, they join in an impromptu number to cheer up their hostess, whose husband has just left her.
A cell phone-shot video of their ditty is submitted on a lark and soon goes viral, and the six soon find themselves elected as the official Israeli representatives at the next "Unisong" contest, to the great consternation of almost everyone involved.
The film stars Dana Ivgy (Israeli Film Academy Best Actress winner for "Zero Motivation"), Keren Berger (Best Actress and Best Supporting Actress nominee), and Ofer Shechter (Best Actor nominee).