BCC Film Club: Some Like it Hot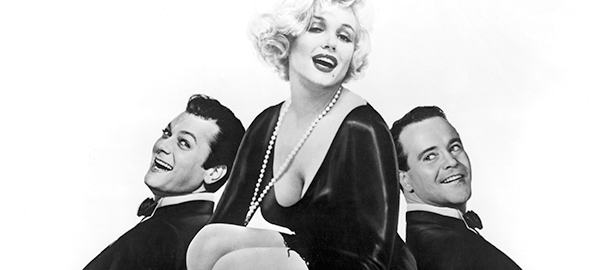 Join us every other month to screen films of interest to our community. On Saturday, February 28, 7pm, we'll be screening "Some Like it Hot" (1959). It's about two struggling musicians who witness the 1929 St. Valentine's Day Massacre in Chicago, and join an all-female touring band dressed as women, to hide from the mob.
In addition to hiding, complications set in: one falls for another band mate but can't tell her his gender, and the other has a rich male suitor who will not take "No!" for an answer. Starring Tony Curtis, Marilyn Monroe, Jack Lemmon, Joe E. Brown, George Raft and Pat O'Brien.
All BCC Film Club events are at BCC, free and open to the public. Bring your favorite snacks to share! Havdalah at 7pm, movie at 7:30pm.
The all-time outrageous, satirical, comedy farce favorite, Some Like It Hot (1959) is one of the most hilarious, raucous films ever made. The ribald film is a clever combination of many elements: a spoof of 1920-30's gangster films with period costumes and speakeasies, and romance in a quasi-screwball comedy with one central joke – entangled and deceptive identities, reversed sex roles and cross-dressing. In fact, one of the film's major themes is disguise and masquerade – e.g., the drag costumes of the two male musicians, Joe's disguise as a Cary Grant-like impotent millionaire, and Jerry's happiness with a real wealthy, yacht-owning retiree.
It's also a black and white film (reminiscent of the early film era) filled with non-stop action (e.g., the initial car chase), slapstick, and one-liners reminiscent of Marx Brothers and Mack Sennett comedies. An earlier Bob Hope film had the same title: Some Like It Hot (1939). The film's working title was Not Tonight, Josephine! (its origin was reportedly taken from Napoleon Bonaparte's response when refusing sex with Empress Josephine).
The exceptional film was the all-time highest-grossing comedy up to its time, one of the most successful films of 1959, and Wilder's funniest comedy in his career. The film was inspired by director Kurt Hoffmann's German movie comedy/musical Fanfares of Love (1951) (aka Fanfaren der Liebe) with a similar plot element that writer/director Wilder borrowed: two down-on-their-luck, unemployed jazz musicians dress up as women in order to get two weeks of work in an all-women's dance band bound for Florida, after witnessing a gang-land massacre in Prohibition-Era Chicago and being pursued by the mob. [The gangland slaying in the film was loosely based upon Chicago's infamous St. Valentine's Day Massacre on Feb, 14, 1929.] Only a few other cross-dressing comedies have come close to approximating the film's daring hilarity: Tootsie (1982), La Cage Aux Folles (1978) and Victor/Victoria (1982). Some Like It Hot also inspired the Broadway musical Sugar that opened in 1972.
This was Marilyn Monroe's second film with director Billy Wilder, her first being The Seven Year Itch (1955). Countless stories have circulated regarding her erratic behavior and health/personal problems, her 'no-shows' and frequent tardiness to the set, her self-doubts and numerous re-takes required for some scenes, and her inability to remember her lines. Director Billy Wilder's original choice for the role of Sugar was Mitzi Gaynor, not Marilyn Monroe, and after Tony Curtis was signed on, Danny Kaye and Frank Sinatra were considered for the second male lead role before Lemmon was signed.
Continue reading on The Greatest Films