BCC Member Pam Postrel Picks Up a Golden Trailer Award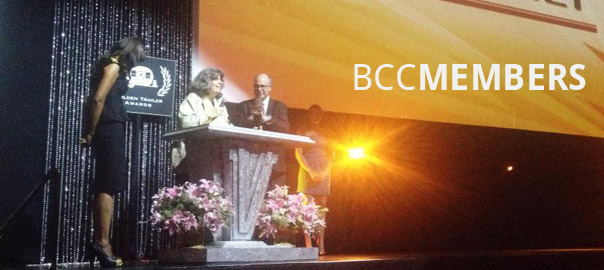 Congratulations to our own Pam Postrel, who picked up a Golden Trailer Award for Best Animated /Family trailer on Friday!
Pam attended the 14th Annual Golden Trailer Awards at the Saban Theatre on May 3, 2013 in Beverly Hills, California. Her team's trailer for the hit movie Wreck it Ralph, produced by mOcean for Disney, picked up the award for Best Trailer in the category Best Animation/Family. After her win Pam commented on her Facebook page: "Can you say "Golden Trailer Award for Best Animated or Family trailer?" I can. Long live our wonderful mOcean team, the amazing David Sameth, and long live Wreck-It Ralph!!"
MAZEL TOV, PAM! From all of us, at BCC. Watch the winning trailer below.
The Golden Trailer Awards is the awards show devoted to feature film previews. Since moviegoers consistently rate movie trailers as the most entertaining part of the theater experience, the Golden Trailer Awards celebrates the craftsmanship and allure of these potent mini-epics with a fast-paced show whose frenetic and sometimes irreverent style is perfect for the post-MTV era.
Each year, through an open competition judged by film industry notables, the Golden Trailer Awards recognize the creative people who make movie trailers, and the best examples of their unique art, in a gala award show.
Click here for more of Pam's work.