BCC Member, Yuval David, appears in Out Magazine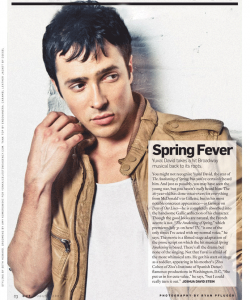 Check out the August 2009 issue of Out Magazine for an article on BCC's very own Yuval David!  The article is entitled "Spring Fever" and subtitled as "Yuval David takes on the new film version of The Awakening of Spring."  Also, turn to the issue's table of contents, where you'll see a photo of Yuval as the background image.  Congratulations, Yuval!!
"You might not recognize Yuval David, the start of The Awakening of Spring, but you've certainly heard him.
The 26-year-old has done voiceovers for everthing from McDonald's to Gillette, but in his most notable onscreen appearance — as George on Days of Our Lives — he is completely absorbed into the handsome Galic seduction of his character."