BCC's 2nd Night Pesach Seder – Saturday, April 7 at 6 p.m.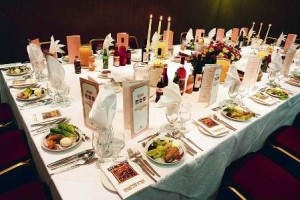 Saturday, April 7, BCC Second Night Community Seder at 6 pm. Enjoy a festive Seder led by Rabbi Edwards and Cantor Porat with your BCC Family.
 This special and delicious Passover meal will be catered by Bronze Food Catering (Chef Peter Bastien and David Mozes). It will feature a delectable fish entrée or a scrumptious vegetarian entrée. As we celebrate our freedom and our good fortune in sharing food and each other's company in our new synagogue, we will also be remembering those still working for liberation.
Cost: $50 for Members, $65 for Nonmembers, children 1/2 price.
Please make your paid RSVP to the BCC Office by Wednesday, April 4 at 4pm, to be included in the Chef's count. (Please specify Fish or Vegetarian entrée.)
 NO SALES AT THE DOOR.