BCC's Annual Hanukkah Celebration
Get ready to shine your light during Hanukkah!
Wednesday, December 9
Gelty Pleasures, a VERY LGBTQIA Hanukkah Party, 7pm to 11pm.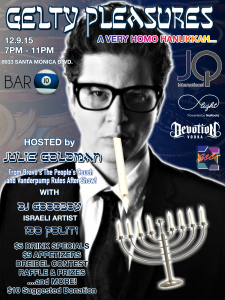 JQ International, co-sponsored by BCC and Infinite Lights brings you a Hanukkah party you'll never forget! Cantor Juval Porat will lead the candle lighting. Special drinks, musical entertainment, raffle prizes, and more at West Hollywood's new and swanky Bar 10!! Emceed by Julie Goldman, with…*$5 Mazel-tinis drink special by Devotion Vodka, *Latke Appetizers, *Israeli musical artist Ido Politi, *Jew Fro friend DJ GoodBoy, *Dreidel Spinning Contest! *Special candle lighting ceremony by BCC and more surprises! Entrance is a $10 suggested donation.
Bar10 WEHO 8933 Santa Monica Blvd, West Hollywood, CA 90069.
CLICK HERE to RSVP on Facebook
CLICK HERE to Purchase your Pre-Sale ticket!
Friday, December 11
On Friday, December 11, join us for Hanukkah (the 6th night) with Shabbat services and a latke & sufganiot (jelly doughnut) party at BCC!
6:00 pm – Latke party and bring your own dinner -especially with children. Hanukkah crafts with Ms. Purple!
6:45 pm – Family candle lighting (bring your own menorah).
7:00 pm – Song session with Rabbi Heather Miller and Cantor Juval Porat.
7:30 pm – Candle-lighting followed by Shabbat-Hanukkah service with BCC clergy
The service will be followed by a delicious latke and sufganiot party! For Hanukkah this year, we invite you to ponder the questions: How do you bring light into the world? and Who brings light into your life? Send us your words of "light" to rabbiheather@bcc-la.org, some of which will be included in our Hanukkah service.
Saturday, December 12
BCC's 1st Annual Hanukkah Party! 6-10pm. Dinner and Show, featuring the band Mostly Kosher. Entrance price includes dinner from the Deli Doctor Food Truck, vegan & gluten-free entrees, latkes, and Joanie & Leigh's Cakes for dessert. Beer, Wine, and Champagne are available for purchase. Dinning is from 6-8pm. Show starts at 8. TICKETS: Members: $36; Non-members: $40; VIP $50 (includes front-row seating and champagne). RSVP deadline is December 7. Presented by Club 6090 and sponsored by the BCC Havurot and Membership Committee. Register now by clicking on the image below!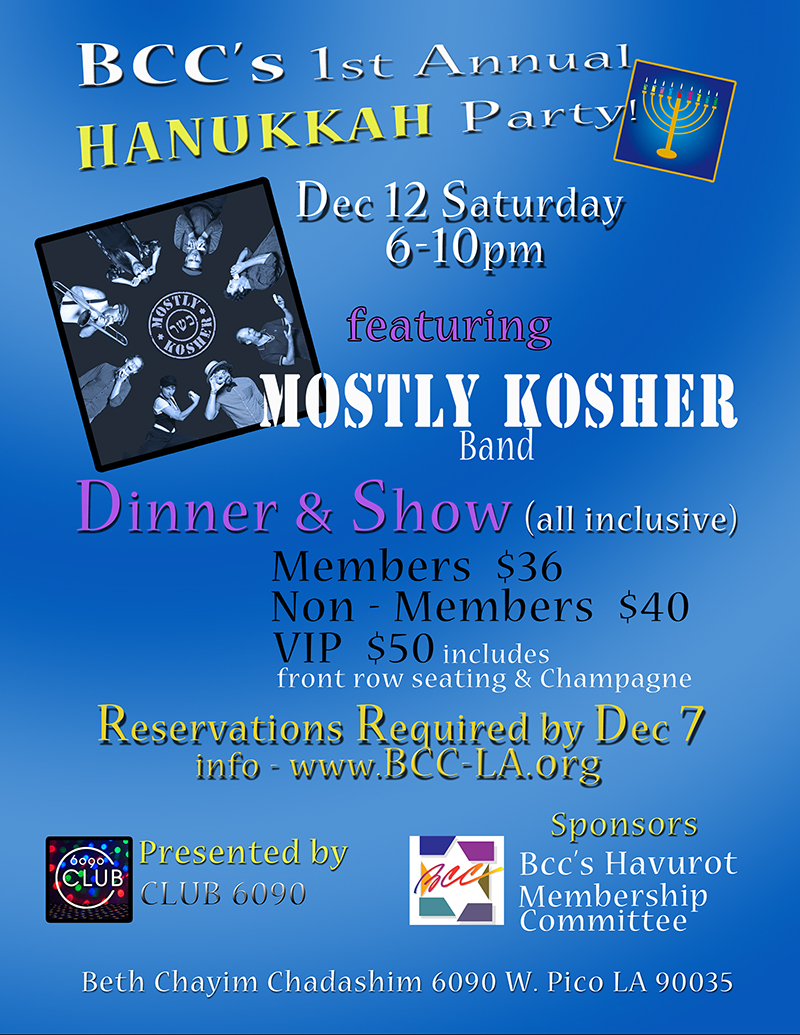 Click HERE to register