BCC's Bookshelf
A few of our talented community members have published books, that we recommend reading.
Fifty Shades of Talmud: What the First Rabbis Had to Say About You-Know-What by Maggie Anton (2016)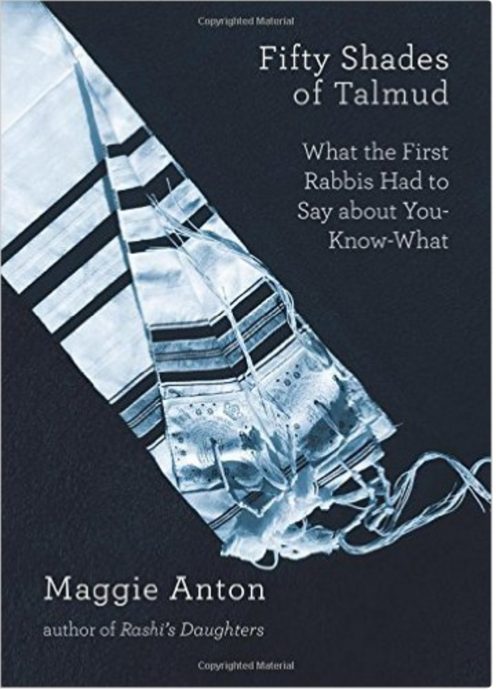 Amusing. Seductive. Stimulating. We're talking about the Talmud? That's right. Take fifty actual Talmudic discussions, mix in pithy sayings (appropriate and inappropriate) by luminaries from Mae West and Amy Schumer to George Washington and Gandhi, add a few cartoons, and voila delighted and enlightened readers will come away with a new perspective on what the ancient Jewish sages say about our most intimate relationships.
In this lighthearted, in-depth tour of sexuality within the Talmud, come eavesdrop at the first rabbis' locker-room door as they discuss every aspect of sexual relations how, when, where, with whom often in startlingly explicit fashion. Author Maggie Anton reveals how Jewish tradition is more progressive in many respects, and more bawdy, than one might think. The award-winning historical novelist's first foray into nonfiction is likely to leave her fans going OMG, WTF, and even LOL.
LAtitudes: An Angeleno's Atlas by Patricia Wakida (with one chapter written by Sylvia Sukop, 2015)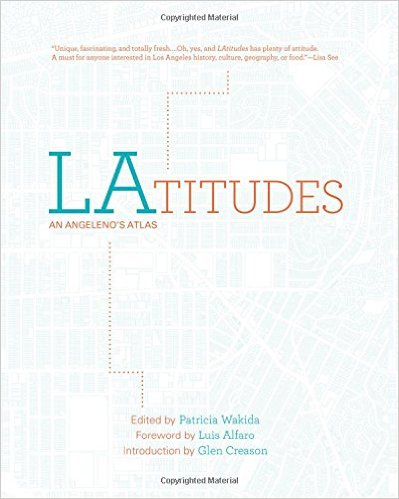 This literary and cartographic exploration of Los Angeles reorients our understanding of the city in highly imaginative ways. Illuminated by boldly conceived and artfully rendered maps and infographics, nineteen essays by LA's most exciting writers reveal complex histories and perspectives of a place notorious for superficiality. This chorus of voices explores wildly different subjects: Cindi Alvitre unveils the indigenous Tongva presence of the Los Angeles Basin; Michael Jaime-Becerra takes us into the smoky, spicy kitchens of a family taquero business in El Monte; Steve Graves traces the cowboy-and-spacemen-themed landscapes of the San Fernando Valley. Overlooked sites and phenomena become apparent: LGBT churches and synagogues, a fabled "Cycleway," mustachioed golden carp, urban forests, lost buildings, ugly buildings. What has been ignored, such as environmental and social injustice, is addressed with powerful anger and elegiac sadness, and what has been maligned is reexamined with a sense of pride: the city's freeways, for example, take the shape of a dove when viewed from midair and pulsate with wailing blues, surf rock, and brassy banda. Inspired by other texts that combine literature and landscape, including Rebecca Solnit's Infinite City, this book's juxtapositions make surprising connections and stir up undercurrents of truth. To all those who inhabit, love, or seek to understand Los Angeles, LAtitudes gives meaning and reward.
Imperfect Thing Called Love by Yanir Dekel (2015)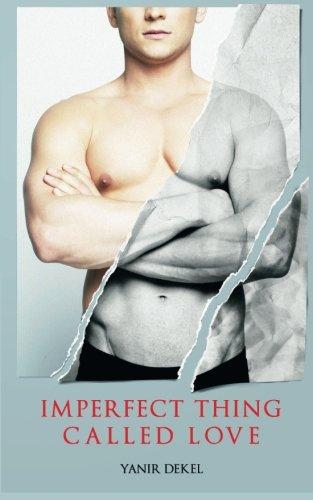 Imperfect Thing Called Love is the story of a gay guy's first year navigating life after the breakup of his first meaningful relationship. It's a story of the lessons learned about love when the heart is broken. About the first year of therapy, the first year of real self-discovery. With a goal to find love again, the main character goes on a journey to reinvent himself as a single guy while trying to understand why his relationship failed. He deals with his past, his insecurities, body image, fantasy, dating, emotions, and sensitivity. Will he go back to his ex? Will he ever love and be loved again? With the help of a therapist like no other he learns, first and foremost, to love himself. Imperfect Thing Called Love is a best friend who understands what you're going through after a breakup.
For Every Season: An introspective guide to renewing ourselves during the High Holidays and throughout the Jewish Year by Jeff Bernhardt (2015)
The Days of Awe and the month leading up to them in the Hebrew calendar are truly a gift. Each day offers not only the opportunity to reflect back on the past year but also the chance to look forward to the possibilities that lie ahead in the year to come. Many of us are eager for resources to help us bring the greatest possible meaning to these sacred days. For Every Season is just such a resource.
With daily meditations and insights into High Holiday liturgy, this new journal-format book offers each of us the opportunity to reflect not just in thought but in writing on our personal and spiritual path.
Enchantress: A Novel of Rav Hisda's Daughter by Maggie Anton (2014)
Fantastic tales of demons and the Evil Eye, magical incantations, and powerful attractions abound in Enchantress, a novel that weaves together Talmudic lore, ancient Jewish magic, and a timeless love story set in fourth-century Babylonia.
One of the most powerful practitioner of these mysterious arts is Rav Hisda's daughter, whose innate awareness allows her to possess the skills men lack. With her husband, Rava–whose arcane knowledge of the secret Torah enables him to create a "man" out of earth and to resurrect another rabbi from death–the two brave an evil sorceress, Ashmedai the Demon King, and even the Angel of Death in their quest to safeguard their people, even while putting their romance at risk.
On Sacred Ground: Jewish and Christian Clergy Reflect on Transformative Passages from the Five Books of Moses by Jeff Bernhardt (2012)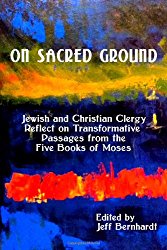 For as long as the written word has existed, the Five Books of Moses has had the power to summon our unique and diverse voices. Its words have the power to stir our minds, our hearts, and our souls. Thousands of years after it was first recorded, we still find our lives reflected in its words and can be inspired by those words.
Rav Hisda's Daughter, Book I: Apprentice: A Novel of Love, the Talmud, and Sorcery by Maggie Anton (2012)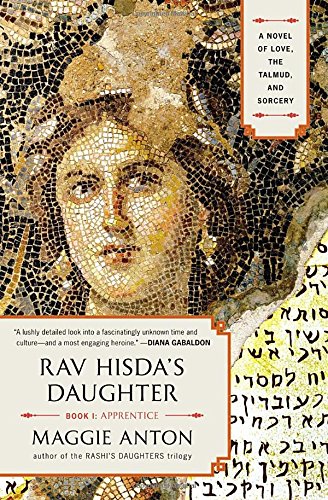 Hisdadukh, blessed to be beautiful and learned, is the youngest child of Talmudic sage Rav Hisda. The world around her is full of conflict. Rome, fast becoming Christian, battles Zoroastrian Persia for dominance while Rav Hisda and his colleagues struggle to establish new Jewish traditions after the destruction of Jerusalem's Holy Temple. Against this backdrop Hisdadukh embarks on the tortuous path to become an enchantress in the very land where the word 'magic' originated.
But the conflict affecting Hisdadukh most intimately arises when her father brings his two best students before her, a mere child, and asks her which one she will marry. Astonishingly, the girl replies, "Both of them." Soon she marries the older student, although it becomes clear that the younger one has not lost interest in her. When her new-found happiness is derailed by a series of tragedies, a grieving Hisdadukh must decide if she does, indeed, wish to become a sorceress. Based on actual Talmud texts and populated with its rabbis and their families, Rav Hisda's Daughter: Book I – Apprentice brings the world of the Talmud to life – from a woman's perspective.
Rashi's Daughters, Book III: Rachel: A Novel of Love and the Talmud in Medieval France by Maggie Anton (2009)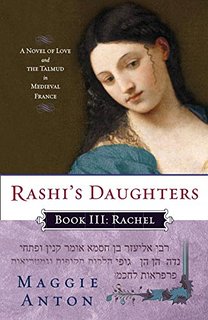 Rachel is the youngest and most beautiful daughter of medieval Jewish scholar Salomon ben Isaac, or "Rashi." Her father's favorite and adored by her new husband, Eliezer, Rachel's life looks to be one of peaceful scholarship, laughter, and love. But events beyond her control will soon threaten everything she holds dear. Marauders of the First Crusade massacre nearly the entire Jewish population of Germany, and her beloved father suffers a stroke. Eliezer wants their family to move to the safety of Spain, but Rachel is determined to stay in France and help her family save the Troyes yeshiva, the only remnant of the great centers of Jewish learning in Europe.
Rashi's Daughter, Secret Scholar by Maggie Anton (2008)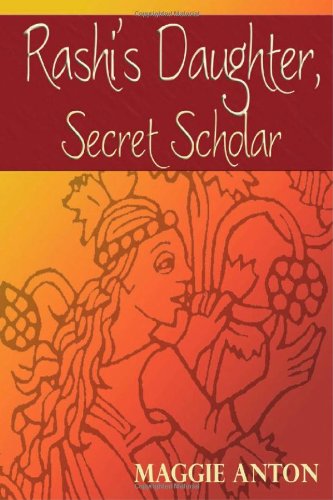 Rashi's Daughter, Secret Scholar was adapted from the first book in this series, Volume 1: Joheved. The tale of a young girl who challenges conventions to engage in Jewish learning;
Set in 11th-century Troyes, France, Rashi's Daughter, Secret Scholar tells the story of Joheved, eldest daughter of Salomon ben Isaac (known as Rashi), one of the great medieval Jewish Bible commentators. At a time when women traditionally were barred from studying Jewish texts, Rashi secretly teaches first Joheved, then her sister Miriam. By day, Joheved helps in running the household and the family winemaking business, and by night she studies Talmud with her father. As she nears marriageable age, Joheved finds her mind and spirit awakened by religious study, but she must keep her passion for learning and prayer hidden. When she becomes betrothed to Meir ben Samuel, she is forced to choose between marital happiness and being true to her love of the Talmud. Will she fulfill the expected role of a Jewish woman or pursue a path of Jewish learning?
Rashi's Daughters, Book II: Miriam: A Novel of Love and the Talmud in Medieval France by Maggie Anton (2007)
The engrossing historical series of three sisters living in eleventh-century Troyes, France, continues with the tale of Miriam, the lively and daring middle child of Salomon ben Isaac, the great Talmudic authority. Having no sons, he teaches his daughters the intricacies of Mishnah and Gemara in an era when educating women in Jewish scholarship was unheard of. His middle daughter, Miriam, is determined to bring new life safely into the Troyes Jewish community and becomes a midwife. As devoted as she is to her chosen path, she cannot foresee the ways in which she will be tested and how heavily she will need to rely on her faith. With Rashi's Daughters, author Maggie Anton brings the Talmud and eleventh-century France to vivid life and poignantly captures the struggles and triumphs of strong Jewish women.
Rashi's Daughters, Book I: Joheved: A Novel of Love and the Talmud in Medieval France by Maggie Anton (2007)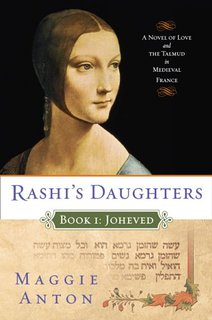 In 1068, the scholar Salomon ben Isaac returns home to Troyes, France, to take over the family winemaking business and embark on a path that will indelibly influence the Jewish world, writing the first Talmud commentary, and secretly teaching Talmud to his daughters.
Joheved, the eldest of his three girls, finds her mind and spirit awakened by religious study, but, knowing the risk, she must keep her passion for learning and prayer hidden. When she becomes betrothed to Meir ben Samuel, she is forced to choose between marital happiness and being true to her love of the Talmud.
Rich in period detail and drama, Joheved is a must read for fans of Tracy Chevalier?s Girl With a Pearl Earring.