BCC's Czech Holocaust Torah Scroll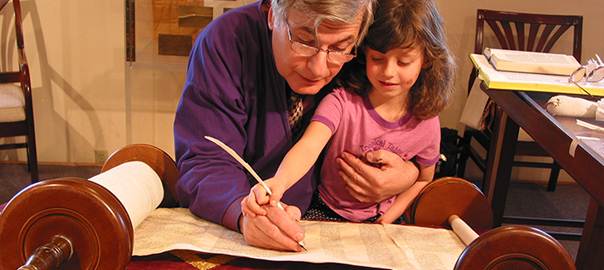 April 4, 2016
Seven decades after the end of the Holocaust, marked by the liberation of Auschwitz in 1945, BCC continues to honor and preserve the memory of those who perished by caring for a Holocaust Torah scroll, a precious relic of 20th-century European Jewish History.
A "Holocaust Torah" is one that survived the Nazi regime's efforts to extinguish all forms of Jewish life and culture. BCC's Torah scroll originally came from the small town of Chotěboř, located southeast of Prague in today's Czech Republic. It is one of thousands that were confiscated from Jewish communities throughout Europe. It has been suggested that Hitler planned to create a museum of an extinct race—the Jews—using artifacts such as these. Instead, many Holocaust Torah scrolls were rescued and are today being used in congregations, especially here in the United States, as a source of Jewish continuity.
BCC was founded in 1972 and received its Holocaust Torah in early 1973, on permanent loan from the Memorial Scrolls Trust in England, where many Torah scrolls had been sent for safekeeping after the liberation. BCC is one of five American congregations (and the only one on the West Coast) to receive a Torah scroll from Chotěboř: a sixth Chotěboř scroll resides in Jerusalem. An anonymous donor covered the cost of repairing BCC's scroll and bringing it to Los Angeles, and today it remains one of our most treasured possessions.

The Jewish community our scroll originally belonged to
Chotěboř's Jewish community, with its prayer hall and cemetery, dates from the 1860s, but by the end of the 19th Century, as Jews began moving to larger cities, the population began to dwindle, and only 39 Jews remained by the 1930s. Deportations of Jews of Chotěboř likely to have taken place during the first half of June 1942, along with other deportations from the region, although no specific record exists. The Survivors of the Shoah Visual History Foundation houses two Chotěboř survivor testimonies in its archives.
Maintaining these unique survivors of the Holocaust carries potent symbolism, observes Stephen Sass, former BCC board member and president of the Jewish Historical Society of Southern California. "To keep alive this precious Torah scroll that has been entrusted to us is to keep alive the story and the memory of the community that wrote it and used it," he says.
In 2005, a project to repair our Czech Torah scroll
Traditionally, Torah scrolls that are damaged or in disrepair are no longer considered kosher, or suitable for ritual purposes, and are to be buried in a Jewish cemetery. However, a custom has evolved among congregations caretaking Holocaust Torahs to continue using them on special occasions as a memorial.
The very act of repairing a Torah is considered sacred. It is said in the Talmud, "Even if a person corrects only one letter, it is as if they wrote the entire Torah scroll by hand." (Menachot 30a)
On Sunday, March 20, 2005, 100 BCC members came together and, one by one, re-inscribed a single letter in a specially selected portion of the Torah scroll to be read once a year at the Yom Kippur morning service. Neil Yerman (pictured above), a Sofer, or Torah scribe, came from New York City to lead us in the hands-on sessions in the sanctuary, in groups of about 20 each, throughout the afternoon and evening.
The particular portion of BCC's Torah selected for restoration includes the well known passage from Deuteronomy 30:19—"Life and death have I set before you…that you may chose life."
These verses have special resonance for BCC, founded 33 years ago as a home for lesbian and gay Jews. "We are part of a community that historically has faced rejection, discrimination, persecution and even death," notes BCC Rabbi Lisa Edwards. "For us, to 'choose life' means to live proudly and joyfully, knowing that we are all created in God's image. Each Yom Kippur, we read these beloved verses made all the more poignant and powerful by the fact that our community helped transform and restore this scroll with our own hands."
Reuniting our Czech Torah scroll with survivor Olga  Grilli
In November 2005, on the 67th anniversary of Kristallnacht, BCC organized the "Etz Chayim" reunion of 28 Czech survivor scrolls now cared for by communities around Southern California. That Saturday evening, approximately 400 people gathered at Leo Baeck Temple in Los Angeles (as BCC's own building was too small to host such a large event).
We were also blessed to find a Jewish survivor of from the same community as BCC's scroll, and her presence at the reunion made it even more special.
Stephen Sass had searched the oral testimonies of the Shoah Visual History Foundation to look for survivors from Chotěboř. After some further sleuthing on the Internet, he located Olga Grilli (born Gabanyiova), a native of Chotěboř who had traveled to England in 1939 on the last of the Kindertransport trains that rescued Jewish children from Czechoslovakia before World War II. Olga survived the war in England but lost her entire family. Our Torah is the one her grandfather held and kissed every Shabbat, and is now the only tangible reminder she has of her childhood.
Olga traveled, with her children and grandchildren, to Los Angeles to participate in the "Etz Chayim" celebration. As the 28 survivor Torah scrolls from around Southern California were carried into the sanctuary, Olga led the procession in her wheelchair, BCC's Chotěboř scroll in her arms.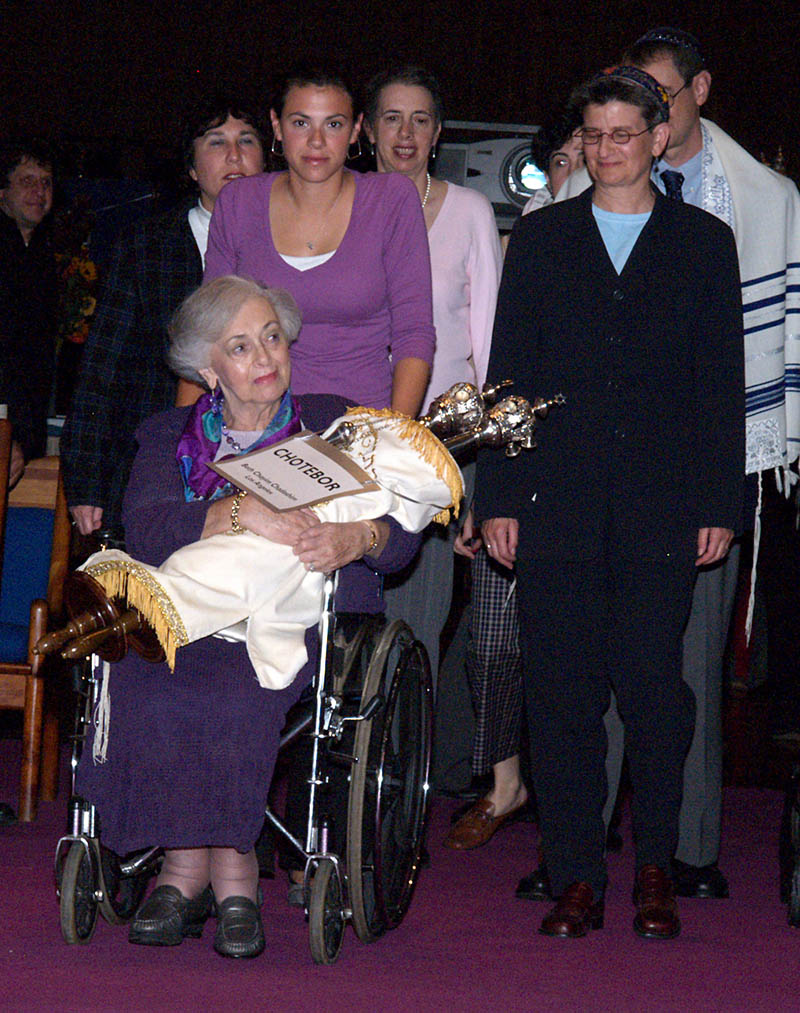 Olga Grilli at the "Etz Chayim" Czech Torah Scrolls reunion organized by BCC in 2005, accompanied by her granddaughter and BCC Rabbi Lisa Edwards. Photo by Tracy Moore.
We also screened the HBO documentary "The Power of Good," which told the story of the young British businessman Nicholas Winton who saved 669 Jewish children by organizing the Kindertransport. Winton's efforts were secret until many years after the war, when he was reunited with many of the people he had saved. After the film, Olga recounted her memories of her childhood in Chotěboř, and the experience of leaving her family and community behind in the face of the Nazi threat. Her son and granddaughter also spoke about the experience of visiting Chotěboř with Olga in 1993 and about learning of her lost world as they grew up. Tears flowed all around, but there was also much joy at the long-delayed reunion.
BCC member Sylvia Sukop developed a friendship with Olga, and has visited her over the years, in New York and in Florida, most recently in October 2015.
Read more about BCC's repair of our Holocaust Torah scroll.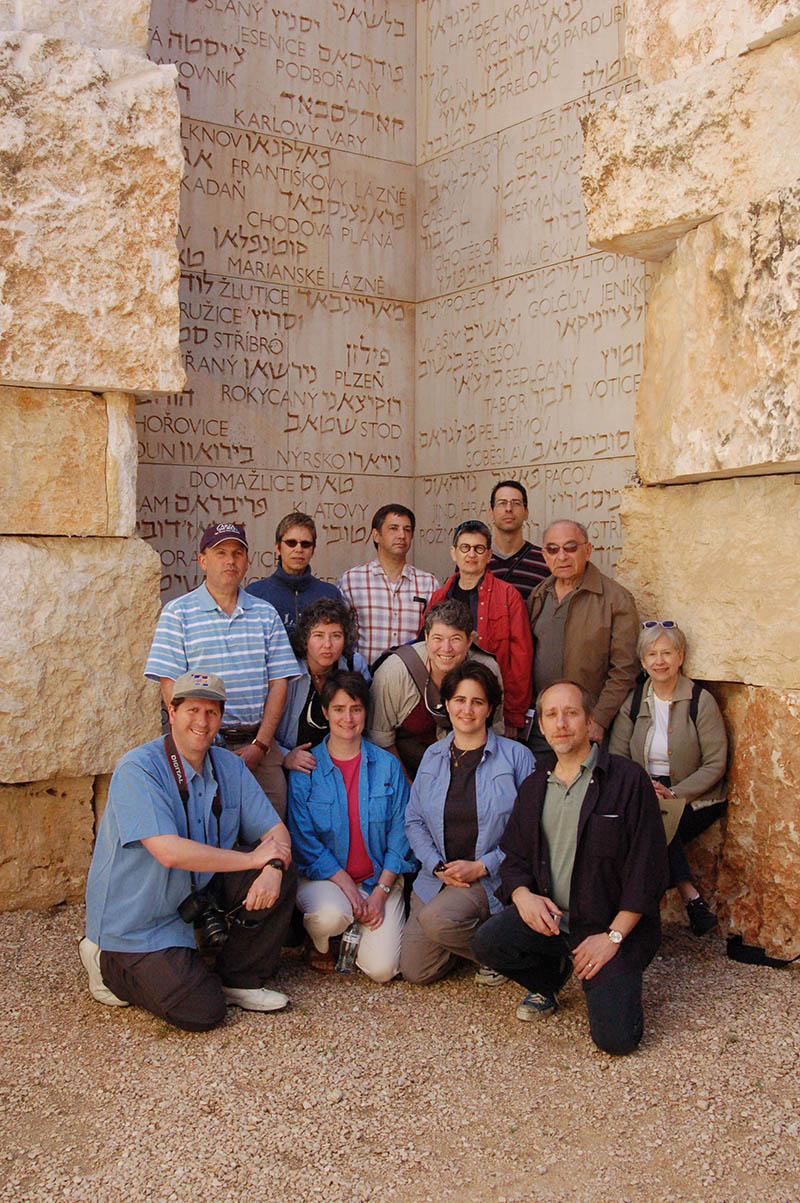 At Yad Vashem, the Valley of the Communities monument is etched with the names of more than 5,000 Jewish communities destroyed by Nazi Germany and its collaborators. In 2007, a group of BCC members gathered under the stone engraved with the name of Chotěboř, the Czech town where BCC's Torah scroll comes from. (See right side, second panel from the top.)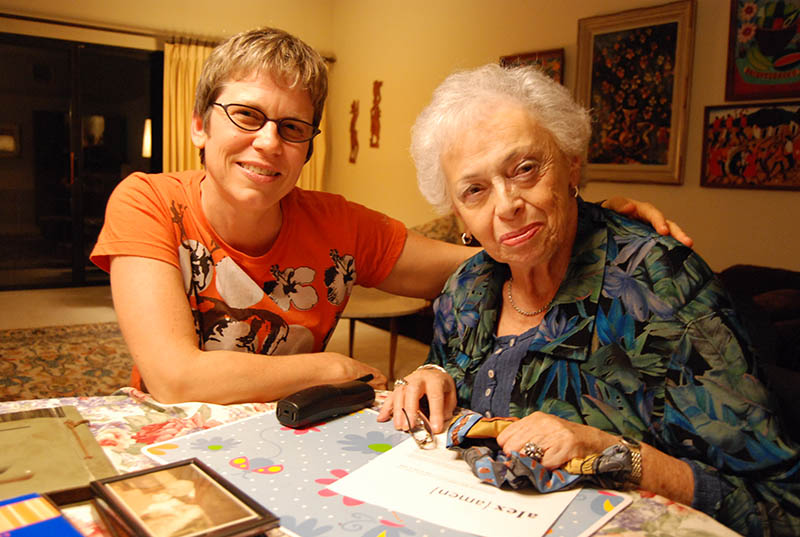 Sylvia Sukop visiting Olga Grilli at her home in New York in 2007.
2 Comments on "BCC's Czech Holocaust Torah Scroll"
Joanie Hull June 10, 2016 pm30 9:43 pm .

Hello, I m so excited to hear about the Chotebor scrolls. Is it possible to get contact information for Olga? I am an American missionary (from upstate NY) & I have lived in Czech for about 20 years & in Chotěboř for about 10 Years.

I would love the change to be in touch with her.

God bless you,
Joanie Hull