Hanukkah 2016 at BCC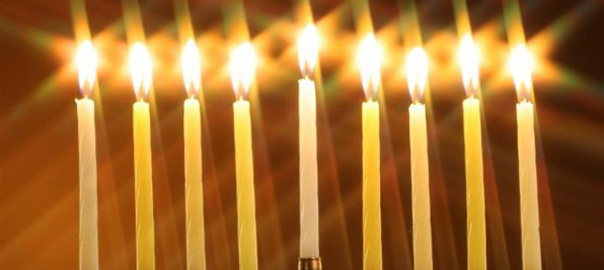 Note: the calendar of events below are of 2016. For this year's Hanukkah event calendar please click here
Come celebrate Hanukkah and Shabbat this Friday. Help us light our first ever "BCC Green Hanukkiah—-a hanukkah menorah– that burns no oil," this is in addition to lighting your own hanukkiot, eating latkes and jelly-donuts!
In memory of William Korthoff's dedication to renewable energy, BCC will have a human-powered Hanukkah menorah. We will need your help to keep the lights shining bright on this menorah, if you are interested to be a part of this "lighting crew", come dress in comfortable shoes and clothes, clothes that you can work-out in. Everyone will have plenty of opportunities to light this Green hanukkiyah after services.
Remember to bring your own Hanukkiyot. Below are the details:
6 pm Latke Party & Bring Your Own Dinner for Families, Friends, and Children.
Hanukkah crafts with Ms. Purple.
6:45 pm Family Candle lighting.
7 pm Singing with Cantor Juval Porat & Rabbi Heather Miller
7:30 pm Candle Lighting for All ages
8:00 pm Shabbat Services with Rabbi Lisa Edwards, Rabbi Heather Miller & Cantor Juval Porat! Latke & Sufganiot party follows Services.
Following Services
Latkes & Sufganiot Party! Our Hannukah Oneg Sponsors are:
Linda Moakes & Helen Cohen in honor of themselves!
AND Jack Elliot, in honor of
Debbie Chanen & Sonya Siegel-Chanen's 10 years as a family!
BCC's Hanukkah Boutique!
Join us in the BCC Library both before and after services to select from many greatly priced gift items to purchase for Hanukkah
Friday, December 5 & December 12 7pm-8pm & 9:30pm-10ish
Services on these dates:
Friday, December 5, Human Rights Shabbat Services, 8pm.  Join us for Shabbat services led by Rabbi Lisa Edwards and Cantor Juval Porat with special guest presenter Rabbi Rachel Bat Or from JQ Warmline. Read more>>
Friday, December 12 at 8pm:  Shabbat Services with Rabbi Lisa Edwards & Lay Leader Jeff Bernhardt. Join us!