Book Club: All That I Know and Love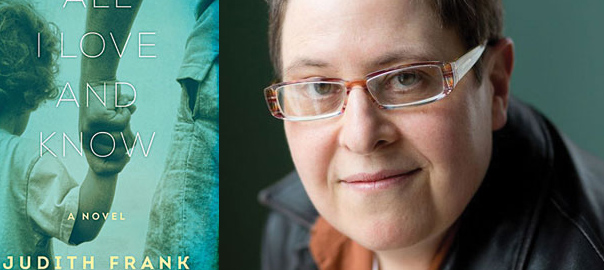 On Sunday, April 26, 2015 at 10am, our Book Club meets again to discuss "All that I Know and Love" by Judith Frank.
A young couple must deal with both grief and transformation when one of them becomes the guardian of an orphaned infant and a 6-year-old. The fact that the new parents of this instant family are two gay men is a secondary element of this emotional saga and that is part of the brilliance of Judith Frank's "All I Love and Know.''
Matt Greene, a 26-year-old graphic designer, fled New York City's single scene to move in with Daniel Rosen, six years older, an editor at a college alumni magazine in Northampton. They have been together four years in a supportive and loving relationship, but neither is seeking a conventional lifestyle nor the trials of raising a family.
A terrorist bomb in a Jerusalem cafe foists both crushing loss and parenthood upon them. Daniel's identical twin brother and sister-in-law are killed in the explosion. The novel opens with Matt shepherding a devastated Daniel through the traumatic flight from Massachusetts to Israel, where he will have to assist his parents in identifying his brother's body.
Matt knows and mourns for Daniel's twin and his wife, but when they land in Israel, he is instantly on the outside, doors repeatedly closed in his face. Aside from not being Jewish, he is not a family member, and his role is clearly to support Daniel's grief, not to experience it himself.
At nearly every turn, the novel eschews the predictable conflicts. Daniel's mother doesn't like Matt but only because he doesn't measure up to Daniel's previous partner. She considers Matt superficial "eye candy" and an intellectual lightweight. That there is a germ of truth in this adds tension to the story: How insubstantial will Matt prove to be and will he measure up to the responsibilities of parenthood? Neither Matt, nor Daniel, seems to be sure.
The first obstacle is getting the children out of Israel. Although the couple's will specifically names Daniel as guardian, Israeli law doesn't automatically accept this. The children's Israeli grandparents initially contest the guardianship, and Daniel expects bias. "I'm sure . . . that living with two queers is exactly what the Israeli state thinks of as for the good of the children," he says, girding himself for the fight. read more in the Boston Globe
The Books & Bagels group meets in private homes and space is limited. To reserve a seat, contact Larry at larrynath@aol.com.
Judith Frank's tale of grief and redemption asks how the American-Jewish left might negotiate religion and identity in the face of Israeli violence toward Palestinians, and how gay parents might raise children in a country still suspicious of them… read more in OUT magazine
You don't have to be Jewish to enjoy "All I Love and Know," Judith Frank's terrific new novel. Nor do you have to be gay. Although the book addresses issues important to both Jews and gays — Jewish identity, the Israeli-Palestinian conflict, gay parenting and marriage equality — it will satisfy anyone who longs for a first rate novel… read more