Book Club: The Catcher was a Spy: The Mysterious Life of Moe Berg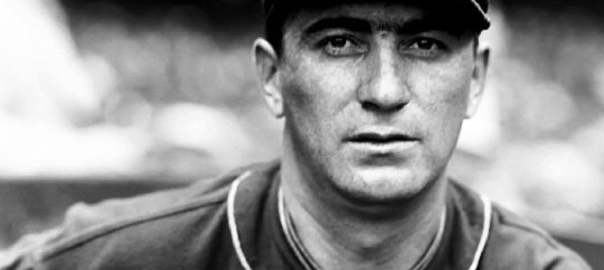 On Sunday, July 26, 2015 at 10am, our Book Club meets again to discuss The Catcher was a Spy: The Mysterious Life of Moe Berg, by Nicholas Dawidoff.
A biography of a Jewish major league baseball player who was also a spy during World War II for the OSS, the predecessor of the CIA.
Berg (picture above) was born in 1902 to a Jewish couple that lived in New York City, not far from the Polo Grounds, the home of the New York Giants baseball team. His father, Bernard Berg, was a pharmacist who emigrated from the Ukraine in part to escape from what he considered to be the oppressive nature of an almost entirely Jewish village. Berg's mother, Rose Tashker, was also a Ukrainian Jew. She was engaged to Bernard prior to his emigration. The couple, along with their three children lived in the Harlem section of New York City, New York until 1906 when Bernard Berg bought a pharmacy in West Newark, New Jersey. Subsequently, the family moved to the Roseville section of Newark.
Berg began playing baseball at the age of seven and, to the dismay of his father who did not understand American sports, continued through his high school years. After his high school graduation, Berg enrolled in New York University but eventually transferred to Princeton University and for the remainder of his life, always associated himself with Princeton, ignoring his time at NYU. Always an excellent student, Berg studied seven languages: Latin, Greek, French, Spanish, Italian, German and Sanskrit and subsequently received a B.A. in modern languages. During his student years at Princeton, Berg played first base and shortstop. Although he was not a good hitter and was a slow baserunner, his fielding, arm strength, and knowledge of the game led to his being appointed as team captain in his senior season. His performance at Princeton caused both the New York Giants and the Brooklyn Dodgers to express interest in him and after graduation Berg accepted a $5,000 contract offered to him by the Dodgers.
Berg was 39 years old when the United States entered World War II and at that age believed the best contribution he could make to the war effort was to use his language skills to further the allied cause. Using his numerous connections, Berg was offered a position with the Office of the Coordinator of Inter-American Affairs in 1942. His duties included traveling to South America where he inspected the living conditions of soldiers manning remote outposts while guarding against an attack on the Americas by the axis powers. Berg's reputation as a ballplayer, along with his legal training and foreign language skills enabled him to move effortlessly between troops, general officers, diplomats, and foreign politicians. However, Berg soon began looking for ways to make a more pivotal contribution to the war effort and decided to apply for a position with the Office of Strategic Services (OSS). His application was accepted and subsequently, he spent the majority of his time in Europe, performing a variety of missions, many of them related to Germany's work on nuclear energy and atomic weapons. One of Berg's missions involved a trip to neutral Switzerland where he was to attend a lecture German physicist Werner Heisenberg was giving in Zurich. Berg's orders were to determine if Heisenberg's work with nuclear energy was assisting the Germans in developing a nuclear bomb. If Berg determined that it was and that the Germans were close, he was to kill Heisenberg. Berg attended the lecture, armed with a pistol, but determined that Heisenberg's efforts and Germany's progress in the developing a weapon was overstated. Later, Berg befriended Heisenberg, and along with his other work both in Switzerland and later in Italy, helped convince U.S. military officials that Germany was not on the verge of developing an atomic bomb.
Writer Nicholas Dawidoff is a graduate of Harvard University and has been a Guggenheim Fellow and, very recently, a Berlin Prize Fellow of the American Academy. Early in his career he worked at Sports Illustrated, and he is now a regular contributor to a number of magazines including The New Yorker, The New York Times Magazine and The American Scholar. Dawidoff has authored The Catcher Was A Spy: The Mysterious Life of Moe Berg and In the Country of Country: A Journey to the Roots of American Music. His two latest books are Baseball: A Literary Anthology, which he edited for the Library Of America, and The Fly Swatter: How My Grandfather Made His Way in the World. read more