Book Group: Hope Will Find You, by Rabbi Naomi Levy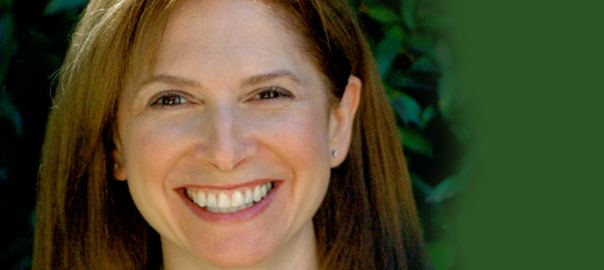 Our next Book Club will be on Sunday, May 26, at 10:00 am. We'll discuss Hope Will Find You, by Rabbi Naomi Levy. Subtitled My Search for the Wisdom to Stop Waiting and Start Living, this book deals with what happened after her then 6-year-old daughter was diagnosed with a serious disease, and her approach to Jewish spirituality that helped her and her family though it.
In this excerpt from her 2010 memoir (originally was published in the Jewish Journal), Rabbi Naomi Levy writes about overcoming her fears about her daughter Noa's disabilities and of teaching Noa Torah, as she had previously taught her son, Adi.
For the mountains may crumble, and the hills may shake; but My love will never leave you.
Isaiah 54:10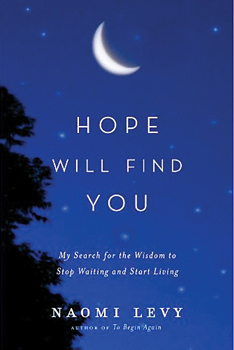 On the bookshelf right beside the door to my bedroom, I kept passing by the big red book my father had used to teach me for my Bat Mitzvah. I treasured this book. It was my most precious inheritance from my father. I knew it was time to start teaching Noa for her Bat Mitzvah. She was almost 12. Two years earlier I had taught Adi for his Bar Mitzvah from this same book. It was such a joy and an honor to be able to teach him all that my father had taught me. And now it was Noa's turn to learn, but I was too scared to teach her. Every time I passed that red book I'd try to avert my gaze as if I could feel its eyes on me, saying, "So, what are you waiting for?" Noa and I were both engaged in a denial dance. Every now and then I'd ask her halfheartedly if she wanted to study with me and she'd say no. And every now and then she'd bring up the subject of her Bat Mitzvah and ask if she could do some sort of abbreviated service and I'd say no.
Why was I so scared to teach Noa for her Bat Mitzvah? I was afraid that because of her learning disabilities she wouldn't be able to learn her Torah and Haftorah portions. It was a lot to learn. It involved mastering the Hebrew reading and learning how to sight-read the cantillation signs. These are the musical notations that appear on every word of the text. And there were two different sets of cantillations to learn — one for the Torah reading and one for the Haftorah. And there were prayers to learn. And then we'd be studying the meaning of her Torah portion and she'd be writing and delivering her own sermon.
I was afraid because I wasn't sure I knew how to teach Noa and I wasn't sure I knew how much to demand of her. I didn't want to place too heavy a burden on her and I didn't want to underestimate her abilities either. Also, I was afraid of feeling disappointed if Noa wasn't able to learn what I so eagerly wanted to teach her. So I did nothing.
And then one Friday morning, I was studying Torah at Starbucks with Toba, my Chevrutah (learning partner), and she said to me, "Listen to me, Noa is more capable than you know. Start teaching her, and you'll see."
So that night I crawled into bed with Noa, and we began learning together. Every night we'd crawl into bed together and learn. I was so mistaken. Noa was soaking up her studies with such passion. It wasn't easy, though. Together we had to devise our own way of learning the cantillations. First I taught her by drawing with my finger across her palm. Then we began to use all sorts of hand motions. I also color-coded all the musical signs. Noa astounded me. She mastered her blessings and the two types of cantillation in no time at all. Before long she knew her portion well enough to read it straight from the Torah scroll itself, which requires an enormous amount of memorization, since the Torah has no vowels, no punctuation, and no cantillation marks in it. Some nights I was too tired to teach, and I'd tell Noa to just go to bed, but she wouldn't hear of it. She'd fluff up a pillow for me and say, "Get in right now and start teaching me." Every night became a sacred experience.
And then we studied her Haftorah. It was a prophecy of hope from the Book of Isaiah. I asked Noa to tell me what the Haftorah meant to her. She spoke and I wrote:
"I think it means, if someone doesn't have good luck, if you're missing something, you will find it, so don't lose hope in yourself. Someone might bring you down, or you might get sad, but don't worry, because God will be with you and will make you happy. Don't think someone else is luckier than you, because you will become luckier than those who are already lucky.
"If you don't feel happy, just wait, because you are going to be very happy soon. Just wait, because your life is going to be bigger and more filled with joy. Someone will always be with you even though the world may change and so many things may happen. You will always have God with you no matter what.
"Maybe God is telling us that if you don't like your life, if you really try to enjoy life, you will find hope. No . . . hope will find you.
"Sometimes I feel sad and start crying for no apparent reason. I think God is saying that some way I will find a way to be happy again. I just feel when I look at people who don't have disabilities, who are really put together, I feel sad that I'm not that person. But then I realize that I'm special in my own way and no one else can compare to me. I have a life that no one else can ever have because I'm my own person and I live my own life."
Toba said, "Noa is more capable than you know. Start teaching her and you'll see."
Noa said, "Hope will find you."
One Comment on "Book Group: Hope Will Find You, by Rabbi Naomi Levy"