Bruce Maxwell: "A Code to Live By"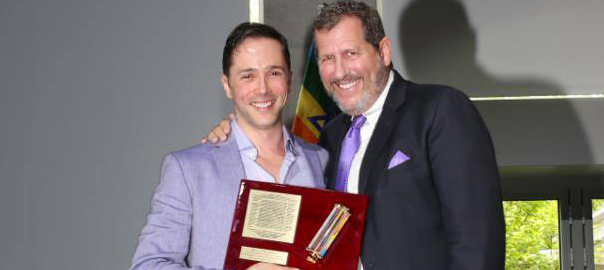 Below are excerpts from remarks by Presidents Award honoree Bruce Maxwell on June 28. The award was presented by Yuval David, an activist, entertainer, and long-time friend of Bruce and of BCC. Yuval introduced Bruce as "the best kind of giver. Not the kind who gives for recognition, Bruce gives because there is a need, and he sees that he can be of assistance." Detailing Bruce's extensive service, Yuval cited Bruce's dedication to BCC and his professional achievements and awards in the insurance industry. He continued: "He serves on the board of A Wider Bridge, a pro-Israel organization linking North American and Israeli LGBTQ communities and their leaders. Bruce also has been on the board of the Gay and Lesbian Elder Housing Organization, raising funds and overseeing construction of the first-ever affordable housing for the LGBTQ senior community. And, he actively served as a leader and fundraised for the Anti-Defamation League, City of Hope, the Jewish Federation Council, USC Lambda Alumni Association, the Association of Reform Zionists of America, the Human Rights Campaign Fund, GLAAD, PFLAG, and many other acronymed organizations."
Thank you Yuval, your friendship means so much to me, and your words were so eloquent and touching….
I chose the song "Teach Your Children" by Crosby, Stills, Nash, and Young to play this morning as I walked up to accept this humbling award. Among many nostalgic connections I have with it, the song reminds me of a transitional period in my life—around 1993 and 1994—when I had recently come out and also found myself playing the new role of "single dad" to my children Yael and Sam. They sing: "You, who are on the road must have a code that you can live by. And so become yourself because the past is just a good bye." (Don't worry, I am not going to next break out singing, "Amazing Grace.") At the time Yael was 6 and Sam was about 4, and as I was redefining my life and teaching myself to love and respect the new Bruce, I was simultaneously presented with new opportunities to help teach them new life lessons too!
But the song goes beyond that as, they sing, it is also the child's duty to teach his or her parents well. Perhaps I didn't realize it as much then as I do now, but as life progresses, I continue to learn that my best teachers are actually my kids. They never cease to amaze me with the lessons they teach me!
Moreover, through the process of my coming out, my parents, Charlotte and Sy, not only accepted me, but also learned many new life lessons along with me. For example, when I first came out to them, they told me that they didn't know much about this subject, and asked me to get
some books for them to read and learn. As the song goes: "Teach your parents well."
In the process of learning and educating them, as well as myself, I found BCC. And BCC became my new home. BCC became my synagogue, my place of spirituality, my place of prayer. BCC became my place to laugh and my safe place to cry. BCC became a place where I met many amazing people who have become some of my closest friends. Ultimately, BCC became my community.
Community is a concept that was introduced to me by both my Dad and my grandfather, who respectively held esteemed leadership roles within the Jewish, philanthropic, and business communities. They instructed me to appropriately take what I need from my community, but more importantly, to always find ways to give back in my time, energy and resources. And in the process of doing so, I would meet "good people" who were doing the same thing, because good people do good things….
When my soon-to-be good friend Brett Trueman became BCC President in 2005, I was inspired by his vision to bring about positive change in our community, and I knew I had to be a part of it. I served as Treasurer under his leadership, and he graciously agreed to fill that same position when I was elected President in 2009.
I am honored to have with me here today my daughter Yael in from New York where she works as a medical writer for the Cardio-Vascular Research Foundation and my son Sam, a private aviation consultant. Also here are my Mom, Charlotte Maxwell, and my sisters Leslie, Robin and Treci. Those who knew my Dad know what a wonderful person he was. He was my teacher, my business partner, and my mentor. I am sure he is looking down at us with pride, (pause) and he would tell me to "wrap it up!" ….
Recently I returned from Israel, where I spent a little over two weeks traveling with Arthur Slepian on the "A Wider Bridge" Mission and taking part in the historic 40 years of Pride Conference, where we brought together over 100 LGBT leaders from around the world. Many of you are here today, and I'd like to thank everyone that made that trip a special trip for me.
On a final note, anyone that knows me knows I have a passion for travel. I love to fly, and to visit foreign lands, to learn about culture, see unique architecture, hear local music, eat new foods, and walk the city streets in the early morning hours before most people have even gotten out of bed. But I always come home. Home to my family, my office and staff, my community, to BCC. The "code I can live by" is constantly evolving and I'd like to thank each of you who have been a part of that journey. Thank you!
One Comment on "Bruce Maxwell: "A Code to Live By""
Yuval David July 25, 2015 am31 9:44 am .

It was a true pleasure to speak about my dear friend Bruce, highlighting only a portion of his many accomplishments and mitzvahs he does benefitting multiple communities and organizations.
Bruce is an inspiration.
Cheers,
Yuval
http://www.YuvalDavid.com
#YuvalDavid