Cantor Porat Celebrates 3 Years with BCC, Birthday Concert, New Music Opportunities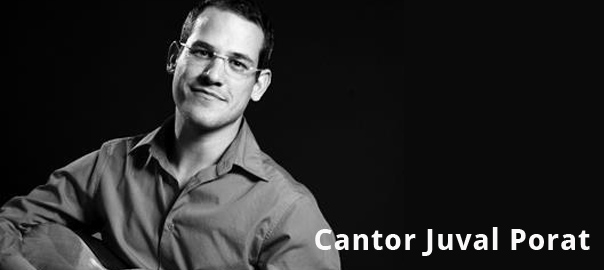 "A cord of three strands is not quickly broken." (Ecclesiastes 4:12)
It is with great joy and deep gratitude that I recognize that by the time of this column's publication, I will have completed three years since my installation as Cantor of BCC. Three is the number of prayers recited daily, the number of pillars on which the world stands according to Pirke Avot (the Chapters of the Fathers), the number of strands for a cord not quickly broken according to Ecclesiastes, and most recently the number of my hometowns: In addition to Berlin (from where I'm currently writing these lines) and Tel Aviv, I have grown tender roots in Los Angeles as well. I watch these roots grow daily with day-to-day lessons and teachings from all of you who share your gifts with me. I can honestly say that it has been and continues to be a tremendous learning experience and I cannot thank you (staff/board/congregants/visitors) enough. On my quest to build a stronger community through the power of music, communal singing and prayer, special thanks go to my clergy partner, Rabbi Lisa, for giving me opportunities to be creative, to try new programs and styles of worship, and for her thought provoking teachings and writings.
Instead of reflecting on the present or even looking back — there will be plenty of space to discuss two of those three time dimensions (can you sense a theme in this column?) at BCC's upcoming Congregational meeting — I'd like to share some exciting future events with you:
1. Rabbi Lisa, BCC member Rabbi Heather Miller, the Education Committee and I have been working on the development of a series of Adult B ́nei Mitzvah classes for all those interested in learning more about (re)celebrating their own Bar/Bat Mitzvah. Dates should be announced very soon. I'll be covering the art of cantillation and can't wait to share the ancient tradition of chanting the tropes with you. Please email to reserve a space and for more information as it becomes available.
2. Thank you everyone for filling out the musical congregants survey (if you haven't filled it out yet – you still can do it here. An email has been sent out to all who have expressed interest in joining musical forces in a BCC band or in the choir. We will meet at BCC on Thursday, July 18 at 8:00 pm. Bring your instruments and voices for our first session of music making and music brainstorming regarding a BCC band and how else our congregation's musical talents can be utilized in BCC ́s community life. I'm very excited to meet all of those hidden (and not so hidden) talents within our community!
3. Since my arrival to LA I feel lucky to have met some amazingly talented artists. I've been having a serious crush on Our Lady J since pretty much the first time I heard her sing and I think those of you who have experienced her post-religious gospel shows can say the same. I am beyond excited that she has agreed to perform at BCC on my birthday night, together with her Train to Kill Gospel Choir, which I had the privilege to be part of over Our Lady J's Los Angeles concerts. It's Thursday, July 11 at 8:00 pm at BCC. For ways to get your tickets and more information on Our Lady J please visit this link. A portion of the proceeds will benefit BCC and the Transgender Legal Defense & Education Fund. Seating is limited, so don't wait. If you're looking to be transported I highly encourage you to come.
4. In continuation of our previous Shabbat 101 pre-service sessions here's another open invitation to all those interested in co-leading services in song (it doesn't matter whether you're experienced or not). On this page you will find a selection of congregational tunes, as well as traditional chants for the evening of Shabbat. Check out the calendar for opportunities to learn Friday night music with me before the service starts: July 12 and 19, August 9 and 16, from 7:15 to 7:45 pm
As my years with BCC have passed the number of strands necessary for a cord "not-quickly-broken" I look forward to deepening my relationship with all of you and truly hope you will find connection, inspiration and comfort through the power of music – within our tradition and beyond.