Celebrating Simchat Torah at BCC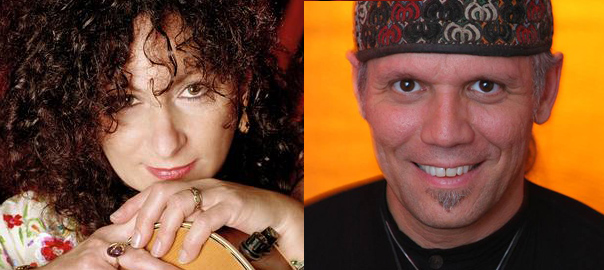 Singer and guitarist Stefani Valadez and drummer/ percussionist Christo Pellani  have confirmed participation as co-musicians for BCC's Simkhat Torah service, which will take place this Wednesday, September 25. (Scroll Down for services schedule)
Stefani Valadez is a third generation musician, with an international following of fans who have thrilled to her deep, haunting voice and the wide range of musical and ethnic lore she incorporates in her performances. Her music is a combination of love songs, prayers and ancient melodies of the Sephardic cultures of the Mediterranean, that she had collected while living in Spain.
Christo Pellani is a master, drummer, percussionist, teacher, and healer. He's a trained facilitator for REMO "Health Rhythms" therapeutic drum circles and a certified practitioner of the Tama-Do™ Academy of sound, color, and movement therapies, Reiki and Reconnective Healing™ energy therapy.
Immediately following Sukkot, we celebrate Sh'mini Atzeret and Simchat Torah, a fun-filled day during which we celebrate the completion of the annual reading of the Torah and affirm Torah as one of the pillars on which we build our lives. As part of the celebration, the Torah scrolls are taken from the ark and carried or danced around the synagogue seven times.
During the Torah service, the concluding section of the fifth book of the Torah, D'varim (Deuteronomy), is read, and immediately following, the opening section of Genesis, or B'reishit as it is called in Hebrew, is read. This practice represents the cyclical nature of the relationship between the Jewish people and the reading of the Torah.
Simchat Torah at BCC: Wednesday, September 25, 2013. Bring your own dinner – 6:00 pm; Yizkor Service – 6:30 pm; Simchat Torah services – 7:00 pm. Children Activities Provided
For the first time we'll stream Yizkor and Simchat Torah services!  Check out this link for details. Thanks for your generous donations to make this happen.  And, a big Thank You to BCC Board Member Richard Lessee for putting in numerous hours to bring our new technology to life.