Club 6090: Grand Opening!
Beth Chayim Chadashim presents: Club 6090, a nice evening out in Los Angeles, and a place for high-profile musicians and emerging artists to explore their sound.
Opening Night: October 26th, 2013
7:30 pm – 10:30 pm
Most days, BCC focuses on the kind of programs and services one might expect from a synagogue in the heart of Los Angeles. But "Club 6090" will take a break from Torah, prayer, study, and charity to let music and mingling take over.
The idea is simple: We transform "BCC" into a club where you can have a nice evening out in the city, drink, and hang out with your friends, while listening to good music- all for a small cover donation.  We strongly believe that this concept can make new connections and can be fun for our members and guests.
We would like the support of our members to come and celebrate with us at the opening night of "Club 6090" to see what it's all about.  Comedian and actor Scott Silverman will host the evening and bring his Shtik, we will have a guest performance by Solomon King,  an acoustic guitar player and blues singer who was nominated for a Grammy under Best Contemporary Blues Album. King will be followed by the hottest Jam band in town….THE PECULIARS!
The Peculiars are a fun-loving, exciting, and colorful LA Jam band with a passion for Classic Rock, Pop, Blues and Soul. Band member Lauren Wood (drums, vocals) is responsible for the international hit song "Fallen" from the Pretty Woman soundtrack (over 19 million copies sold), and "Please Don't Leave," a top 20 hit duet with Michael McDonald.
Czech vocalist, violinist, composer and actress Iva Bittova will perform at Club 6090 on November 3. Bittova, who has a mixed Roma/Jewish background, is already a legend in Europe and has a following in the U.S. among World music collectors.
BCC is also excited to reach out and provide performance opportunities to artists. Quite a few compelling artists have already been scheduled for Club 6090 and BCC would be happy to add more (please see our contact information below)
For more info about Club 6090 and to schedule a performance, please contact Kenna Love at kennalove@artnet.net.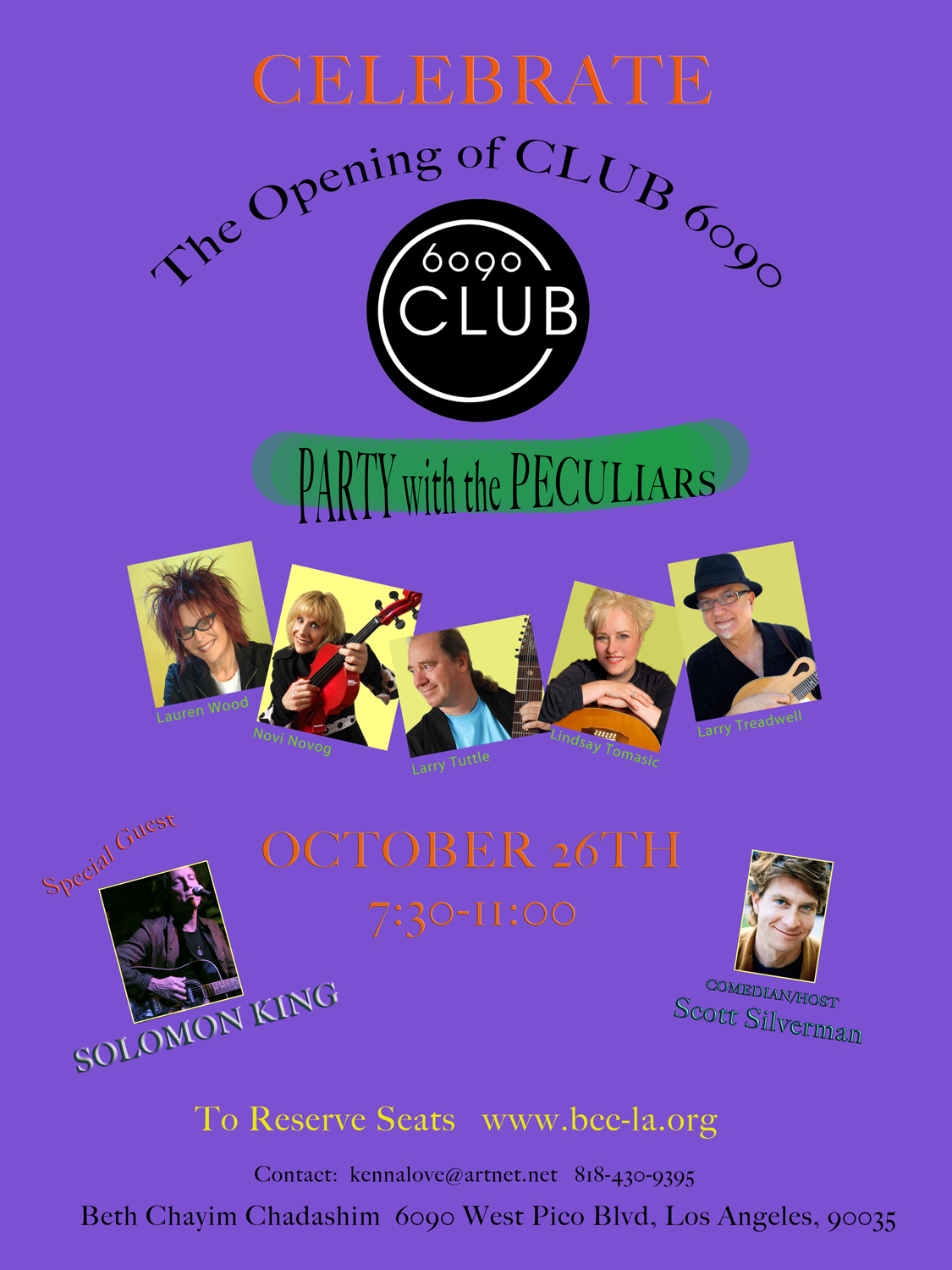 One Comment on "Club 6090: Grand Opening!"