Creating Sacred Space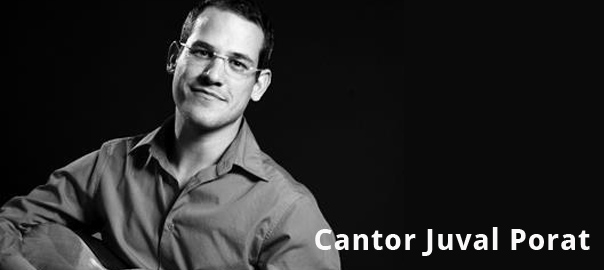 Cantor Juval Porat's G'vanim Column, March 2015
I've been contemplating sacredness recently, its elusiveness and whether there's some sort of recipe for it. Some of us are lucky enough to experience sacredness routinely, either through praxis or by being open to it by default. Some are comfortable with it and some avoid it.
For me, the few occasions in which I might have experienced something that would be considered sacred have morphed into lasting memories that I'll cherish for the rest of my life. And as far as a recipe for sacredness, I've been thinking about the role of the people around me, the communities around us that facilitate the making and finding of sacredness.
The Torah portion T'rumah (the one to be read on the week I'm writing this) opens with the commandment to "tell the Israelites to bring me [God] an offering. You [Moses] are to receive the offering for me from everyone whose heart prompts them to give." The requested/required offerings include some very expensive and exquisite materials: "gold, silver and bronze, blue, purple and scarlet yarn and fine linen… acacia wood; olive oil for the light; spices for the anointing oil and for the fragrant incense; onyx stones and other gems…"
The reason the people of Israel are asked to show such generosity lies in the verse following the commandment to give (Exodus 25:8): "Then have them
make a sanctuary for me, and I will dwell among them." All of the raw materials will serve the erection of a sacred mobile temple to be used throughout their wandering in the desert. It's a house of divine dwelling, a "mishkan" in Hebrew. Two major ideas that have shaped Jewish culture are being introduced here — the idea of an elaborate human-made physical space dedicated to the divine presence and the communal effort it takes to make it happen.
These ideas led me back to the questions of what it takes for us these days to create places for divine dwelling, also known as sacred spaces? And what is it that we bring of ourselves to make it happen? The BCC community and the rest of the Jewish people have been coming up with answers for these questions ever since those ideas were introduced. Each answer provided a different practice, while each practice followed the same goal of creating a sacred space that stems from community. Can you recall a special moment in a prayer or life cycle situation that helped you transition into a state of "sacredness"?
As clergy people, we humbly and continuously attempt to "build" a sacred sanctuary with the help of the community – sacredness through a sense of awe, sacredness by creating the opportunity to look inward, to reflect and meditate in a space that is safe and warm, and sacredness that is manifested in moments in which worshippers become aware of the larger community and literally meet other souls through prayer and by sharing each others joys and sorrows.
January's musical Ruach Chayim service happened on Shabbat Shirah, the Shabbat of Song in which we celebrated Moses and Miriam leading the Israelites across the Sea of Reeds (The Red Sea) and out of Egypt. We sang a setting of Debbie Friedman's "Miriam's Song" and I couldn't have been happier to see men and women getting out of their seats and dancing around the sanctuary as the musicians and I were singing on the bimah. People have been commenting to me about the "energy" on that night and it was indeed a great sight and the most recent great memory for me of witnessing sacredness created by music and what each of the worshippers brought to the service. Thank you for that!
At BCC we continue to rely on your presence and energy, as much as we rely on those who help us replenish the funds needed for hiring musicians and sound-people. Did you know that in addition to the oneg, you can also sponsor musicians and sound technicians? Sponsorship forms can be downloaded from our website, or you can simply call the BCC office to make a donation. Every contribution has the potential to create a beautiful and powerful moment of "sacredness," and we'll continue to create those places of divine dwelling at BCC with the gifts that we bring as we celebrate all of who we are on Purim, March 4th and as we contemplate freedom on Passover, April 4th.
Thank us all for both giving and building!
B'shalom
Juval
Save the Date— April 4 Second Night Seder!  From generation to generation we carry on with the richness of tradition and the promise of tomorrow. Let's make this Pesach an unforgettable one. Join us at BCC for our annual second night Passover Seder on Saturday, April 4, 2015. The Seder will be conducted by Rabbi Lisa Edwards and Cantor Juval Porat. Please check our website and email newsletters for the starting time, price, and menu for this year's traditional catered meal. We hope you and your family will join us in celebrating Pesach.
Please note that there will be no Shabbat service at BCC on Friday, April 3, in observance of the first night of Pesach.