David Codell, citing Justice Ginsburg: "The National Conscience has been Awakened"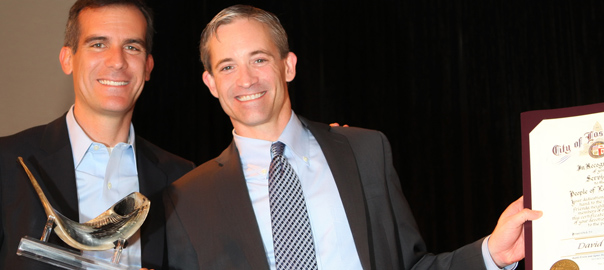 This year's Rabbi Erwin and Agnes Herman Humanitarian Award was presented by Los Angeles Mayor-Elect Eric Garcetti to noted civil rights attorney David Codell. While maintaining his own law practice, David also serves as Visiting Legal Director and Arnold D. Kassoy Senior Scholar of Law at the UCLA School of Law's Williams Institute, the nation's first think tank specifically for legal issues about sexual orientation and gender identity. David has also worked on numerous cases involving LGBT rights on a pro bono basis over the past 14 years. He has advanced several groundbreaking legal theories involving LGBT rights, represented students in the first case in the country in which a court ordered a public school district to permit a gay-straight alliance to meet on campus, and was lead counsel in a historic series of lawsuits upholding California's comprehensive domestic partnership laws.
On the issue of marriage equality, David served as co-counsel in litigation resulting in the California Supreme Court's 2008 ruling that the California Constitution requires that same-sex couples be permitted to marry, and followed up with the litigation upholding the validity of the 18,000 marriages of same-sex couples that occurred before Proposition
8 was enacted. In the marriage cases now pending before the U.S. Supreme Court, David co-authored a friend-of-the-court brief on behalf of scholars at the Williams Institute and leading women's legal groups, explaining that laws that discriminate based on sexual orientation frequently are impermissibly based on gender-based stereotypes about
women's and men's roles in relationships. This brief has been described as "paradigm shifting." Here is a portion of David's remarks as prepared in advance of the brunch.
I was deeply moved when Rabbi Lisa Edwards and Bruce Maxwell first met with me months ago to offer me this recognition. It means so much to me to be receiving this award from your historic congregation that is continuing to play an important role in history as we work together for LGBT equality, including marriage equality…
A few months ago, I was working on a brief in the marriage cases before the Supreme Court. I was in search of some inspiration. So I turned to the opening brief that Ruth Bader Ginsburg filed as a lawyer in her first sex discrimination case before the Supreme Court.
The year was 1971. It was more than a century after the Equal Protection Clause had become part of our Constitution. Yet the statute books across the country were teeming with laws that blatantly discriminated based on sex. The Supreme Court never had ruled that any such law violated the Equal Protection Clause. Instead, the Court repeatedly had upheld such laws.
In her brief to the nine male Justices of the Supreme Court, Ginsburg boldly wrote: "Prior decisions of this Court have contributed to the separate and unequal status of women in the United States." She then followed that statement with a line that caught my attention. "But," she wrote, "the national conscience has been awakened…." The words that Justice Ginsburg wrote in 1971 seem apt today, as well: "[T] he national conscience has been awakened." Millions of Americans have come to understand their LGBT family members, friends, co-workers, and neighbors as full individuals. Americans have come to appreciate our common humanity and:
• That we experience the same kinds of love and loss;
• That we may aspire to build a life with a most cherished person; and
• That our families are worthy of protecting.
Once people appreciate their common humanity inequality shocks the conscience. The marriage equality movement has awakened America as never before to the basic principle that sexual orientation is not a valid basis for treating people unequally.
Just as important is the way that the marriage equality movement seems to have awakened in so many people their passion for fairness itself and justice itself. There is excitement in the air today—about civil rights. People are counting the number of days until a Supreme Court ruling. People are keeping tabs on how many states let same-sex couples wed. An astounding number of voices have joined in the call for fairness and equality. Marriage equality has captured the hearts of young people in particular.
I hope—and it seems likely—that this groundswell of passion for justice and fairness will not be contained by the single issue of marriage equality. The young generations that are demanding that the government act justly and fairly with respect to LGBT rights will have the same expectations of fairness in other areas and for
other groups of people. A passion for justice, of course, has long been a central part of Jewish faith and tradition. That the LGBT community's movement for marriage equality has made so many so passionate about justice is something of which we can all be proud.
We often consider how our civil rights movement was built upon civil rights movements that have come before. Our work on LGBT rights is far from done. But I think it is not too early to be dreaming about how one day, not too far in the future, the movement for LGBT equality will be seen as precursor to civil rights advances for other groups. Let's hope that our consciences continually will be awakened to new understandings of what justice, fairness, and equality require.
Thank you.
One Comment on "David Codell, citing Justice Ginsburg: "The National Conscience has been Awakened""