Remembering David Fyffe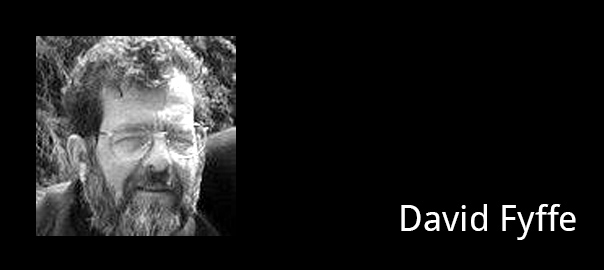 By Larry Nathenson
"I would like to share with you part of my spiritual journey, for most of my growth in the last eighteen years has come because of BCC…"  (David Fyffe Z"L in a drash on Bereishit in 2000. Read)
On May 13, 2015, we received the sad news that longtime BCC member David Fyffe passed away in Israel.
Those who joined the BCC community within the last decade were not privileged to know David, as he made aliyah in December 2005 with his husband, Arlan Wareham. The move to Israel was only one of the many amazing things about David's life.
If you are young enough, or newly "out" enough, not to have experienced gay life in the 1970s and 1980s, David's story is an eye opener. He grew up in the small town of Chillicothe, Ohio, in a family of Pentecostal Christians. As this was not exactly a welcoming environment for a young gay man, David moved to the big city of Columbus as soon as he could. By 1980 he had moved to Los Angeles with a group of gay friends from Ohio and immersed himself in the rougher side of the LA gay scene. But he also made his way to BCC and, with no prior experience of Judaism, quickly realized that this was the place for him. By 1982 he had become Jewish and had joined the congregation.
By the time I met David in 1984, he had lost his sight in both eyes as a result of his type 1 diabetes, and also suspected he was HIV positive. I was amazed at how upbeat he was, learning to read Braille, riding the bus with his cane, and attending classes at LA City College. We were partners for several years but never lived together as he was determined to live independently. Once his HIV status was confirmed, he also became one of the founding members of BCC's HIV support group. So far as I know, he was its last surviving member.
By 1991 David had regained his sight through laser surgery and became a bar mitzvah at BCC that year. We took our first trip to Israel together in 1993 with a group from Sha'ar Zahav, the GLBT synagogue in San Francisco. David was an active member of the LA chapter of ACT UP (AIDS Coalition to Unleash Power) and became a para-chaplain who visited patients in smaller hospitals without clergy on staff. He did all this despite being hospitalized himself several times in the early 1990s, before he obtained an insulin pump to stabilize his diabetes and before drug cocktails of HIV medications became available. As BCC member Barry Wendell said in his recent blog post about David, "the threat of disease and death was hard, but the loss of so many friends in their twenties and thirties was devastating."
In 1995 David met Arlan Wareham, a newcomer to BCC from the Inland Empire, and Rabbi Lisa Edwards officiated at their Jewish wedding at BCC the following year. Despite living 60 miles away, they continued to attend services nearly every week and became stalwart supporters of BCC's monthly visits to a convalescent home under the auspices of the Jewish Federation's Project Caring program.
When they moved to Israel in 2005, David and Arlan first lived in Tsfat (Safed), the ancient city in Galilee where the poem "Lecha Dodi" was written by a 16th century Kabbalist. I last saw them in person there in 2007 during a BCC trip to Israel, and I spent a few days with them after the formal tour ended. Tsfat is a largely Orthodox town, and David and Arlan joked that they were 2/3 of its out gay male population!
They found a welcoming liberal congregation in a nearby town and later moved to Eilat, a resort town at the southern tip of Israel, where Arlan continues to live today.
David had more challenges in his 59 years than most of us will ever experience, overcoming juvenile diabetes, blindness, HIV complications, and numerous hospitalizations and periods of depression. Yet he made many life-affirming and even adventurous decisions, leaving the small town of his youth, moving to LA, becoming Jewish, giving back through AIDS and Jewish activism, marrying Arlan and eventually making aliyah. Those of us who knew him are blessed to have had him in our lives.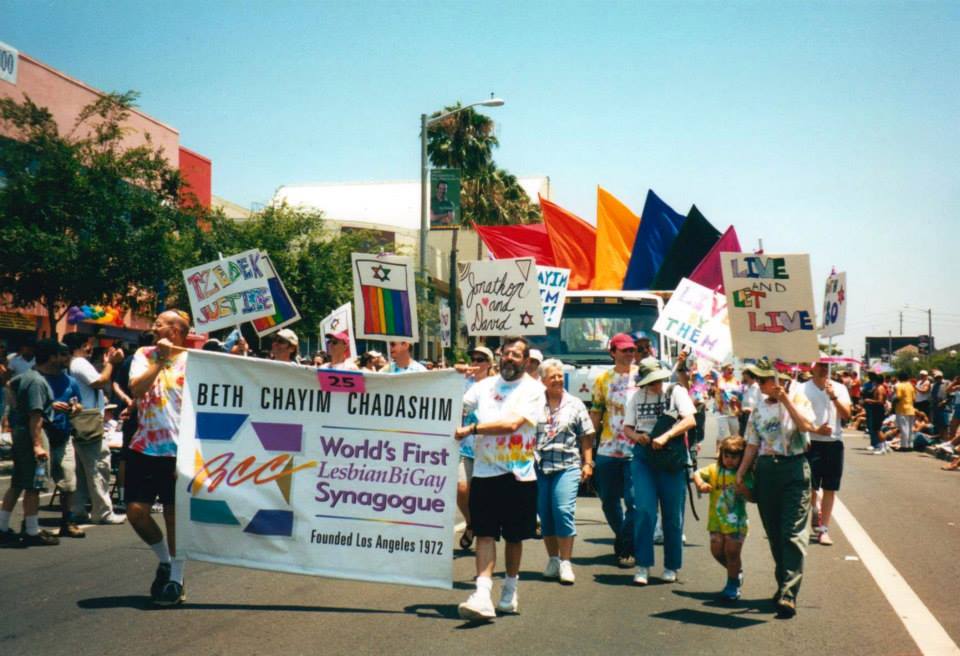 David, carrying the BCC sign on the right, in the 2002 West Hollywood Pride Parade
One Comment on "Remembering David Fyffe"
David Cooper September 12, 2015 am30 6:45 am .

I only knew David briefly through his dear friend Larry. Back in the mid 80's I used to carpool with them and another dear temple friend, visually impaired gentle- man named Saul H.? I only knew of a few of the situations that David had been through and I found him to be a very strong, determined survivor.
One would never have guessed that he had dealt with depression it didnt stop him.
One night after services I believe our carpool passengers or our Men's Rap Group went over to David's apartment. He was living independently on his own and he had not yet regained his eye sight. What I remember thee most from my brief encounters with David was, in his apartment there was a tall hutch for dishes. I asked him where he got it and he told us that he "made it himself by hand",
it was incredible how much work and determination he put into that as a reflection of his personality.
The second most important memory I have is the first night he came to BCC after getting slight eyesight back in one or both eyes which now enabled him to read close up the prayer books. David was sooooo very thrilled to be able to see the pages and the Hebrew letters. It was a deeply touching experience.
David most certainly accomplished more than many healthy people ever do.
I hope David is as peace and I hope that Larry is comforted by the fact that he was a very important part of David's life. G-d Bless. 🙁