Dharma Alliance LGBT Sitting Group at BCC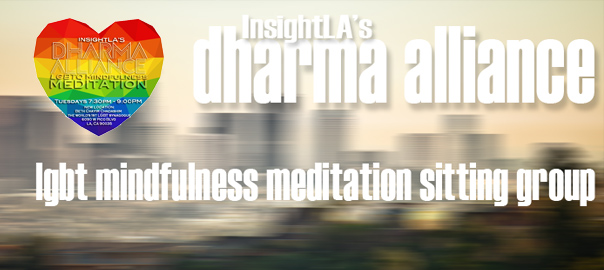 Is our sexual orientation a badge? A prison? An artificial construct? Our truest self? A way of connecting? Or something that separates us?
How can we cultivate our spiritual identity while embracing our sexual identity?
The Dharma Alliance, strives to answer questions about spiritual identity, sexual identity and more—-for the wonderfully diverse Lesbian, Gay, Bi-sexual,Transgender, Queer community in LA.
Tuesday weekly meetings will take place at BCC from 7:30-9pm
Through the practice of Insight (Vipassana) Meditation in a supportive environment, the development of mindful awareness, compassion, a caring and active engagement is created in our community. The sitting group meetings are intended for first-time meditators as well as experienced Vipassana practitioners and will include meditation, dharma talks & group discussion.
Teachers: Diana Gould and Mark Koberg
Diana Gould has been a meditator for over 35 years, practicing Insight meditation for 20. She has been a facilitator for the Vipassana Support Institute, and has taught meditation at the Learning Curve at the Gay and Lesbian Center. She is a graduate of the Community Dharma Leader program at Spirit Rock, and the Teacher Training program with Trudy Goodman at Insight LA. As a television writer and producer, her credits include pilots, episodes, movies and miniseries for network and cable.
Mark Koberg has completed the first MBSR (Mindfulness-Based Stress Reduction) teacher training practicum through InsightLA and the University of Mass' Center for Mindfulness. He has a dedicated daily practice, attends retreats at Spirit Rock, has blogged for The Huffington Post, and has appeared on national television talking about his experience with mindfulness. Mark has also produced a series of mindfulness training videos for InsightLA and the Greater Los Angeles Veterans Administration that are being used nationally to train clinicians and veterans in mindfulness meditation. In addition, Mark has served as co-executive producer on Iyanla, Fix My Life on OWN (Oprah Winfrey Network), and has executive produced nationally syndicated talk shows and court shows.