Elected Mayor to Attend BCC's Annual Award Brunch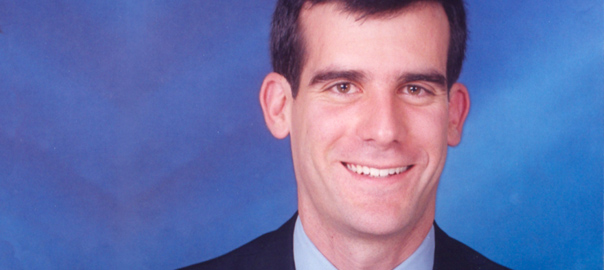 Mayor-Elect Eric Garcetti will attend BCC's 2013 Awards Brunch on Sunday, June 2 and present the 2013 Herman Humanitarian Award to honoree David Codell.
BCC is honored to have Mayor-elect Eric Garcetti as our special guest at the 2013 BCC Awards Brunch on Sunday, June 2, 2013.  Garcetti, the first ever Jewish Mayor of Los Angeles (and also LA's youngest Mayor since Arthur Harper in 1906), is a longtime city councilman, and on May 21, won the Mayoral election. He will be sworn into office on July 1, 2013.
The BCC Annual Awards Brunch on June 2nd will mark Garcetti's first Jewish event as Mayor-elect. He will present the humanitarian award to his longtime friend David Codell, a nationally recognized expert in civil rights law and constitutional issues who maintains his own law practice and serves as Visiting Legal Director of the Williams Institute, the nation's leading LGBT think tank, housed at UCLA School of Law and has been instrumental in framing the legal arguments for marriage equality as well as the cases currently pending in the US Supreme Court.
Established  in 1985, the BCC Awards event recognizes and honors people who have demonstrated extraordinary community leadership and made significant contributions toward tikkun olam, repair of the world. In addition to Mr. Codell, this year's honorees at the Awards Brunch are also Ray Easling, who will receive the Presidents' Award sor outstanding service to BCC, and Robin Berkovitz and Laurie Newman, who'll receive the inaugural Harriet Perl Tzedek Award for public service and social justice. Their award will be presented by the Honorable Sheila Kuehl.
Tickets to the Award Brunch are still available. Click here to purchase and donate to BCC.
Tickets to the Award Brunch are still available. Click here to purchase and donate to BCC.
One Comment on "Elected Mayor to Attend BCC's Annual Award Brunch"
Steven Koltai May 30, 2013 pm31 7:11 pm .

This is just wonderful! Thank you Eric – and Mazel Tov!

Steven Koltai