Family Camp at the Shalom Institute: A Week to Go!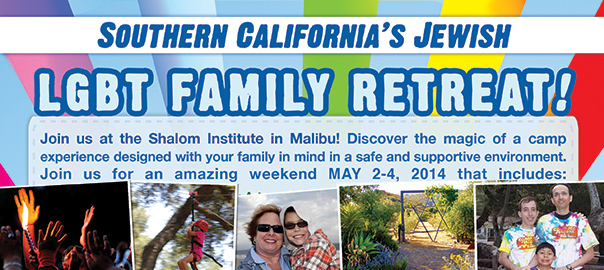 There is one more week left to register for family camp at the Shalom Institute! Check out this message from our Director of Education, Leah Zimmerman, including a general itinerary of the weekend:
I am so excited to be working in partnership with the Shalom Institute to create this extraordinary opportunity for our BCC families.   By partnering together, we hope to generate a larger critical mass then what we'd be able to do by ourselves at BCC.   I and each of our BCC clergy will be spending time at our LGBT camp next weekend!
We launch the weekend with making Challah on Friday afternoon. Later, families gather to sing (there is a fabulous, energetic song leader!) pray, and spend Shabbat dinner together.   The ruach after the Shabbat dinner is inspiring and the kind of atmosphere so special to being at camp!
On Shabbat morning there are opportunities for families to join services together, and for age appropriate activities.   At the Shalom Institute, we have the unique opportunity to do outdoor prayer with Bill Kaplan who is an expert on experiential learning.  Bill is planning a Torah study using the Bible garden and animals at camp!  
The afternoon is filled with camp like activities and great opportunities for parents to meet, schmooze, discuss and share stories.  
On Saturday evening, we have the kind of campfire that builds memories, and a night time social for parents. 
The meals together, the walks, the being outdoors, the seeing of people frequently over the course of the weekend, gives us a chance to build a new level of community with each other, our families and with Judaism. 
I grew up attending Jewish camp, and met my husband and special friends working at Jewish camp.   It is the most remarkable way to spend Shabbat and to develop a sense of belonging the community.   
I can't wait to see you all at camp!
P.S.  If you are unable to join us this year, you can still contribute to this experience for others by forwarding this email to others who might be interested in joining us.