Felicia Park Rogers' Acceptance Speech / BCC 2014 Awards Brunch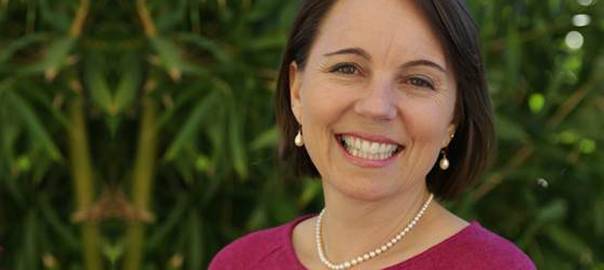 Thank you Donna and Cecilia, for that funny and touching presentation. I appreciate you both so much—the humor and intelligence and commitment to justice.
I grew up in the bosom of gay, feminist, bohemian, counter-culture San Francisco in the 70's and 80's.
I remember hitchhiking across the city with my dad, visiting the lesbian separatist Artemis Café with  my mom, attending endless protests, rallies, potlucks, and community meetings. I went to school at whatever time I felt like (school hours were so bourgeois…), and pretty much reveled in the intellectual and radical circles that my parents moved in. Organized religion, well most things organized,  was viewed with suspicion.
So how did it come to be that I have devoted the last 8+ years of my life working in a synagogue?! If you are at all familiar with Beth Chayim Chadashim, then you will know that comfort with endless potlucks, community meetings, intellectual debate, and questioning the merits of organized religion are basic requirements of the job.
But seriously, when Rachel and I moved to LA in 2005 with a three year old Benji and a 4 week old Eitan for her to start rabbinical school at HUC, I don't know if I had ever been more afraid. We had already determined that BCC with its friendly, mostly LGBT congregants, and amazing rabbi would be our home synagogue …I remember very distinctly sitting on the stoop of our new home and calling Lisa Edwards. Our rabbi had told us Lisa should be one of our first calls upon landing, especially for my job search. "She connects people," Rabbi Angel said. Sure enough, when I spoke with Lisa, she asked what kind of work I was looking for and when I said, well, "I've been working as an Executive Director of an lgbt non-profit, so something in a similar field," she responded without skipping a beat: "BCC is looking for an Executive Director. I'll send you the announcement." Boom, just like that, our collective fates were pretty much sealed.
We have achieved a lot together. In the last eight years, BCC has had tremendous successes—increases in membership, fundraising, organizational capacity, our family learning program,  (our religious school), our incredible capital campaign, our beautiful building which I frequently refer to as my third child, and all the while maintaining the menschy, intimate, innovative, spiritual reputation that we are known for.
BCC has also been part of one of the greatest societal leaps forward our country has known. In 2004, we saw record numbers of states enacting bans on same-sex marriage. Who, besides Brad Sears , could have predicted that within eight years we would see the end of Don't Ask, Don't Tell and DOMA, a pro-gay marriage President, and the Supreme Court ruling in favor of our right to marry?!
Yet, in today's rapidly changing culture, people often ask—do we really need LGBT synagogues? Especially given how welcoming and inclusive the Jewish Reform movement is.
For me the answers to these questions are highly personal. As someone who grew up in the gay and lesbian community, whose world was devastated by the AIDS epidemic and who has lived in its cavernous shadow ever sense, how could I not want to be part of the team keeping the lights of a majority lgbt synagogue shining? To have our specific liturgy; to know, without anybody saying it, that we are living amongst the ghosts of those we loved and lost to AIDS, to cherish together those among us who live with HIV/AIDS today; to know I can always find a good vegetarian potluck without any shortage of sensible, yet stylish, shoes.  This is a place where people know the history of our scars and closets and fear and doubt just as well as they know our triumphs of parades, of finding love and desire all mixed up in one glorious bundle, of the sweet victory of securing some of the equal protections we so desperately need and have so valiantly fought for.
Each member of BCC is so nakedly committed to this community, to bringing out the best in each other, to striving for goodness and wholeness. In a world that overwhelms us with materialism and individualism, it is a privilege to be part of a group of people staking its claim by having not just faith, but the courage and perseverance to build a community that is faithful to each other through thick and thin, through the ins and outs of relationships and friendships, in sickness and health, in times of loss and in times of celebration.
I have been so blessed to be in a work environment that has always treated me as a whole person—a soul first. If there was ever a day that I had a sick child to tend at home, the first thing said to me was always—take care of your child first. We will figure this out tomorrow. If ever I felt stuck in a situation, not sure how to face my own fear of failure or ineptitude, there was always a person to listen without judgment and help me find the way out of the tangle. If ever there was a risk I wanted to take, there was always a person that said–let's try it. If ever there was a moment that I was in the weeds, short on time and long on deadlines, there was always a person at the other end of the phone or email or table that said–yes, I will help with that.
We have formed lifelong connections forged in midnight email exchanges, earnest sharing of visions for BCC over conference tables, grief-filled goodbyes at gravesides, and shared moments of intense prayer at Days of Awe. BCC is a place that will always be a home and a beacon and source of love for me.
Today I leave BCC to find new challenges. But I leave with an overflowing heart. I am grateful for the intelligence, wit, commitment, and caring of the leadership and membership here—all of you, and the people I have worked with most closely most of all—Lisa, Brett, and Bruce, Lauren, Fran, Juval, Heather, Victoria, Tim, Leah, the EComms and the Boards. I leave today overwhelmed by this outpouring, secure in the knowledge that you will continue to keep this precious community thriving, and excited to share in our collective futures.
I leave today and cease being your executive director, but you will always be my friends and my mishpucha.
I can't sit down until I say thank you to my beloved Rachel and our incredible sons. You have cheered me along and been patient with years and years of "just one last email…" You have celebrated alongside BCC, attended double Shabbat services more than any kid should. We've been a team through it all, and for that I am profoundly grateful. So this morning I dedicate this award to you. And I promise my Wednesday nights are all yours from now on. And so  much thanks to my dear dad, the Timoner family, and my Leo Baeck Temple family here today too. Your support means everything. I love you all very much.
Acceptance of the BCC Presidents' Award
BCC 2014 Awards Brunch
April 27, 2014, Omni Hotel
One Comment on "Felicia Park Rogers' Acceptance Speech / BCC 2014 Awards Brunch"
Gail Suber May 8, 2014 pm31 4:01 pm .

Felicia, you wrote an amazing speech; it brought tears to my eyes. I wish you well as you continue on your journey.