Fiddler on Roof Sing-a-long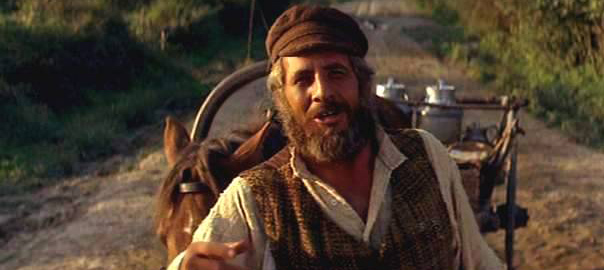 The ultimate Jewish Sing A long-Fiddler on Roof will be presented on March 8, at 7:00 pm as a part of our bi-monthly Film Club. This is that rare successful adaptation of a Broadway musical which includes Leonard Frey who previously made a big splash as Harold in the film version of Boys in the Band.
Fiddler on the Roof is a 1971 American musical comedy-drama film produced and directed by Norman Jewison. It is an adaptation of the 1964 Broadway musical of the same name, with music composed by Jerry Bock, lyrics by Sheldon Harnick, and screenplay by Joseph Stein. The film won three Academy Awards, including one for arranger-conductor John Williams. It was nominated for several more, including Best Picture, Best Actor for Chaim Topol as Tevye, and Best Supporting Actor for Leonard Frey, who played Motel Kamzoil the Tailor (both had originally acted in the musical; Topol as Tevye in the London production and Frey in a minor part as Mendel, the rabbi's son).
The film centers on the family of Tevye, a Jewish family living in the town of Anatevka, in Russian Empire, in 1905. Anatevka is broken into two sections: a small Orthodox Jewish section; and a larger Russian Orthodox Christian section. Tevye notes that, "We don't bother them, and so far, they don't bother us." Throughout the film, Tevye breaks the fourth wall by talking at times, directly to the audience or to the heavens (to God), for the audience's benefit. Much of the story is also told in musical form.
Tevye is not wealthy, despite working hard, like most Jews in Anatevka, and also due to having many children. He and his wife, Golde, have five daughters and cannot afford to give them much in the way of dowries. According to their tradition, they have to rely on the village matchmaker, Yente, to find them husbands. Life in the little town of Anatevka is very hard and Tevye speaks not only of the difficulties of being poor but also of the Jewish community's constant fear of harassment from their non-Jewish neighbors. In addition, Tevye has a lame horse, that adds to the misery of being poor, and has to pull the wagon by himself.
The film won three Academy Awards in 1972 and two Golden Globes in 1971. It won Academy Awards for Best Song Score Adaptation, Best Cinematography, and Best Sound (Gordon McCallum, David Hildyard). It also won the Golden Globe for Golden Globe Award for Best Motion Picture – Musical or Comedy and Golden Globe Award for Best Actor – Motion Picture Musical or Comedy for Topol's acting.
Due to the 3 hour running time–only selected scenes/songs will be included  to ensure this will be a memorable  evening  where you can show off your vocal prowess.