Field Trip: Dead Sea Scrolls Exhibit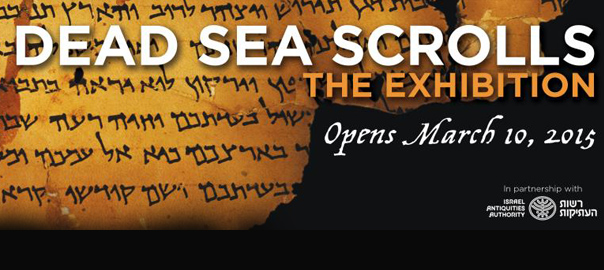 Sunday April 5 at 12pm, all BCC groups are invited to the Dead Sea Scrolls Exhibit at the California Science Center.
A special group price has been arranged for BCCers to tour the Dead Sea Scroll Exhibit at the California Science Center. The California Science Center, in cooperation with the Israel Antiquities Authority and the Consulate of Israel, presents the largest Dead Sea Scrolls exhibition ever mounted outside of Israel with over 600 ancient artifacts on display. This special exhibition explores the science and significance of the Dead Sea Scrolls, manuscripts written and hidden in caves 2000 years ago and not discovered until 1947. The exhibition also features sections from 10 selections of the Dead Sea Scrolls, more than half never seen before in the U.S.
California Science Center in Los Angeles also screens Jerusalem 3D in IMAX, a spectacular documentary on the heart of the world, which we'll have a chance to watch. More details on Jerusalem 3D
BCC COST:
Exhibit only:
Adults $15.50, Youth & Child (4-17) $11.75.
Exhibit + IMAX film:
Adults $20.75, Senior (60+) $19.25, Youth & Child $15.00
We will gather at BCC on April 5, 10:45am to form car pools to the exhibit. There is a $10 parking fee per car at the science center, which will be split among the passengers of each vehicle. If you prefer to meet the BCC group at the exhibit entrance, please make sure you are there by 11:30am. Our tour begins promptly at noon. The Expo Metro Line goes right by the science center, you can check the schedule here
After the exhibit tour, those that wish to grab a self-pay lunch are invited to join together for some downtown LA cuisine.