Five Days in Buenos Aires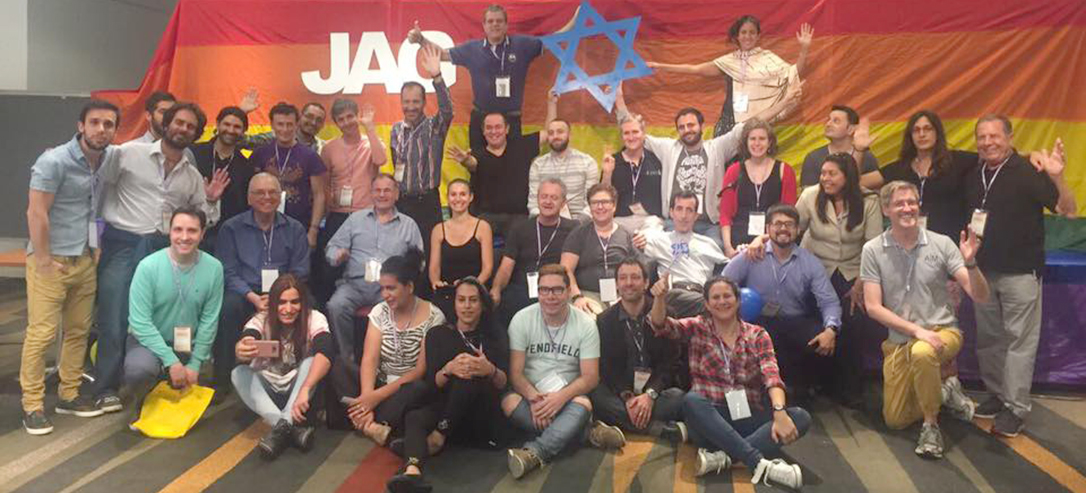 by Jonathan Falk
From March 15 to 19, 2017, I traveled to Buenos Aires on a whirlwind trip to a city with a rich Jewish history and an exciting modern LGBT history. I participated in a Shabbaton conference put together by JAG (Judios Argentinos GLBT), the LGBT Jewish group there, for the World Congress of LGBT Jews, and also had the honor of representing BCC at the annual board meeting of the World Congress.
On my first night in Buenos Aires (Wednesday), I joined the World Congress Steering Committee for drinks and dinner at a local restaurant. Two of us ordered green salads that came slathered with the biggest slices of ham we'd ever seen! But that was soon rectified. In the morning, I attended the World Congress board meeting in the upstairs library of the Comunidad Israelita de la Republica Argentina (CIRA), housed in a 1931 architectural gem of a synagogue on Avenida Libertad.
Thursday afternoon was spent with a luncheon and introductions of those who had arrived for the Shabbaton from Chile, Colombia, Brazil, Mexico, the US, and a few European countries. A tango lesson made for a fun icebreaker and some good exercise. Everyone eats late in Argentina, and a group of us went out for pizza at a rather late hour.
On Friday morning, we all met at CIRA for a bus ride to another synagogue, Congregation NCI Emanu El, for a panel discussion about the recent achievement of same-sex marriage in Argentina, the first country in Latin America to legalize it. We met the first couple to have a same-sex Jewish wedding ceremony here, Victoria Escobar and Romina Charur, who were married in 2016 by Rabbi Karina Finkielsztein.
At a picnic lunch in a local park, we were joined by dozens of hungry swans, and also by a gay Israeli couple who happened to be walking by, and who immediately signed up to join us for the weekend.
From there we attended an outdoor community ceremony commemorating the 25th anniversary of the March 17, 1992, attack on the Israeli embassy in Buenos Aires. The ceremony was held at a small park, the site of the former embassy building, and was attended by the Israeli ambassador, the Argentine president, family members of the victims, and various dignitaries. The ceremony had pretty much the tightest security I've seen in my life, and was frontpage news on the local newspapers. The attack killed 29 civilians and injured 242 others, the deadliest attack on an Israeli diplomatic mission.
Friday night services were at the historic CIRA synagogue, where we were joined by a large group of Americans on a Federation tour. Services were in Spanish, and mostly musical. At Shabbat morning services at CIRA, Shabbaton attendees from around the world were honored with an aliyah. Afternoon sessions dealt with interfaith issues and featured a panel of PFLAG presenters, including the mom of a twelve-year-old trans boy. An afternoon picnic and a walk to the historic waterfront area completed the day's official activities, except for a late-night reception at a bar called Sitges.
On Sunday, the board met again, and the Shabbaton ended with a closing ceremony. Many attendees spoke about how significant the event was for them, and how much they appreciated an opportunity to share Shabbat in an LGBT context.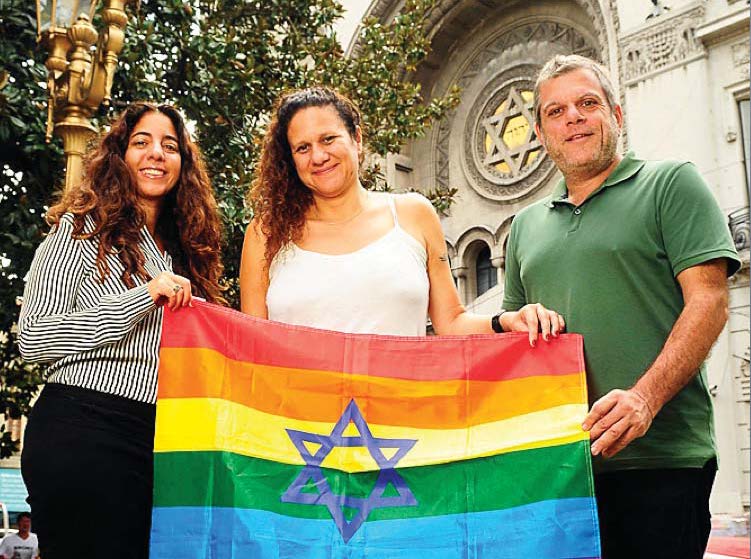 Left to right; Romina Charur, Victoria Escobar and Gustavo Michanie, JAG President, in front of the Synagogue on Calle Libertad. (Photo by Perfil.)
The board meeting of the World Congress, chaired by President Frank Giaoui, dealt with plans for future conferences in Paris (Sept. 8 – 10, 2017) and in Rome (2018). Alicia Ronay of Guimel, Mexico City, was elected to the Steering Committee, to replace Rinna Riesenfeld, also of Mexico City. Plans for a World Congress video and a book project were discussed, and several short videos about the Buenos Aires Shabbaton can now be viewed on the World Congress website at glbtjews.org. To get involved and represent BCC at future World Congress events, please contact me at jonfalk@aol.com!
Overall, I found Buenos Aires to be a lovely city, with a great deal of European-influenced architecture, and much rich history to explore. There were theaters, museums, opera houses, nature preserves, and historic marketplaces that I didn't even have time to see.
Who's up for a BCC trip to Latin America?