George Guzman Nominated for an Emmy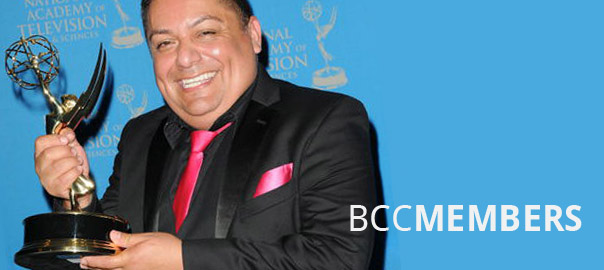 Congratulations George! Our very own George Guzman, who is a head hairdresser for the hit soap The Young and The Restless, was nominated for a Daytime Emmy Award in the category OUTSTANDING ACHIEVEMENT IN HAIRSTYLING FOR A DRAMA SERIES. In this category, George and 'The young and the Restless' (CBS) are competing against 'Days of Our Lives' (NBC) and 'The Bold and the Beautiful' (CBS). The 2013 Daytime Emmy Awards ceremony will take place on June 16 in Beverly Hills, Calif., airing on the cable network HLN.
Beth Chayim Chadashim is very pleased to announce that George Guzman has donated two items to the silent auction at our upcoming annual Awards Brunch (June 2): A professional haircut by George, at his salon, and a tour of the set of the "Young and the Restless"!! (the full catalog of our silent auction items will appear online soon).
You, too, can promote your business by donating goods to our auction. click here to find out how.
George has been applying his skills as a stylist for the Beauty Industry since 1995. Early in his career, George apprenticed under a group of former Vidal Sassoon stylists. Later, he was invited to join "The Young and the Restless," the country's #1 daytime drama, where he has worked with hair in a very different way. George has been with the show since 2002 and now holds the title of Senior Stylist. George has also worked on countless photo shoots, including those for the magazines, "Soaps in Depth" and "Soap Opera Digest."