Gerald Gerash's Documentary Airs on TV During Pride Month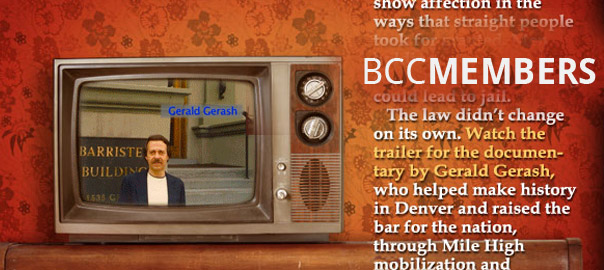 "Gay Revolt at Denver City Council" is a documentary that was released two years ago and focuses on an impressive instance of grassroots gay rights activism that culminated at a Denver City Council meeting on October 23, 1973.The film was written and is narrated by our member Gerald Gerash, a lawyer and founding member of the Gay Coalition of Denver and was premiered at the annual Oral History Association Meeting in October 2011, held in Denver, Colorado.
KBDI Channel 12 (in Colorado) is scheduled to air the documentary "Gay Revolt At Denver City Council" during pride month, first airing tomorrow, Tuesday June 18, at 9pm. Beth Chayim Chadashim members can purchase the DVD of the documentary in our gift shop (ask an officer to help at the gift shop before services)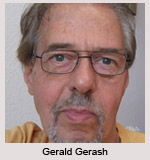 The film recounts the founding and activist undertakings of the Gay Coalition of Denver, the city's first gay liberation group. The Gay Coalition's involvement at this particular meeting directly led to the repeal of several city ordinances that were being discriminatorily enforced against gays. The meeting was a historic moment for the gay community of Denver and for gay rights groups across the country because it proved that grassroots activism could be effective in repealing discriminatory statutes. "I was one of five co-founders of a gay liberation/gay rights organization in Denver in 1972, The Gay Coalition of Denver,"  explains Gerash in an exclusive interview to BCC's website. "At a time of deep, deep homophobia and heterosexism, it culminated in a turn-out of 300 gays and lesbians at a Hearing of the Denver city Council on Oct. 23, 1973.  In short, that was the 'Big Bang' that created a new Denver gay universe — a very advanced and organized community within the next few years.  I am attaching a recent letter describing these astonishing years and there is more info at www.denvergayrevolt.com."
And how did the movie come about?
"I saved the original audio tape of the 3 ½ hour city council hearing with all the speeches and photos taken and put them aside for 30 or so years.  I had written a few articles about those early times and about the hearing itself and its far reaching gay liberation effects so that the Denver community would know their inspiring history.  Only in 2010, when I read in "Out Front," the major gay newspaper of Denver, was I inspired and compelled to make the film.  A very prominent gay leader whom I knew quite well was interviewed about the history of gay Denver.  He was asked about the role of The Gay Coalition of Denver.  His response was that it was an organization that wanted "to save the world and then just faded away."  And that was all he said."
"I knew then that the glorious history of gay Denver was about to be erased. I needed to get to work.  I had a responsibility as the only person still around who consistently was in leadership in this movement and who had kept the tapes and had amassed a substantial amount of archives to save our history.  For the memory of my comrades who were gone and who had made that history. That is why I made the film, having no experience in filmmaking whatsoever."
In order to pursue the documentary, Gerald had to see if the 30 year old reel-to-reel audio tapes he had were still good. After that, he organized all of the photos and documents he had saved, and contacted his friends from that time in order to get as much material as possible. Then came the narration-writing. All of this process took him months to complete. "As I was there from the very beginning with the founding of the Gay Coalition of Denver and was part of the leadership for many years, I had a  unique advantage in telling the story," says Gerald. "The biggest challenge was reducing so much of interest to me into a concise and interesting story.  That period of community activism and organizing consumed a good part of my life for years, and was the most deeply satisfying and personal accomplishment.  I had been a political activist, mainly as a follower in other civil rights and political movements before Stonewall, but this was the time to become a  political activist and organizer for my own people.  I also participated in the legal defense of other minorities after I graduated from law school, e.g. American Indian Movement (Wounded Knee occupation, Chicano organizations and Viet Nam Veterans Against The War)  So in addition to contributing to the cutting edge of gay liberation and its unique satisfaction, there was also the pure political satisfaction that is part of my essence."
Were you concerned about information that you might had forgotten? Or parts of the story that were a little vague?
"Not at all. My only concern was to avoid unduly injecting myself into the film.  I had some critical contributions to our movement and my job was to downplay them, speaking of them as a group accomplishment.  My interest was to tell the history of the movement, not to tout any one person.  My concern was to be 100% factual to the history, but admitting to the advantage of my first-hand knowledge of our movement and exactly how we triumphed.  I truly believed that our successes were accomplished, not by certain "leaders," but by our group and the gay community who participated with us, such as the 300 at Denver City Council and all those who thereafter jumped in to create a diverse community.  This approach was consistent with the Gay Coalition's principle of having no officers and advancing everyone's potential with the theme "every one is a leader, in some way" and we want to always encourage people to come forward to contribute."