G'vanim Interview: Marsha Epstein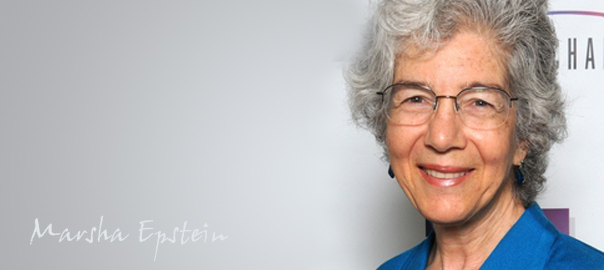 As part of our occasional series of interviews or profiles of BCC members who volunteer their time to our community, G'vanim editor Larry Nathenson interviewed Marsha Epstein as she undertakes to chair the Women's Havurah. Thank you, Marsha, for agreeing to this interview.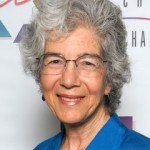 Website Special: Get to Know Marsha Epstein
Name: Marsha Epstein
Residence: Los Angeles
3 words that describe you: Kind, happy, trustworthy
Short LGBT or Jewish related story from your life: When I was 23 I accidentally kissed a friend on the lips (I usually kissed friends on the right cheek, but she went for my left cheek and we met in the middle) and my body became totally turned on. I couldn't figure out what was happening because I was really turned on by men so I knew I wasn't lesbian. I didn't know there was such a thing as bisexual until a few years later. Thank goodness for the wonderful women who shared openly that they were bisexual.
My favorite place or experience in Israel: I can't say I had one favorite. I cried at the Western Wall. I was blown away by seeing Megiddo after reading it's history (I read The Source by Michener). I loved snorkeling and seeing the fish in the Red Sea and lots more.
My LGBT or Jewish hero: Clara Lemlich (1886-1982)
Where I go to hang out with other Jews: BCC
Where I go to hang out with other LGBT people: BCC
What makes me happy: Interacting with friendly people, seeing my friends, dancing, hiking, BCC services and activities
My guilty pleasure (TV, food, etc.): Why have any guilty pleasures when I have so many deep pleasures in my life!
Best news I heard this year: I'm going to be a Grandma in June!
Which BCC member would I most like to answer this questionnaire: Davi Cheng
The G'vanim Interview
You have recently accepted the role of chair of the Women's Havurah. What motivated you to accept this role at this time?
Donna Quigley Groman was the last chair and she did such a wonderful job that the Women's Havurah events became a major part of my social life. When I heard that there was no chair, I immediately volunteered because I didn't want the Havurah to lapse.
What are your plans for the Women's Havurah in the near future? What sorts of events and activities would you like to plan? Do you intend to change the focus of the Havurah in any way from the last few years?
We're changing the way it's organized so I will be organizing very few activities myself. Members are suggesting and organizing most of the activities, and my role will be interfacing with the temple. So far we have 25 proposed events for 2013, with two already approved. 17 women have proposed events and have agreed to be the organizers of those events. We are planning bowling, hikes/walks, museum visits, miniature golf, bumper cars/Ferris wheel at the Santa Monica pier, pool and beach parties, walking tours, the Zoo, and more. Anyone reading this who wants to be added to the email list should just email me at marsha.epstein@gmail.com
How do you view the role of the Women's Havurah in the broader life of the congregation? Do you hope it will encourage more women to join BCC and become more involved in other aspects of congregational life?
To me a congregation is a community, and in a community people get to know each other. It's not easy to do that at services, so the havurah activities are a way to do that and have fun. I hope it will encourage more women to join BCC and become involved in other aspects of congregational life, but that's not my primary aim. My primary aim is to continue to create community as Donna did.
When did you first come to BCC? How soon after that did you become a member?
I visited in August 2000 and it was so haimish I thought it must be a fluke. I came back the next week to see if it was still so friendly, and it was! So I joined that night. I've been a greeter and usher at High Holiday services and the BCC annual brunch most years. Occasionally I've done other volunteer work for events. You recently retired from your career as a physician.
Could you briefly describe the course of your career from medical school to retirement? What sorts of practice did you undertake, and in what organizations?
After medical school at UC San Francisco and a rotating internship, I went to UC Berkeley for my Master of Public Health in Epidemiology and completed a residency in General Preventive Medicine. Then I completed a Fellowship in Family Planning at UCLA and started working in Family Planning and doing abortions for LA County for about nine months. I was in private practice as a General Practitioner for four years. I had my son during that time, and it became too hard to be a mother and be in private practice, so I switched to working for LA County Public Health and stayed for almost 28 years. I was a District Health Officer for 13 years, Area Medical Director for 12 years, and then transferred to Chronic Disease Prevention. There I developed a
tobacco cessation continuing education program online and one that was mailed to all the primary care doctors in LA County. I went out to hospitals all over the County to teach doctors about tobacco cessation.
Apart from BCC, what other volunteer activities have you engaged in since your retirement?
After retirement, in addition to what I was already doing I added square dance classes and then became the recording secretary for my square dance club. I recently added round dance classes and ballroom/folk dance classes. I attend the Laughing Buddha Sangha meditation class weekly, and sponsor in my two 12 Step programs.
About a year ago we began BCC's 40th anniversary celebration with a film entitled "On These Shoulders We Stand," honoring 11 individuals for their pioneering work in the LGBT community over four decades. You were profiled for your work with the first women's health clinic in LA that specialized in caring for lesbian and bisexual women. For those who didn't see the film, could you tell us a little about that work and that experience?
In 1974-75 I worked briefly for the women's clinic at the Gay and Lesbian Services Center, but then there was a power struggle between the men and the women, and they fired all the women staffing the clinic. So the women asked me if I would help them start another women's clinic. So from 1975-1979 I was the Medical Director of Herself Health Clinic, run by a cooperative of radical lesbians for lesbians (although about half the women who came were from the community because it was free medical care).
As a bisexual woman, do you believe that BCC should be more explicit in its inclusion of bisexuality in its outreach and in congregational activities? In what ways could we improve and be more welcoming and inclusive of bisexual women and men?
I'd be happier if people mentioned the B and T of LGBT more often. I haven't met anyone at BCC who I felt treated me any different because of it, but I have met lesbians in other places who felt it was a way of not fully committing to who I was. That's why I was so happy to be in the documentary explaining that this is who I am.