Jewish Women's Theater is Coming to BCC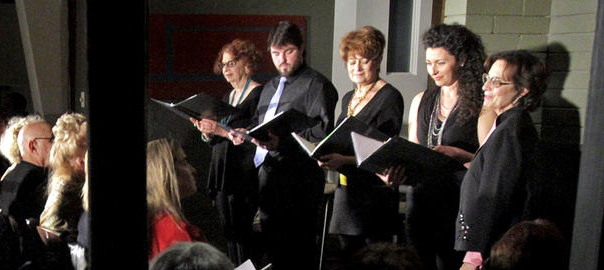 This article first appeared in G'vanim, Jan-Feb 2016 issue. Written by Robin Baltic
Jewish Women's Theater (JWT) is bringing its latest salon theater performance "Temptation" to BCC on Saturday, January 30, 2016, at 7:30 pm. A talented troupe of actors and writers will present original stories providing a delicious and dangerous discovery of secrets of Jewish women that will remind you how seductive temptation can be. Be prepared to get your funny bone tickled, your tear ducts massaged, and your heart engaged.
Who and What is the Jewish Women's Theater?
It all began with a kitchen table, a pot of coffee and a plate of bagels. Three women came together in an ordinary way to realize the extraordinary dream of creating theater for Jewish women. In the spring of 2007, Ronda Spinak, Ellen Sandler and Deena Novak conceived of the Jewish Women's Theater as a way to explore themes of Jewish identity for women in America. JWT is a nonprofit with the express purpose of developing original contemporary stories written by Jewish women about their lives in America today and producing those stories in a salon theater format.
Now in its eighth season, JWT has produced and presented 25 original Jewish-themed shows with over 150 original stories. The troupe, consisting of both women and men, is based in Los Angeles. They perform in intimate home settings, synagogues and public spaces throughout Los Angeles, the San Francisco Bay Area and New York City.
David Suissa, President of the Jewish Journal, had this to say about Jewish Women's Theater: "One of the keys to JWT's success is they use professional actors. Most of the plays are based on true stories, but these stories can't simply be told: They must be produced, written and
performed for dramatic effect. Among other things, I learned that a 'women's' show must absolutely be seen by men, if for no other reason than that the sexes need to understand each other better."

What Brings JWT to BCC?
Ruth Spielman and Barbara Kroll, longtime members of BCC, are big fans of JWT. Through a generous donation to BCC, they are underwriting the cost of bringing the troupe to BCC. All ticket proceeds from the performance on January 30 will benefit BCC. Barbara and Ruth have this to say about JWT: "For the past few years, we have attended many of the Jewish Women's Theater salon shows, each one an opportunity guaranteed to laugh our guts out and cry our eyes out in the same evening. And all in a good way. Are we Jewish or not? We are thrilled to be able
to underwrite this performance in our temple home so that all of our BCC family can have a chance to enjoy this gifted troupe. We hope that other temple members will experience the temptation to sponsor future shows."
Here are the Details:
On January 30, BCC doors open at 7:00 pm, with the performance at 7:30 pm. After the performance, there will be a brief Q&A with the actors/writers and a dessert reception. The benefit event is co-sponsored by BCC Women's, Men's and 20-30's Havurot. Seating is $50 per person front row sponsorship or $25 general seating per person available in advance by noon Thursday, January 28 for BCC members. Advance reservation seating for nonmember guests is $30 per person. The night of the performance tickets will be available at the door, $30 BCC members and $35 nonmembers.
Advance reservation payment is available here. Advance payment may be made by check, payable to BCC, if received no later than January 28, 2016. Please include JWT in the memo line and the number of seats you want to reserve. For further information, please contact the BCC Office.