Lech L'cha: Telephone Torah Study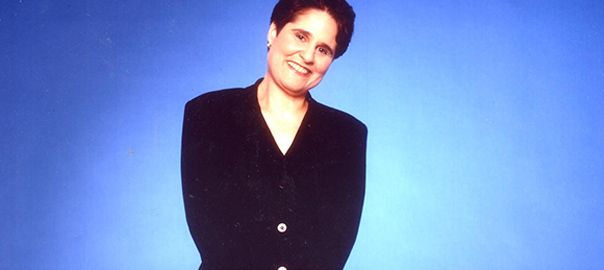 Lech L'cha (Gen. 12:1-17:27) sets Abram and Sarai (later known as Abraham and Sarah) on their great adventure. The portion opens with a well-known Torah verse: Adonai said to Abram, "Go forth from your land, your birthplace, your father's house, to the land that I shall show you." (Gen. 12:1) Jewish songwriter and singer Debbie Friedman, may her name be for a blessing, made the verse even more famous with her hit song L'Chi Lach. The song co-written by Debbie Friedman & Savina Teubal and sung by Debbie Friedman premiered at Teubal´s Simchat Chochma celebration at BCC on November 15, 1986.
Jump to: Suggested Videos | Suggested Readings | Torah Verse of he Week
To join in on the conference call, please dial 702-851-4044, when prompted punch in 2, then our pass code 22252#.
Here's the historic footage. "L'chi Lach" by Debbie Friedman & Savina Teubal, sung by Debbie Friedman and premiered at Savina Teubal´s Simchat Chochma celebration at BCC on November 15, 1986:
Other suggested videos:
Rabbi Lisa Edwards' Shabbat Shira Sermon Remembering Debbie Friedman, January 18th, 2011:
Musical Excerpts from BCC's Shabbat Shira Tribute to Debbie Friedman featuring Cantor Juval Porat and Cantorial Soloist Emerita Fran Chalin, January 18th, 2011:
Suggested Readings
A Torah Queery by David Katzenelson 'Extinguishing the Flames':
Our parasha starts with the first words G-d explicitly says to Abraham. These words are also the first commandment given by G-d to a member of the chosen people, a nation that will later adopt the name "Jews." They embody both the first commandment given to the chosen and the act of choosing itself.
Authors of earlier Torah Queeries have pointed out "Lech Lecha" means "go to yourself." I wish to focus on a different issue. Why does G-d say these words to Abraham of all people? Why and how is he chosen? And what is he chosen to do?
The sages were aware of these questions and about the lack of a clear answer to them in the Torah. Bereshit Rabba comments this through a midrash or fable attributed to Rabbi Isaac. A man was traveling from place to place. He sees a building on fire by the side of the road. Our traveler stops and wonders if there is no owner or caretaker to extinguish the fire. The owner of the building looks out (from inside the burning house!) and says "I am the owner of this building".
In the same way, Abraham is on a spiritual journey through life. He notices that the world is full of wrongdoings and pain. While others just ignore this fact, he takes the time to wonder who is in charge. Than G-d calls out to Abraham and says "I am the Guide and Master of the universe".
Abraham recognizes G-d and understand that it is us humans who must correct the
wrongdoings of this world. G-d is not going to do it for us. This makes G-d desire Abraham, like a king desiring his new bride. Than G-d says to Abraham "Lech Lecha – go to yourself".
'Women and the Covenant: How women figure into the male-oriented covenant that begins with Abraham and circumcision' by Rabbi Ruth H. Sohn in The Torah: A Women's Commentary:
Is Sarah part of the b'rit (the covenant) that God establishes with Abraham? While our impulse might well be: "How can you ask such a question? Of course Sarah was part of the covenant," the details of the text force the question upon us. From the opening words calling Abraham to leave his homeland, and throughout this parashah, God speaks directly with Abraham, not with Sarah. Most dramatically, the sign of the b'rit in Genesis 17 is circumcision, clearly a male-only ritual.
One could argue that this ritual established a covenant only between God and Abraham, and Abraham's male descendants, and that women stood outsidethis religious cult altogether. Perhaps Sarah and the other matriarchs had their own religious practices and traditions, their own way of relating to God. Or, perhaps, they were passive members of this covenant between God and the men, valued as child-bearers, but otherwise on the periphery.
Let us consider another way to read the text. The critical element of the b'rit is the promise that Abraham will be fruitful and become the father of nations. Women's role as child bearers is therefore not ancillary but central to meaning of the covenant. And, while God does not address Sarah directly in Genesis 17, God refers to her and changes Sarah's name just like Abraham's–with the addition of the letter heh and with a parallel explanation: "she shall give rise to nations; rulers of peoples shall issue from her" (17:16).
Even when Abraham doubts Sarah's ability to bear children and suggests that God's covenant continue through Ishmael, God reassures him that the covenant will pass through Sarah's son, Isaac. Thus, God makes it clear that not all of Abraham's descendants are part of this covenant, only the ones of Sarah. This underscores Sarah's crucial role; it makes Sarah and Abraham, physically speaking, equal partners in the covenant.
continue reading on My Jewish Learning
Torah Verse of the Week
Adonai said to Abram, "Go forth from your land, your birthplace, your father's house, to the land that I shall show you." (Gen. 12:1)