LGBT Youth in Foster Care Discussion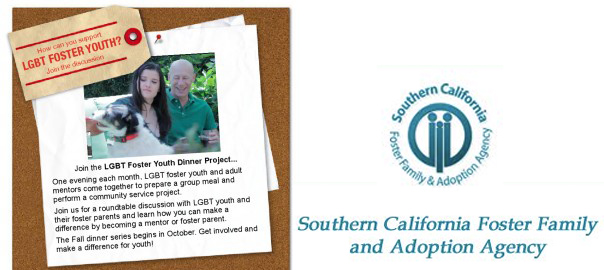 42% of LGBT foster youth are rejected due to conflict over their sexual orientation or gender identity. 44% of homeless youth in Hollywood come from foster care. Half of them identify as LGBTQ.
BCC strongly supports this weekend's event and would like to invite our members to a round table discussion with LGBT youth in foster care as part of a larger mentorship program. We encourage our members to get involved and make a difference for youth!
Saturday, September 28, 2013, 3:00 p.m.-5:00 p.m.
Plummer Park – Community Room
7377 Santa Monica Blvd.
West Hollywood, CA 90046
What are the needs of LGBT Youth?
All children deserve the basics:
SAFETY Above all, we can provide food and shelter.
AFFIRMATION Next, we celebrate each child for who they are.
ADVOCACY As adults, it is our role to assess every aspect of the child's life for equal access. If they are being prevented from pursuing their goals and fully accessing resources, we must be there to open those doors.
If the school environment becomes hostile to an LGBT youth, we must be there. We must assure that the youth is safe and free of bullying. We can help to identify faculty and staff advocates who will help to keep them safe. We must make sure they have equal access to academic success. Most of all, these youth deserve to let their guard down at the end of the day–to know that their LGBT identity is not a source of conflict at home.
We hope to see you on Saturday! Call 213-365-2900 to RSVP or CLICK HERE to RSVP.
Read more about this event, and the LGBT foster program in general in this link