Nikki's Family: Opening Remarks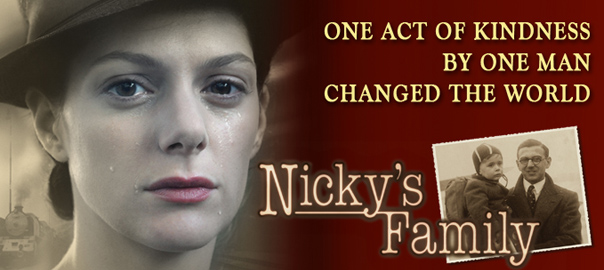 On Sunday, BCC held an exclusive screening of the documentary Nicky's Family at Laemmle's Royal Theatre. In his opening remark, Stephen Sass explains why the story is so important, what's the BCC connection, and why was the screening held at Laemmle. Read his words here.
November 9-10, 2013 marks the 75th anniversary of Kristallnacht, literally "night of crystal" or "night of shattered glass" for the shards of broken glass that carpeted the streets after Jewish-owned homes, businesses, buildings and synagogues had their windows smashed. It was on that night and the following day in 1938 that wholesale violence was unleashed against Jews in the German Reich (Germany, Austria, and areas of the Sudetenland in Czechoslovakia), signifying a pivotal turn in history.
The pretext for the attacks was the assassination of the German diplomat Ernst vom Rath by Herschel Grynszpan, a German-born Polish Jew living in Paris. Nazi leaders then sent instructions to their members all over the country — they were not supposed to act as though they had launched the "spontaneous" pogrom, but were to participate all the same. Within hours, crazed rioting erupted, with most local authorities and citizens looking on without intervening.
By the end of Kristallnacht, some 2,000 synagogues, as well as scores of Jewish hospitals, orphanages, schools and other institutions had been burned and ransacked, 7,500 Jewish businesses were destroyed or damaged, ritual objects and cemeteries desecrated, 30,000 Jewish men and boys had been arrested and sent to concentration camps, scores of Jews were beaten and terrorized and at least 91 were dead.
The violence lasted one day, after which the Jewish community was forced to pay a fine of one billion reichsmarks, as well as repair the broken glass and other damage. The Nazis set up a Central Office for Jewish Emigration to "encourage" Jews to leave the country.
Beginning in 1935, the German government had enacted anti-Semitic laws and decrees that deprived Jews of their property and occupations, expelled Jewish children from non-Jewish schools, prohibited Jews from holding a driver's license or owning an automobile, and forbade Jews from entering theaters, cinemas, and concert halls. Despite these decrees, which in many ways led up to Kristallnacht, the event came as a terrible shock to the Jewish community, as well as to Western countries and even the Soviet Union.
Emboldened by the passivity of most German citizens, signaling to Nazi authorities that the German public was prepared for more violence and would likely continue to be silent, Kristallnacht was followed by additional economic and political persecution of Jews, and is viewed by historians as part of Nazi Germany's broader racial policy, and the beginning of the Final Solution and The Holocaust. Kristallnacht shattered more than glass—any illusions that Jews could even be tolerated in Germany were finally laid to rest.
But, this morning, as we gather together for our special BCC screening of "Nicky's Family," as with so many occasions in Jewish life and history, we mark the 75th anniversary of Kristallnacht with a mix of the bitter and the sweet.
For "Nicky's Family," the third in an informal trilogy of films about Sir Nicholas Winton by Slovak director Matej Minac, teaches us that during one of the darkest times in human history, one man's courageous acts of compassion changed the world and continue to inspire people to choose life and to do good. Horrified in the aftermath of Kristallnacht, Winton, then a 29-year-old English stockbroking clerk, raced to save the lives of 669 children from Nazi-occupied Czechoslovakia.
Among those Sir Nicky rescued was Olga Grilli, who comes from Chotebor, the same community as Beth Chayim Chadashim's Holocaust Torah scroll, which we received in 1973, shortly after our synagogue's founding. Olga was on the last kindertransport he was able to organize, in August, 1939, before World War II started on September 1 and the kindertransports ceased. In our audience this morning are two were saved by kindertransports organized by others, in Austria. Ultimately 10,000 Jewish children from Czeckoslovakia, Germany, Austria, Poland and the Free City of Danzig were rescued, taken in by Great Britain and adopted by foster families. They were often the only members of their families to survive the Shoah.
Many of us had the extraordinary opportunity to meet Olga 8 years ago, when we miraculously found her in Poughkeepsie, New York, the only living survivor of the former Chotebor Jewish community. In the presence of her children and one of her six grandchildren, we were able to reunite her with the Torah scroll, which to that time, she'd had no idea had survived, a Torah scroll that her late grandfather, the president of the Chotebor shul, had held, read from and kissed every Shabbat.
The Talmud teaches us that if you save one life, you save a whole world. Seventy-four years ago, at the age of 11, Olga bravely said goodbye to her mother and grandfather and boarded Winton's kindertransport with the clothes on her back, a small suitcase, a knapsack, a few photographs and her childhood memories.
Today, at age 85, she's a great grandmother who's on Facebook and sends email from her i-Pad. She very much wanted to be with us this morning, but she's with her family this weekend celebrating the bar mitzvah of one of her grandsons. Mi dor l'dor, from generation to generation. She sends us her love, wants us to know that the BCC Shoah Torah reunion weekend was one of the highlights of her life and also wanted me to pass along to you her recommendation for two must-read books: "In the Garden of Beasts" by Erik Larson and "My Father's Paradise" by Ariel Sabar.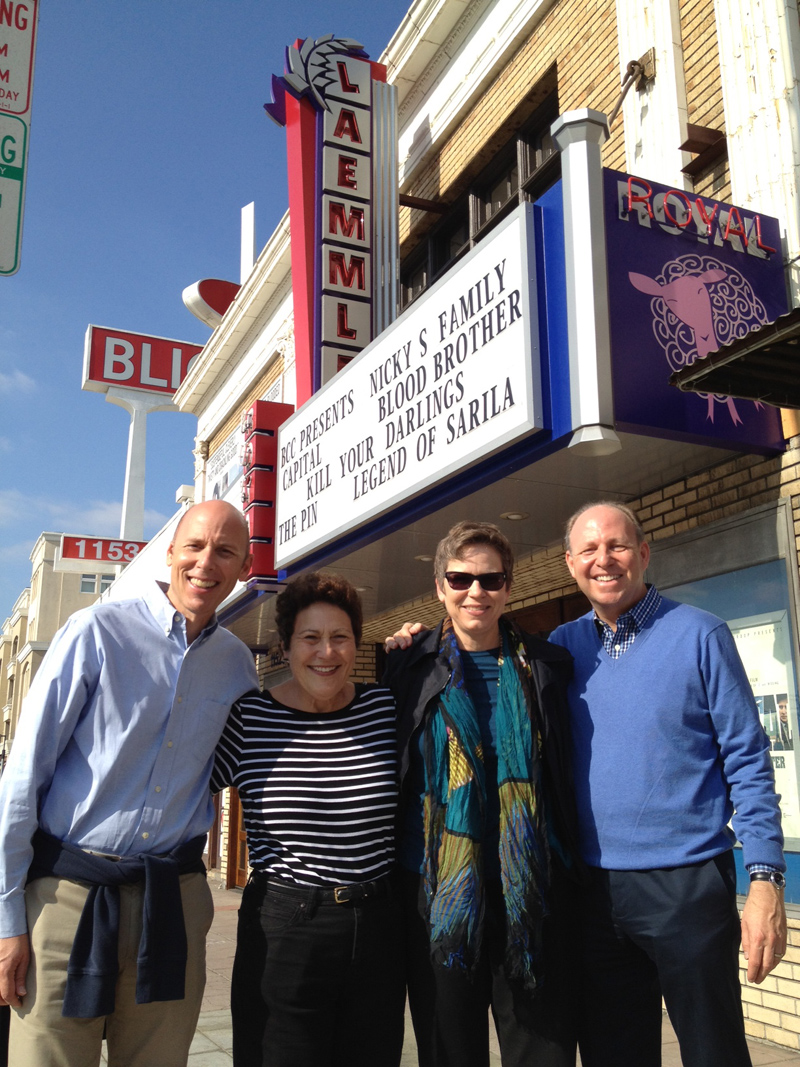 This year also marks the 75th anniversary of the founding of Laemmle Theatres, and this is no mere coincidence. Alarmed by the rising tide of Nazi anti-Semitism, and at the strong urging of his younger brother, Kurt, who'd emigrated some years before from their native Germany to the United States, in 1939 Max Laemmle left Europe and arrived in Los Angeles with his wife Bobbi and young son Robert to join Kurt in founding Laemmle Theatres. The family owned-and-operated business became synonymous not only with the finest in independent and foreign film, but also with an unparalleled commitment to community service, for doing well by doing good. It's my great pleasure to introduce Greg Laemmle, President of Laemmle Theatres, and Max's grandson and Robert's son, who made possible this screening this morning, to say a few words.
[Gregg speaks].
And now, "Nicky's Family."