November 11, Project Chicken Soup Awards honoring Co-founder, Mollie Pier
One of BCC's missions is to support social action through its programming–Tikkun Olam (repair of the world). About 25 years ago, our congregation founded the Nechama (comfort) program, the forerunner of today's Project Chicken Soup, to provide cheer and vital fresh cooked Kosher nutrition to people living with HIV. Since that time we have supported PCS and many BCC members are involved.
PCS is announcing an exciting event to honor PCS co-founder and still active long-time volunteer Mollie Pier, who is still going strong at 92 years young! This brunch will feature a varied Kosher menu prepared by celebrated master Jewish chefs.  BCC & PCS cordially invites you to put this unique event on your calendar and to attend.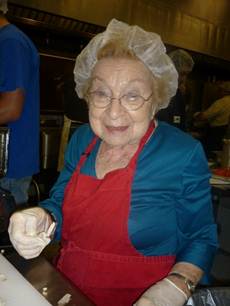 Sunday, November 11, 2012, 11:00 AM – 3:00 PM
PCS Annual Awards Brunch
In Honor of Mollie Pier, PCS Co-Founder, Board Member and Volunteer since 1989
 
Hosted at Temple Beth Am, 1039 S. La Cienega Blvd., Los Angeles, CA 90035
 
Featuring a collaboration of the most celebrated Jewish chefs in Los Angeles who will honor Mollie Pier with a showcase of their signature dishes in recognition of her work cooking for people with HIV/AIDS.
 
 Participating Guest Chefs:
Suzanne Tracht, Jar
Susan Feniger, Susan Feniger's STREET
Micah Wexler, Mezze
Evan Kleiman, author, restaurateur, consultant, radio host
Eric Greenspan, The Foundry
Alex Reznik, FigOly
Akasha Richmond, Akasha
and Classic Catering by Pnina with kosher supervision by Rabbi Yonatan Benzaquen
Mission Statement: Project Chicken Soup is a non-profit organization that prepares and delivers free, nutritious, kosher meals to people in the greater Los Angeles area living with HIV/AIDS, cancer and other serious illnesses. These services are provided with love and compassion to all persons regardless of faith or religious belief.
 For more information:  Project Chicken Soup . Email  or call 310-836-5402