Parshat Devarim / August 1, 2014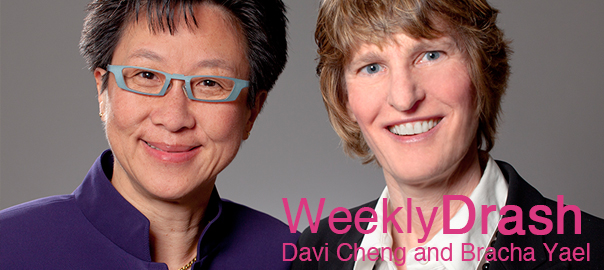 By Davi Cheng and Bracha Yael
Bracha: This week we begin the Book of Deuteronomy with the Torah portion, Devarim. One of the meanings of devarim is "words." And, Moses had a lot of them. For 37 days, Moses talked, and talked, and talked. From a sketchy memory, he retold the Israelites' journey out of Egypt and their wanderings in the desert. Before him was a totally new generation of Israelites poised to enter the Promised Land. Moses reminded them of their parents and grandparents' shortcomings; but also, God's promise to give the Israelites a land of milk and honey. Like a concerned parent sending his children off to camp for the first time, Moses gave out warnings and rules; but also, encouragements and promises.
Davi: This portion is special to me because 17 years ago, on the Shabbat of Devarim – Hebrew year 5757 – I stood in front of the BCC community, embraced the covenant and became Jewish. At that Shabbat, and some of you might remember – the BCC community showered me with gifts of words. As the only Hong Kong born Chinese lesbian Jew-by-choice, I was feeling a bit like a stranger. I so yearned to connect with the Jewish people that night. So I asked everyone to write down a single word for me, one word – welcoming me as a Jew, on a tag attached to a string of yarn; then we tied together all the strings to form a big net. (We didn't have Social media back then to connect with each other). Tracy, the chieftain of Jews by choice helped me come up with this heartfelt and memorable ritual.
Today, August 1st, is the 20th anniversary of our beloved Rabbi, and Rebbetzin with BCC.
Not just for 37 days like Moses, but for the past 20 years, Lisa and Tracy have been showering us, through several generations with their gifts of words, words of wisdom, encouragement, warmth and welcome.
Bracha: Tonight, we are going to show our gratitude and shower them with our words. In 2001, Tracy wrote in a drash, that her two favorite commandments are: 1. Welcome the stranger, and 2. love one's neighbor as oneself. And, Tracy doesn't just talk the talk, she walks the walk. By a show of hands, how many of you were welcomed by her warm smile on your first visit to BCC? Welcome Wagon, Ambassador and sometimes Matchmaker, she makes sure no one feels like a stranger at BCC.
And as far as "love one's neighbor as oneself," her ongoing social and political leadership in fighting for women's and LGBTQ rights, shows her long-standing commitment to her second commandment. Tracy's fulfillment of these two commandments gives one outcome: No one will be a stranger, if everyone loves another as oneself.
What word does Davi and I feel best sums up Tracy? Hmmm. That's a tough one. The possibilities: compassionate, passionate, optimistic, enthusiastic, they are endless. But, if we're kept to just one word, it would be "friend." She's a loyal friend. If she isn't your friend already, she'd love to be one. One who enjoys your company, laughs at your jokes and helps you through a rough patch. Tracy is someone who cherishes you as much as you cherish her. "Friend" that's the word we give to Tracy.
Davi: Every year when the Torah portion D'varim comes around, I think about this story Rabbi Lisa tells us; it's one of my favorites…a pre-school teacher is trying to calm a little boy having a temper tantrum. "Tell me what you are feeling, use your words," the teacher encourages the toddler, "use your words." The little boy holds his breath, while his face turns all red; he opens his mouth and yells, "WORDS!"
Well, one of Lisa's greatest attributes is her abundance of kind, gentle and thoughtful words. Not only can she deliver her messages with wit and humor, her words touch our souls and guide us through our spiritual paths; in whatever stages of our life's journey; may it be a celebration of birth, or death of a loved one, struggling with God, becoming Jewish, identity crisis, being ill, getting marry, or dealing with family members…you name it, Rabbi Lisa always selflessly sees you through with her words of wisdom. Like Tracy, there is just no one word that could sum her up. Agree?
So after much consideration, Bracha and I chose the word "mentsh." David S. Ariel, author of the book, "Spiritual Judaism: Restoring Heart and Soul to Jewish Life" writes:
"The Jewish definition of a mentsh is one who struggles with being human and all the difficulties that entails, who works to bring out the best within oneself, who nurtures the divine spark within another person, and who allows each person to find a treasure within his or her own house."
Rabbi Lisa is indeed a mentsch because over the past 20 years, she has helped us find the divine spark within ourselves.
Bracha: After services there will be index cards and pens in the lobby for you to give Lisa and Tracy your gifts of words; to thank them and acknowledge all that they are. Write your word for Lisa on the Blue cards and for Tracy, on the Yellow cards. We know it's hard; but, keep it to one word only. It can be an adjective, noun, or if you're really creative, a verb. Whichever choices though make it one single word and print clearly. Forgive me, for channeling my inner Harriet Perl! We will collect the cards and later present them these gifts of words.
As we enter the Amidah, Davi and I are going to meditate on what it means to be a "mentsch" and a "friend"." We are going to think about how we can model our lives to be more like our mentors: Lisa and Tracy. We are thankful and blessed that we have them in our lives. We encourage you to do the same with whatever words, d'varim, you are choosing for them.
Shabbat Shalom
One Comment on "Parshat Devarim / August 1, 2014"
We're so lucky we have Rabbi Lisa and Tracy as ours in Bcc that we take it for granted!